Beijing cyclists take to the road in numbers
Share - WeChat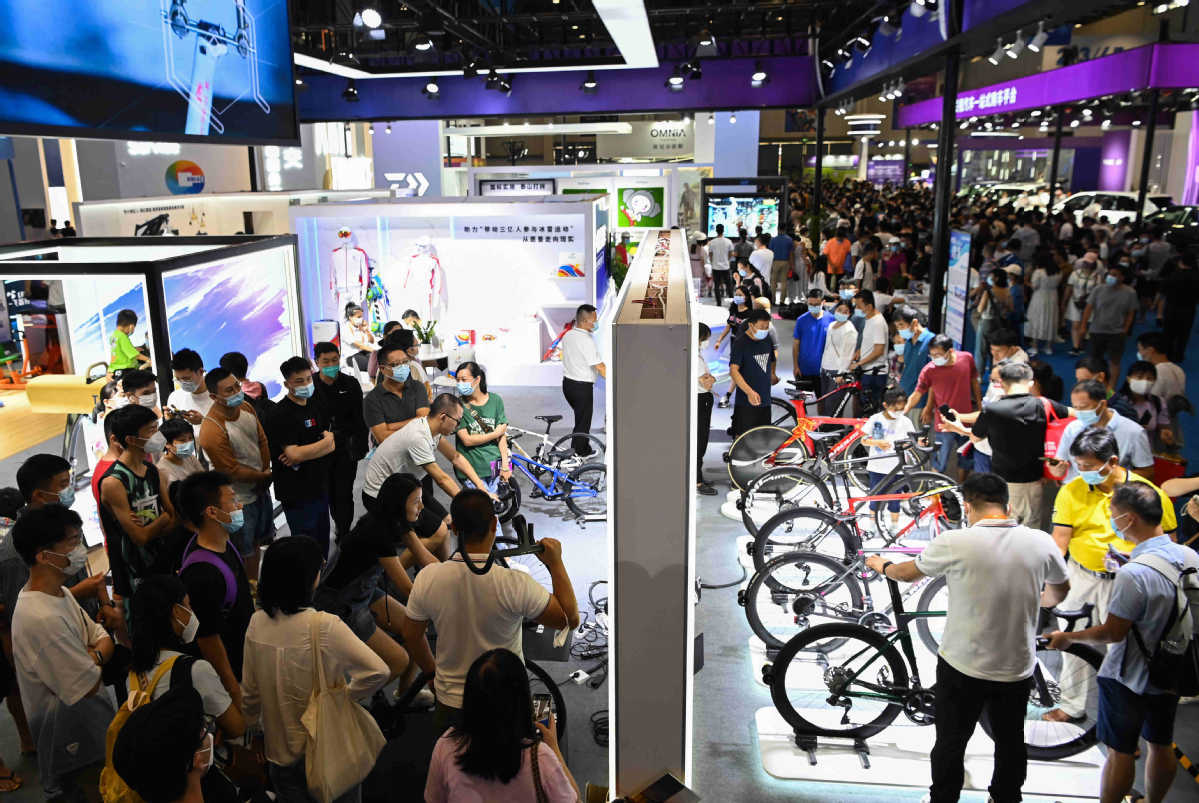 Uplifting experience
Wang Qianqian, 29, who works for an investment company in Beijing's Central Business District, said she used to travel to work by subway, but when Yong'anli station near her office was closed in May due to epidemic control measures, she started to use a shared bike.
"I really enjoy the 45-minute rides to and from work. I have also started to notice more things, such as small restaurants that I have never seen recommended on Dianping, a restaurant- and store-rating platform. I have also seen new businesses opening amid the epidemic, which is really uplifting," Wang said.
During weekends, she explores the capital, visiting her favorite coffee shops on shared bikes. "It feels great to travel the city at a slower pace. I also decided to buy a proper road bike and make cycling part of my daily routine," she said.
Wang's budget for the bike was about 5,000 yuan, but she ended up paying about 8,000 yuan. "The bike was hanging from a wall in the shop. Its neon-green frame caught my eye, and I knew it was the one for me. I didn't think for long about its performance," she said.
For the past two months, Wang has cycled regularly for work and leisure. She has also joined a group of cyclists who often ride to the suburbs of Beijing.
In addition to having fun and making new friends, she has lost 4 kilograms in weight and gained a healthy tan. "As I ride more, I notice that Beijing has become increasingly cyclist-friendly, and I hear that it's going to get even better," Wang said.
Many Chinese cities, including Beijing, have been improving slower forms of travel to encourage more people to adopt environmentally friendly lifestyles.
According to the Beijing Municipal Commission of Transport, the city's roads network is being continuously improved for cyclists and pedestrians. Nearly 48 percent of residents opted to use nonmotorized means of transportation in central areas of the capital last year, a 10-year high.
This year, 74 left-turn lanes have been introduced for cyclists at intersections in Beijing, and traffic rules for pedestrians and vehicles, including nonmotorized ones, have been reinforced, according to Jing Lubo, an official in the commission's urban road management office. In particular, the cycle lanes on the Second Ring Road have been widened to 3 meters.
"The resurgence of nonmotorized transportation is gradually reshaping life in the capital," Jing said.
The city is planning to widen more cycle lanes and introduce new ones this year, with the aim of eventually establishing a slow-travel network.
Beijing's first designated cycle lane opened in May 2019. The 6.5-kilometer route connects Huilongguan, a densely populated community in the northern district of Changping, and Shangdi, home to numerous high-tech companies. The lane has been dubbed the "highway of bikes", as cyclists using it cut commuting time between the two places by 32 percent compared with traveling by car.
The lane has been used more than 5.24 million times since it opened, reducing carbon emissions by over 1,500 metric tons, the transport commission said, adding that the lane will be expanded this year.
Shared bikes have also become an important mode of transportation in Beijing. There are about 950,000 such bikes in the city, and they were used more than 950 million times last year.
Qian, the cyclist, said Beijing's traffic infrastructure has become more friendly for cyclists, but many administrative issues remain to be resolved.
"Bike lanes used as parking spaces are a top concern for cyclists, but in a city with so many cars, I realize that it's difficult to find a solution that pleases cyclists and motorists," Qian added.
He said cyclists have been severely injured after crashing into car doors opened suddenly by careless drivers parking in cycle lanes.
Jing said that as well as improving infrastructure, better administration is key to making cycling safer and more comfortable. "According to the plan for Beijing's slow travel system from 2020 to 2035, cyclists' right of way will be further protected," he said.
Luo, the bike shop owner, said the cycling boom will continue. "With the support of local governments around China, more people will find cycling a good way to commute and good for their health. The glory days of the 'Kingdom of Bicycles' have returned," he added.