Beijing cyclists take to the road in numbers
Share - WeChat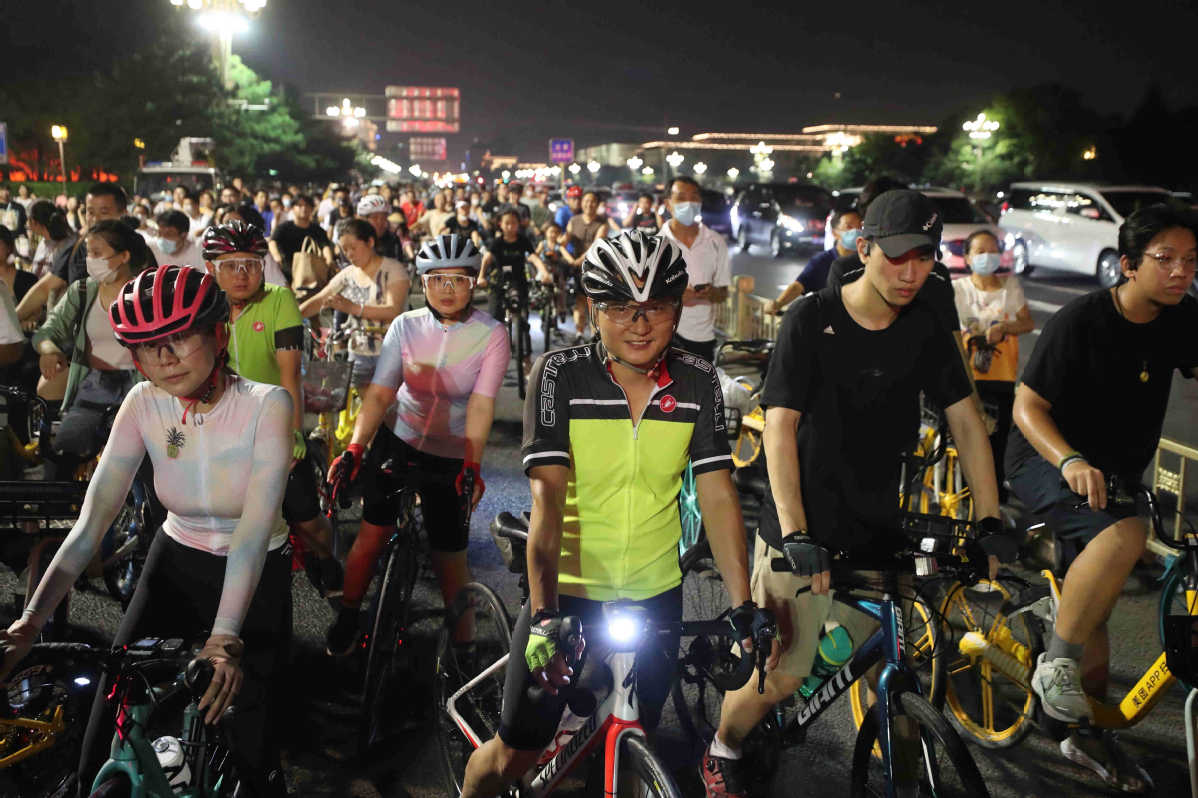 Strong attachment
Luo Xue, 31, an experienced cyclist who runs a bike workshop in Beijing, said the number of cyclists in China has soared in the past two years. "I don't even have time for a full interview-that's how busy I am as a result of the booming domestic cycling industry," he said.
Many Chinese have a strong attachment to cycling, which was their main means of transportation as they grew up, Luo said, adding that the epidemic has rekindled such enthusiasm.
"When people are advised to minimize traveling outside their city or province to contain outbreaks of COVID-19, they view cycling to the suburbs or the countryside as the perfect getaway," Luo added.
New cyclists routinely opt for premium bikes, Luo said, adding: "They often obtain information about bikes from social media, and they want the best. I often suggest that such buyers find a bike that suits their needs, and that they should gradually build up from there."
He said the most expensive bike he assembled for a cycling enthusiast cost more than 130,000 yuan ($19,240).
"Never underestimate the value of the bikes you see on the streets, because they may be more expensive than your car," he added.
Luo, who has gained a good reputation among cycling fans, has been working flat out for some time to cope with the demands off riders nationwide.
"In addition to customizing and repairing bikes, I offer consultations to 20 to 30 riders from around the country each day. There is always a long list of new friend requests on my WeChat account," he said.
Meanwhile, the cycling industry has benefited from the emergence of COVID-19.According to Giant Group, one the world's biggest manufacturers of bicycles, demand remained robust last year, when bikes were in short supply. The company, which is based in Taiwan, has enjoyed significant growth on the Chinese mainland.
Last year, its annual consolidated revenue reached the equivalent of nearly $2.6 billion-a record high, according to its financial report published in March.
Demand for bikes has soared since 2020, particularly during last year because of the pandemic, with more people caring about their health and longing for exercise outdoors, the company added.
Last year, Phoenix Bicycle, which is based in Shanghai, saw its revenue reach 2.05 billion yuan, a year-on-year rise of nearly 50 percent, according to the company's annual report. Its net profit rose by just over 71 percent year-on-year.
Qian said a long waiting list has formed for popular brands as more people buy bikes and take to the road.
"Last month, I placed an order with Trek, a trendy brand in the United States, for a bicycle costing 30,000 yuan, but I won't get the bike until October. All the current stock of imported bikes has sold out in China, but it's always good to see more people enjoying cycling," he said.