Natural process
By Xu Lin | China Daily | Updated: 2022-11-24 08:40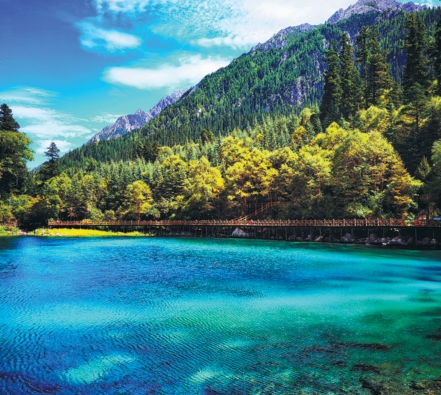 Post-quake recovery
On Aug 8, 2017, a magnitude 7 earthquake hit the area, leaving the landscape of Jiuzhaigou with scars caused by landslides, falling rocks and debris flows. The park was closed to the public for about two years, and when reopened, some 85 percent of the space was accessible to tourists. Last year, it fully reopened to visitors after a recovery of its fragile beauty.
"To the human eye, the unique scenery of Jiuzhaigou has been almost restored to its former glory — about the same as before the earthquake," Du says.
Three months after the earthquake, the administration issued a detailed plan to restore the landscape, wildlife habitat and vegetation cover, with the goal that the recovery should rely mainly on nature's self-healing ability, supplemented by necessary manual intervention.
"It is a big challenge for us to explore the recovery mode, and we try to enhance the value of Jiuzhaigou during the process," he says.
He says the park needs to comply with UNESCO conventions on protecting the site to retain its outstanding universal value, as well as Chinese laws and regulations on ecological management.
"We undertake proper manual intervention if a potential danger threatens the safety of human beings or affects the park's integrity," he says.