Natural process
By Xu Lin | China Daily | Updated: 2022-11-24 08:40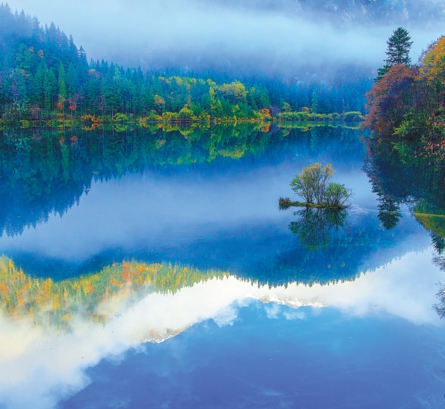 Sustainable development
Tang says regular monitoring is necessary to preserve Jiuzhaigou.
"It's like going to see a traditional Chinese medicine practitioner — the doctor will adjust the prescription based on changes in your body after you take the medicine," Tang says.
To protect Jiuzhaigou's unique tufa landscape, he says it's important to know about the factors affecting degradation. His team is also doing research on how to slow the tendency of swampiness in Jiuzhaigou's lakes.
"The post-disaster reconstruction of Jiuzhaigou is successful, solving some previous problems as well. Ecological engineering has made the environment consistent with the landscape," Tang says.
He emphasizes that authorities should minimize the influence of tourist activities on the landscape. As carbon dioxide is related to tufa degradation, he suggests that electric shuttle buses should be used in the scenic area, and the administration has already taken some action.
He says local authorities and residents are aware that it's important to balance tourism and ecological protection for sustainable development.
"Once hidden in the deep forests, Jiuzhaigou is like the secret workings of nature. Many people have dedicated themselves to preserving the area, and we want our descendants to enjoy its stunning beauty," Tang says.