Making the right moves
By Yang Feiyue | China Daily | Updated: 2023-01-10 07:45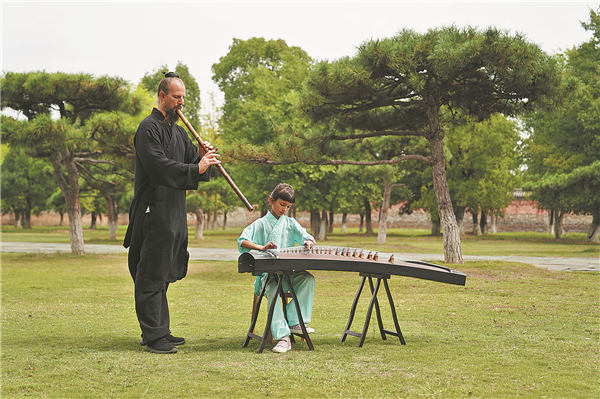 Journey to the East
Pinnick has been fascinated by Chinese martial arts since he was a kid, when he really enjoyed watching films featuring Chinese kung fu stars, such as Bruce Lee and Jackie Chan.
"In our small town, there were no martial arts schools, and the ones in other cities didn't feel very authentic to me," Pinnick says.
At the beginning of 2009, he chanced upon the website of Yuan's academy, which was offering a five-year program for foreigners.
"I thought it would be a great opportunity to learn kung fu and other disciplines and experience a new challenge," he recalls.
When he announced his plan to his family, they were supportive and felt that the experience would be a beneficial one.
Pinnick then had to save up for his journey, so he started working two jobs. In May 2010, he got his visa and passport, and booked a one-way ticket to Wuhan, Hubei's provincial capital.
The trip was anything but smooth, as he took four flights, lost his luggage and ended up arriving in Wuhan exhausted. He didn't even have time for a break, heading straight from there to the Wudang Mountains via train, bus and taxi.
"It was quite the adventure just getting there, because I didn't speak any Chinese," he says.
His mind, however, was set at ease upon arriving at the academy, where he found other international kung fu students were also training there.
"It was a nice transition, and they taught me Mandarin and showed me where to get groceries," Pinnick says, adding that it made it very easy for him to get used to the local way of life.
A few months later, something happened that reinforced Pinnick's pursuit of kung fu dream in Wudang. It was when he took a break and returned home after the first six months of study.
"I found it hard to leave China, and there was kind of a reverse culture shock when I arrived back in the US," he says.
The Wudang Mountains are famous for their Taoist temples and monasteries, and the area is widely considered to be the birthplace of tai chi. The region's deep history with traditional martial arts has appealed to many kung fu practitioners from home and abroad.
Before the pandemic, about 400,000 international visitors came to the mountains for sightseeing and to appreciate its culture, according to the Wudang Mountains management committee.
More than 8,000 of those visitors have stayed to practice martial arts, but very few of them can become official disciples of the masters.
It is a select few who can gain approval from the masters, and are taken on as new students.
Pinnick's efforts saw him make great strides in martial arts and, as a result, he managed to make the cut.