Making the right moves
By Yang Feiyue | China Daily | Updated: 2023-01-10 07:45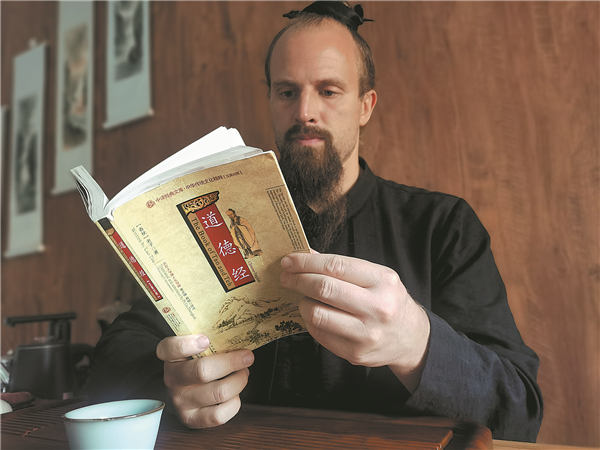 Cultural confidence
Pinnick finished his training at the academy in 2018 and decided to stay and help teach his own classes there.
He had an advantage in teaching international martial arts students in terms of language and way of thinking.
"I can often put myself in their shoes when it comes to dealing with problems," he says.
Pinnick usually gets up at 5:30 am, and practices tai chi from 6 to 7 am. One-and-a-half hours later, he goes to the academy's Yuxu Temple to give instruction to kung fu students. After a short break, he will go on to teach another session in the afternoon. When the night falls, he will share his understanding of Wudang kung fu and traditional Chinese culture online.
"Life is just cozy here," he says.
Now he has a wife, whom he met in China, and a daughter.
In addition to martial arts, Pinnick has exposed himself to Chinese culture, especially Taoism, and explores the idea of living in harmony with the universe.
He has also taken the time to learn Chinese musical instruments, such as guqin, a seven-stringed plucked instrument, with Yuan's son, who is a guqin specialist.
Then, he got his hands on a bamboo flute afterward, and was instantly taken with it.
"Since much of the music theory of ancient Chinese traditional instruments is similar, I figured I could learn bamboo flute by myself," he says.
"In the process of searching for materials, I found that there were very few teaching books for the bamboo flute in foreign languages, almost none in fact. I had to find Chinese materials and then translate them, before attempting to learn the techniques and methods of playing."
In the beginning, his obsession with the instrument saw him practice almost every day.
Pinnick's wife Cao Lingling says she admires his perseverance.
"He will give 100 percent to whatever he is focused on," Cao says.
"When he was getting over the most difficult phase of learning the bamboo flute, after eating, sleeping and martial arts practice, he spent almost the rest of the time playing the flute," she says.
To Pinnick, the most difficult part of learning the instrument was making it produce sound.
"When I first started playing, I couldn't even get it to make a sound, let alone play a musical scale," he recalls.
Then, he started to understand the importance of details.
"Your mouth has to open in the right place, with the lower lip gently on top of the mouthpiece. It can't be too tight," he says.
"Just imagine a full cup of tea before you, and then try to blow it like you blow away the floating tea leaves with a thin, steady and persistent breath."
As his bamboo flute skills improved, Pinnick came to realize how the instrument also has something in common with the martial arts.
"To ensure the instrument produces a nice sound, it requires constant breath control, which is also important in kung fu practice," he explains.
"I slowly found that the foundation of martial arts has helped me a lot in trying to play the bamboo flute."
Pinnick's sharing of his life in Wudang has attracted nearly 1 million followers on social media platforms, such as Douyin and Xiaohongshu. His online followers have said that it looks like he is living in the world from a martial arts movie.
Speaking about his future plans, Pinnick says there is still a lot of things he wants to do.
He will continue to hone his martial arts and musical skills, while reaching out to a larger audience through training and his books.
"I'd also like to try my hand on the official bamboo flute exams, and hopefully embark on a professional music career," he says.