Display panel shipments for foldable phones shine bright for manufacturers
By FAN FEIFEI | China Daily | Updated: 2023-02-08 09:23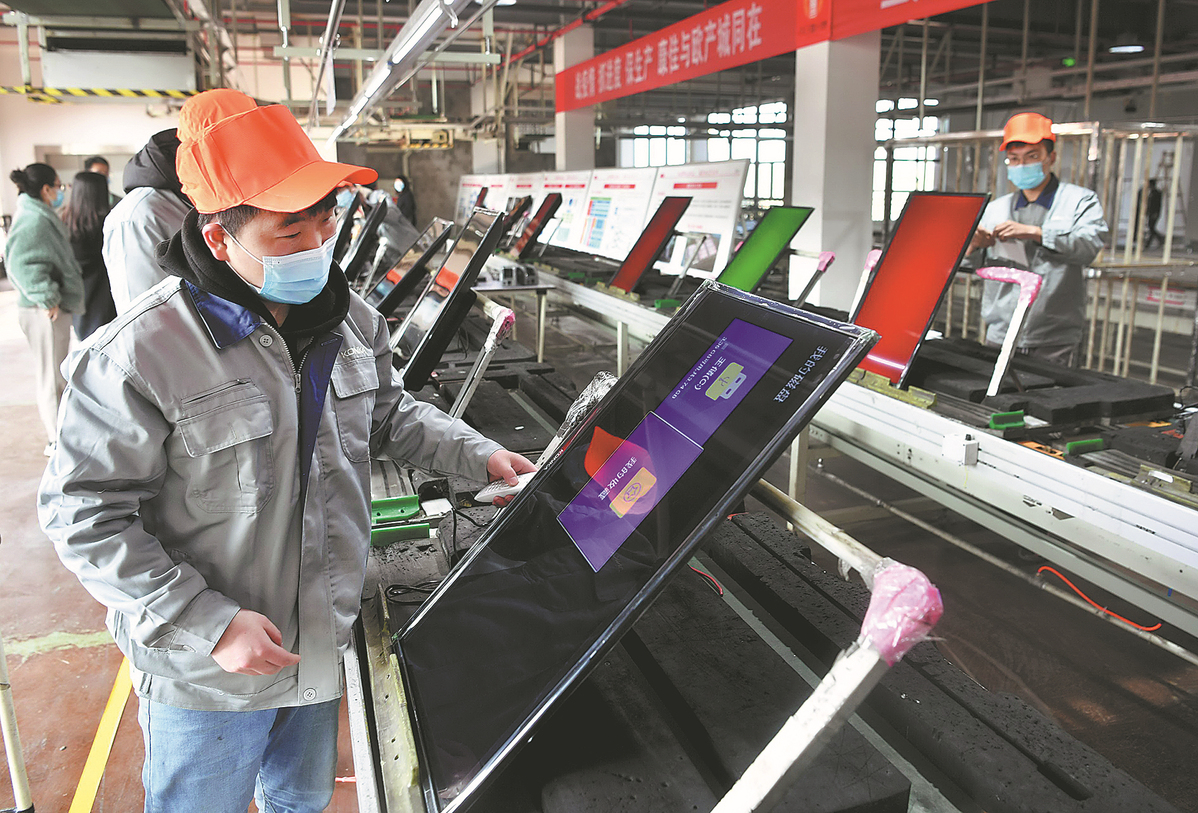 China has become the world's largest display panel producer, with shipments of flexible organic light-emitting diode, or OLED, panels used in smartphones from Chinese manufacturers expected to enjoy a 42 percent share in overall OLED panel shipments worldwide in 2023, according to Sigmaintell Consulting, a Beijing-based market research firm.
Global shipments of foldable smartphones will increase from 14 million units in 2022 to 23 million units in 2023, said Chen Jun, vice-president and chief analyst of Sigmaintell. The shipment of flexible OLED panels in smartphones from South Korean display manufacturers is estimated to account for a 58 percent share of the global OLED market this year, compared with 68 percent in 2022.
Chinese mainland companies topped the list in terms of display panel shipments, taking up a 59.5 percent share in the global panel market. This figure is expected to reach 60.4 percent in 2023.
Domestic smartphone makers prefer purchasing OLED panels from homegrown display panel suppliers due to the complicated external environment like exchange rate fluctuations and geopolitical tensions, Chen said.
Chen added that the foldable smartphone market will still witness speedy growth this year but the growth rate might be lower than expected, as smartphone makers have become conservative in foldable products and pricing strategies.
Worldwide shipments of foldable phones, including flip and fold form models, will reach 41.5 million units in 2026, with a compound annual growth rate of 38.7 percent from 2021 to 2026, according to market research company International Data Corp.
Although IDC still believes the use of foldable smartphones remains a low priority, falling prices and new business use cases make the idea more appealing moving forward. The year 2023 will bring a 55.1 percent growth for foldable phones with continued double-digit growth throughout the forecast period.
China will overtake South Korea to become the biggest OLED manufacturer by 2024, as more Chinese companies have invested heavily in new OLED production lines, said Zhou Hua, chief analyst at CINNO Research, a Chinese flat panel display consultancy firm.
Industry insiders said that compared with traditional liquid crystal displays, the flexible OLED has made great advances in terms of image contrast, brightness and color spectrum, thus further accelerating the transformation and upgrade of the display industry.
Domestic display panel suppliers, such as BOE Technology Group Co Ltd, Visionox Technology Inc and TCL China Star Optoelectronics Technology Co Ltd, are doubling down on flexible screens and have scaled up their production capacities.
With a total investment of nearly 140 billion yuan ($20.63 billion), BOE has built China's first flexible OLED industrial clusters, covering three flexible active-matrix organic light-emitting diodes, or AMOLED, production lines in Chengdu and Mianyang in Sichuan province, and Chongqing, respectively.
Statistics from Sigmaintell showed that BOE topped the domestic market with flexible OLED panel shipments of about 60 million units in 2021, becoming the world's second-largest OLED maker next to Samsung Display. The shipment of its flexible OLED panels is expected to reach 80 million units in 2022.
Gao Wenbao, president of BOE, said that there is a surging demand for OLED panels, which are mainly used in mid-range to high-end smartphones and the company plans to expand the application scenarios of OLED in the wearable devices segment.
Xu Fengying, vice-president and chief operating officer of Visionox Technology Inc, another Chinese display panel supplier, said the shipment of foldable phones equipped with flexible OLED display screens is expected to surpass more than 100 million units by 2028, representing a compound annual growth rate of 34 percent from now.
Xu said AMOLED panels will have wider applications in smartphones, computers, smart wearables, vehicles, virtual reality and augmented reality because of surging demand for flexible display screens.