Paper details way to achieve world peace
By ZHANG YUNBI | chinadaily.com.cn | Updated: 2023-02-21 23:42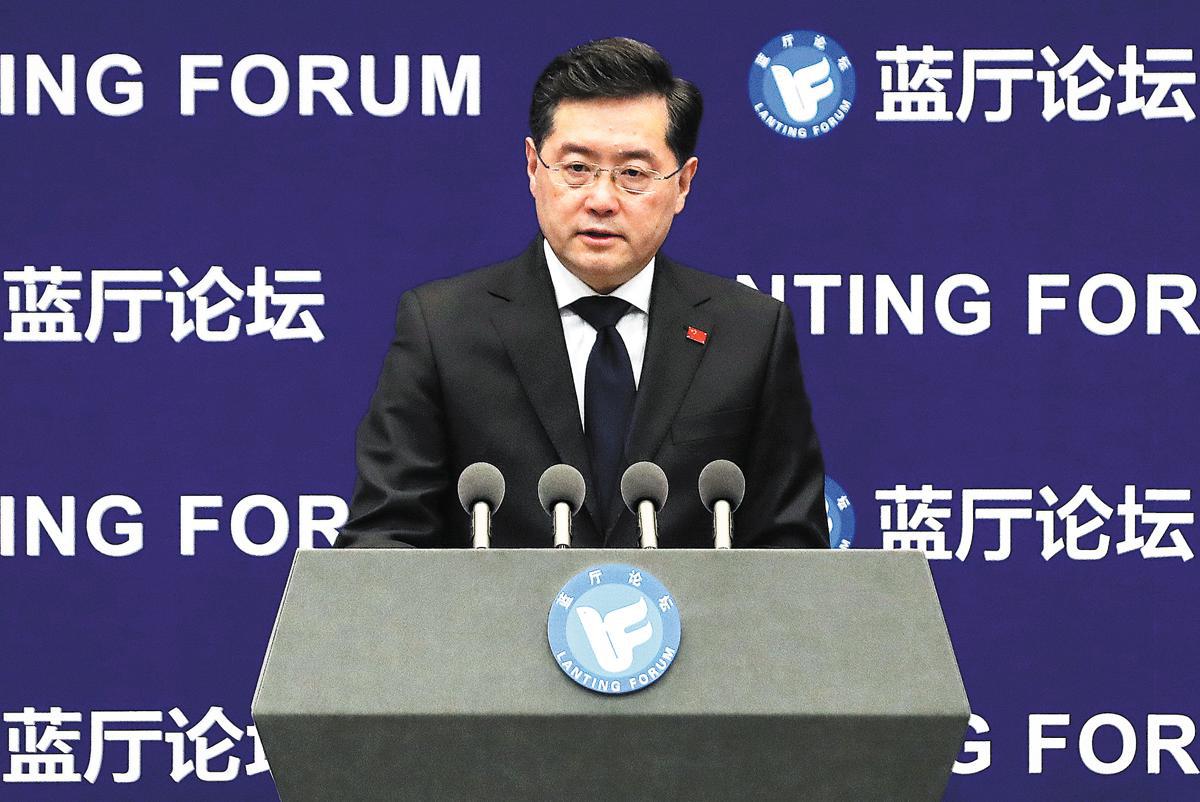 Beijing has issued a landmark document to explain in detail its proposed Global Security Initiative, a move that diplomats and experts said will help the world better understand China's approach to building world peace through coordinated efforts between countries.
"The Global Security Initiative Concept Paper" was released on Tuesday at a Lanting Forum event hosted by the Foreign Ministry in Beijing.
The initiative was proposed by President Xi Jinping in April last year. Currently, over 80 countries and regional organizations have endorsed or supported the initiative, Foreign Ministry spokesman Wang Wenbin said on Tuesday.
The paper elaborated on Beijing's holistic thinking on the initiative's background, core beliefs and principles and priorities for cooperation as well as platforms and mechanisms to serve such collaboration.
The paper called on nations to stay committed to the vision of "common, comprehensive, cooperative and sustainable security" and "take the legitimate security concerns of all countries seriously".
Among detailed areas for greater coordinated work are preventing a nuclear war and "promoting political settlement of international and regional hot spot issues".
China also vowed to hold high-level conferences on the initiative to strengthen policy communication and promote intergovernmental dialogue and cooperation.
Foreign Minister Qin Gang said while addressing the forum that "security should not be monopolized by certain countries", as it is a legitimate right of all countries.
China has always been committed to promoting peace and dialogue, Qin said. The paper demonstrates China's sense of responsibility for safeguarding world peace and firm resolve to defend global security, he said.
He noted that outside attempts to suppress and coerce China have been stepped up, posing a serious threat to the nation's sovereignty and security. "China is a major country, and its development will not be achieved without a secure international circumstance. Likewise, the world will not enjoy security without China's security," he said.
Siyabonga Cwele, South Africa's ambassador to China, told China Daily that what impressed him most in the paper was that China, as a big country and economy, was still committed to not becoming hegemonic or bullying others.
"We really hope that all developed countries can follow that path of making sure that they don't use their economic or military strength to coerce others, but work with others for common prosperity for all," he added.
Danilo Turk, former president of Slovenia, said the GSI "rightly emphasizes the centrality of respect for the sovereignty, integrity and dignity of all states and non-use-of-force and noninterference in the internal affairs of states".
"Only cooperation based on the respect of others and of the legitimate interest of others … promises a way forward," he said in a video address.
Ban Ki-moon, former secretary-general of the United Nations, said in a video speech that "we must elevate our efforts to revitalize multilateralism and persevere with the collective challenges we are facing".
He called on the five permanent members of the UN Security Council to step up and take genuine leadership roles in maintaining international peace and security.
Zhang Ming, secretary-general of the Shanghai Cooperation Organization, said that many details of the GSI echo some of the basic principles of the organization, and the paper "offers Chinese wisdom for the region and the world to properly address the rising security challenges".
Wang Wen, executive dean of Renmin University of China's Chongyang Institute for Financial Studies, said the document expresses China's grave concerns over the global security situation as well as its hope to prevent the worst scenario from happening. It also offers a Chinese solution to the constantly worsening global security situation, Wang said.
As the Ukraine crisis approaches its one-year anniversary this week, Foreign Minister Qin said China is "deeply worried" about the constant escalation of the conflict and the possibility of it getting out of control.
While reaffirming Beijing's commitment to contributing its ideas for a political settlement of the crisis, he said that China urges relevant countries to stop fueling the crisis, stop shifting blame to China and stop hyping up the claim that "today's Ukraine is tomorrow's Taiwan".