Drone shows seen rising as economy takes off
China Daily | Updated: 2023-02-22 09:02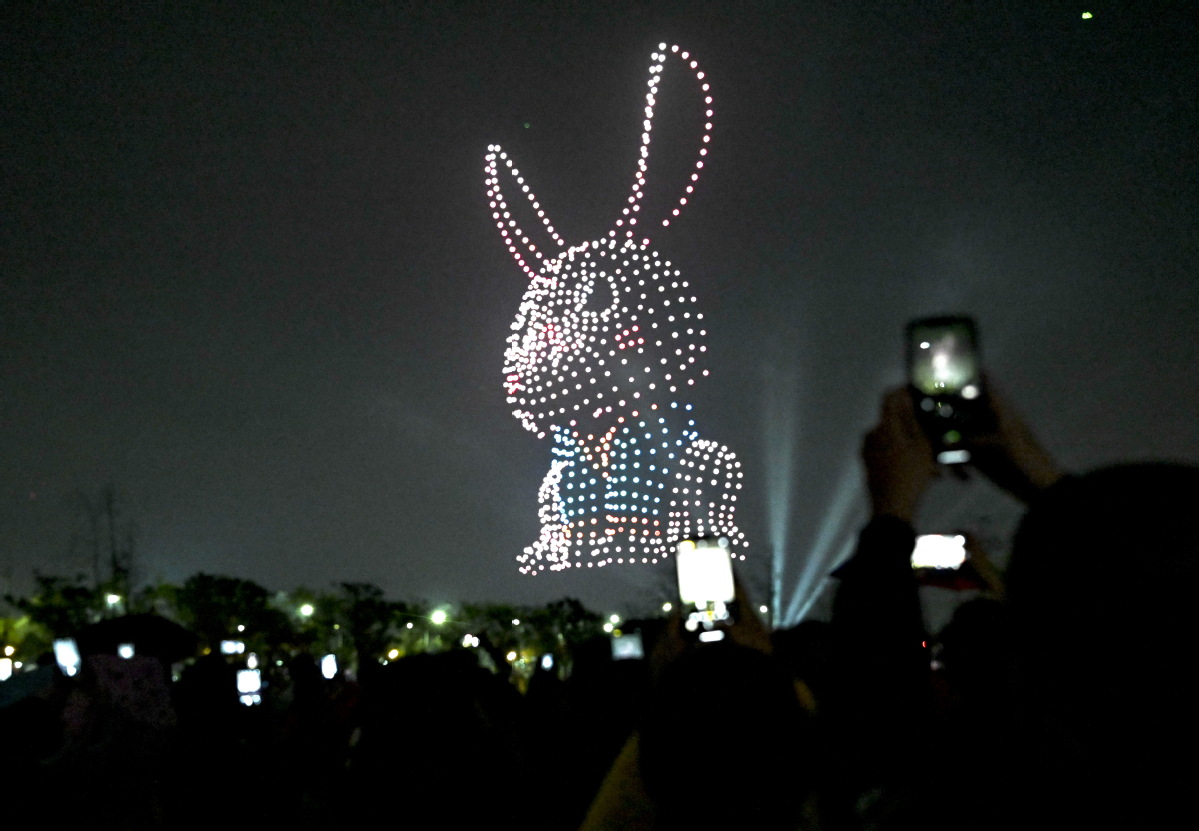 TIANJIN — Zhang Yun keeps a carefully curated map of drone shows on his mobile phone, which reveals that since the start of this year, a staggering 100,000 drone flights for air performances across China have been orchestrated by his company.
According to Zhang, deputy general manager of EFY-Tech based in North China's Tianjin municipality, the company has put on 56 unmanned aerial vehicle formation performances in 30 cities including Tianjin, Hangzhou in Zhejiang province, Taiyuan in Shanxi province, Xi'an in Shaanxi province and Guangzhou in Guangdong province, so far this year.
"The chart not only illustrates the business map of EFY-Tech but it also serves as a testament to China's thriving economic climate," he said.
Zhang went on to share that the biggest show this year was in Southwest China's Chongqing municipality on eve of the Chinese New Year.
During this extraordinary performance, EFY-Tech deployed 3,000 drones for a 15-minute performance above Chaotianmen, a Chongqing landmark. The show attracted more than 100,000 spectators and garnered over 300 million views online.
"The number of drone performances this year was several times higher than that of the same period last year," Zhang said.
Apart from established leaders such as DJI, an array of innovative Chinese enterprises have emerged in the drone production industry in recent years, particularly in areas such as aerial performances and aerial inspection surveys, highlighting China's pioneering approach to UAV applications.
Besides the domestic market, EFY-Tech has seen an increasing demand for drone shows from countries like the Republic of Korea, Japan and Saudi Arabia, Zhang said.
The company's UAV formation performances can present 16 million colors and connectivity can be realized in various modes such as 4G, Wi-Fi and radio. Performance costs have been reduced by more than 30 percent compared to four years ago.
The company has sold more than 10,000 drones since 2019. Based on its current orders, it is expected to sell 10,000 to 20,000 drones this year.
"Since the beginning of this year, suppliers in the entire production chain have been mobilized due to the surge in orders," Zhang said.
The industrial chain includes 16 types of core component manufacturers such as sensors, batteries, remote controllers and receivers and composite materials as well as flight controls, navigation and communications systems.
Xinhua