Taking a page out of their books
By Fang Aiqing | China Daily | Updated: 2023-05-10 09:43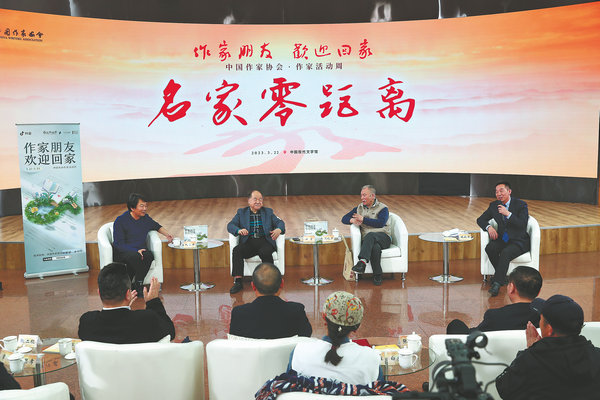 For Liang, someone's early reading experiences are key to their later cultivation of a literary concept. The stories Liang's mother told him in childhood, poems of Wen Yiduo (1899-1946) and Yin Fu (1910-31) in his sibling's Chinese-language textbooks, Maxim Gorky's novels, and the lectures he listened to in the army, all nourished his literary roots.
In his writing, whether it's a novella or full-length novel, Liang tends to prioritize portraying the characters rather than simply describing certain events. In his decadeslong career, he has formed the habit of conceiving characters before writing the story.
Even when he watches TV series, films and theater dramas — which he believes are derived from literature — he will drop out if the plot unfolds with the pace of events instead of revealing more about the characters and their corresponding social backgrounds.
Such a tendency largely stems from his early life experience at the Beijing Film Studio as a literature editor, after graduating from Shanghai-based Fudan University in 1977.
Liang's full-length novel A Lifelong Journey — which won the Mao Dun Literature Prize, among the field's most prestigious awards in China — was adapted into a hit series and raised heated discussions online last year.
Liu adds to Liang's idea further by stating the importance of characters' interpersonal relationship and its structure, saying it requires wisdom, creativity, and philosophical cognition to achieve that in a literary creation.
He took prominent writer Lu Xun (1881-1936) as an example. In his writing, Lu Xun created household characters like Kong Yiji, Sister Xianglin and Ah Q. Liu said that contemporary writers of Lu Xun's time saw the world from a local point of view, while Lu Xun looked at his village from a global perspective.