Granny's trip of discovery
By Wang Ru | CHINA DAILY | Updated: 2023-05-22 06:50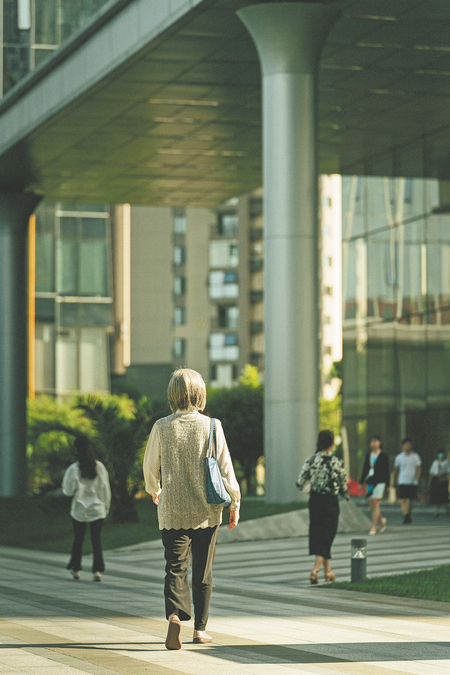 "A person is just like a puzzle. With limited energy, we don't want to piece together a complete image of them, as long as we basically know what they are like. In terms of family members, we like to believe that we are familiar with them, while ignoring the parts of them that lie in our blind spots. Sun Yulan and Dou's search for Sun Yuping means they must seek out the hidden parts of her, and finally create a more accurate portrait of her," says Li.
The production also discusses the feeling of incapability that anyone can meet in life. "For example, in this series, in the face of the failure of her own, and her daughter's, marriage, misunderstanding and alienation among family members and unpredictable vicious things she meets in society, Sun Yuping has a desperate feeling of incapability, and that urges her to leave home and seek more possibilities in life," says Li.
"Reflecting history, the improvements of productivity, thoughts and systems all come from people's exhausting struggle with the feeling of incapability. But when we put an end to one type of feeling, a new one appears," he adds.
He believes that proactive free will and a feeling of ceaseless incapability are two sides of one coin. Without feeling incapable, people's free will would become aimless and could not be stimulated to make further progress. Without proactive free will, life would become hopeless and meaningless for people, says Li.
"Sun Yuping's journey is to restore and improve herself, instead of trying in vain to banish the feeling of incapability in her life. She hopes to build a stronger and richer inner self, so that she will not be defeated by the feeling," says Li.
According to Li, in general, it's a story of someone who discovers, restores and improves herself, and how she influences others during the process.
"With continuous development of society, do people have a better ability to know themselves? I don't think so. 'Who am I?' That is still a basic philosophical question. In an era exploding with information, and an increasingly faster pace of life, we actually don't have much time for introspection compared to people from earlier generations," says Li.
"Sun Yuping's story reminds us that a person's life is shaped by their own choices. And the courage to make such choices is gained on the basis of examining their own life, which is a starting point of self-discovery," he adds.
According to Yan, who plays the roles of both Sun Yuping and Sun Yulan in the series, she went to great lengths trying to accurately portray elderly people. Initially, it was through makeup, but then, she paid attention to her posture and movements when filming.
"Getting accustomed to the stature of old people is a long process. Sometimes I had a dreamy feeling of seeing myself in my old age," Yan told Global Times.
Speaking about the series, Yan said: "What I want to show the audience is youth. When Sun Yuping gets old, she can still maintain a curious and innocent perspective of the world, and she has the courage to start a new journey and meet different people.
"Youth is not about age, but a mindset. Sun Yuping's story tells us that you should not lose your gloss. You are supposed to open yourself up like a clam and see the world."
You should always have the courage to live with a youthful mindset, she added.
Contact the writer at wangru1@chinadaily.com.cn