Calls for rights renewed 30 years after Oslo Accords
By JAN YUMUL in Hong Kong | China Daily | Updated: 2023-09-13 07:21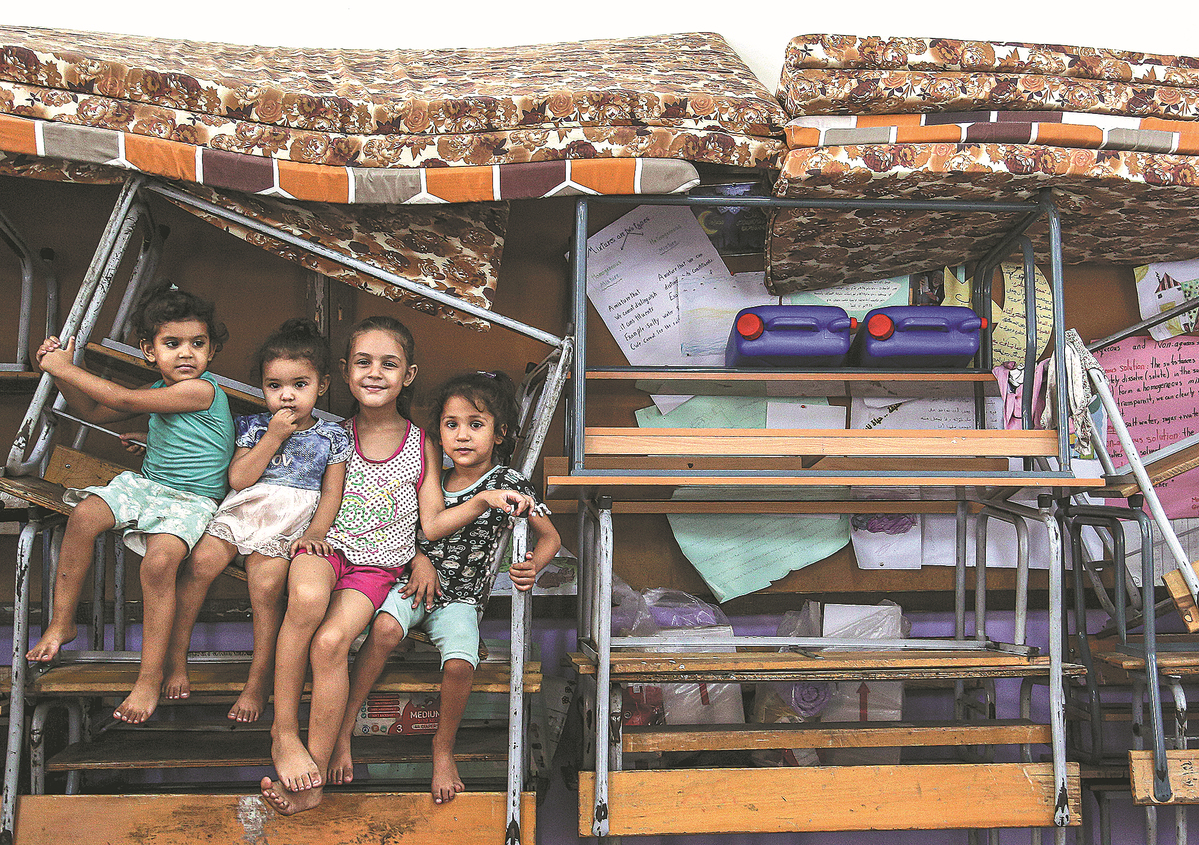 Global attention should continue on the contentious issue of Palestinian rights, 30 years after the signing of the landmark Oslo Accords for Israel and the Palestine Liberation Organization, or PLO, as the peace process remains shaky.
And with the world shifting toward greater multilateralism, Israeli control of Palestinian territories and its international relations "merit reevaluation" as attempts to forge a lasting peace continued, analysts said.
On Sept 11, humanitarian nonprofit Norwegian Refugee Council, or NRC, proposed establishing an alternative Palestinian-led, rights-based planning approach in the occupied West Bank, as it accused Israel of systematically excluding Palestinian presence there.
The Oslo Accords were signed on Sept 13, 1993, paving the way for peace negotiations between Israel and the Palestinians. The pact was signed at the White House in Washington, where Israeli prime minister Yitzhak Rabin and Yasser Arafat, the PLO chairman who would go on to become the first president of the Palestinian Authority, had their famous handshake.
According to the agreement, Israel accepted the PLO as the representative of the Palestinians, and the PLO renounced terrorism and recognized Israel's right to exist in peace.
Both sides agreed that a Palestinian Authority would be established and assume governing responsibilities in the West Bank and Gaza Strip. But peace has remained elusive since then, with frequent outbreaks of violence in Israeli-occupied areas.
In a news release, the NRC said establishing an autonomous building process "stewarded by Palestinians" for the benefit of Palestinians "would allow Palestinians greater control over their territory", prioritizing the construction of schools, homes, livelihoods and services, instead of solely relying on humanitarian aid to meet their basic needs.
Further, the "unlawful planning regime imposed by Israel" in what is known as Area C, which comprises some 60 percent of the occupied West Bank, "creates an impossible living environment for Palestinians "and displaces them, unlawfully annexes West Bank territory and "prevents any prospect of a functioning Palestinian state".
'Severe consequences'
Belal Alakhras, a political analyst and Palestinian researcher at the University of Malaya in Malaysia, told China Daily that the Oslo Accords have had "severe consequences that need to be addressed".
Instead of offering a resolution to the Palestinian issue, the agreement "provided a framework for managing Israeli control in Palestine".
"These accords allowed Israel to maintain control over more than 78 percent of Palestinian land and led to an increase in Israeli settlements, particularly in the West Bank and Jerusalem, where the settler population exceeded half a million," Alakhras said.
"Under the Oslo conditions, Israel transitioned from being seen as an occupying power to a partner for peace. Consequently, calls for concessions were also directed at the Palestinians, as if they were responsible for their own occupation."
According to the accords, Israel was to transfer administrative control of Area C to the Palestinian Authority over a period of 18 months, which was supposed to conclude in 1998. However, this did not happen.
The NRC also urged donor states, the United Nations and humanitarian agencies to enforce international law that prohibits Israel from annexing Palestinian territory, depriving Palestinians of development possibilities and forcibly displacing Palestinians from areas it occupies.
"Israel has been violating international law, especially the Fourth Geneva Convention, by systematically discriminating against Palestinians, placing restrictions upon access to basic goods and services and replacing them forcibly for decades now," Nagapushpa Devendra, a West Asia analyst and research scholar at the University of Erfurt in Germany, said.
"The UN and other international organizations have acknowledged this on several occasions, but have failed to scrutinize Israel or cast Israel as the 'perpetrator' and implement sanctions."
Unless there is an unwavering determination and collaborative efforts from regional and international actors, no progress can be made toward a just and lasting resolution to the Israeli-Palestinian conflict, Devendra said.
Alakhras noted that the world has witnessed a shift toward greater multilateralism in recent times.
"Emerging influential nations could take a more proactive stance in dealing with the Palestinian predicament, recognizing it as a challenge faced by an occupied territory and a resilient population striving for their independence, much like the struggles of other nations in the mid-20th century," he said.