Macron unveils new green plan for France
By JULIAN SHEA in London | China Daily Global | Updated: 2023-09-27 08:53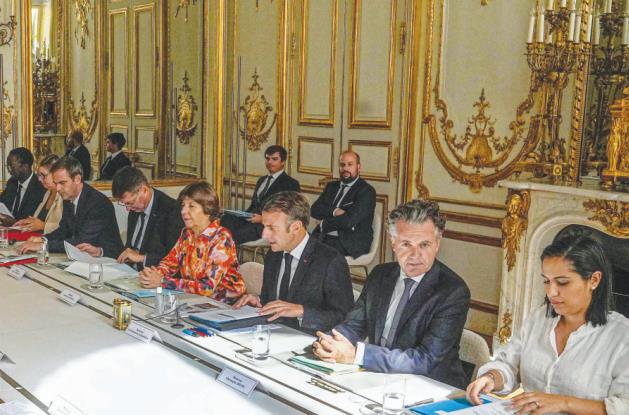 France's President Emmanuel Macron has unveiled what he calls a national "ecological plan" to double the speed of carbon emission reduction by the year 2030 and reduce the country's dependency on fossil fuels, which includes shutting the nation's last two coal-burning power stations.
Speaking after a special ministerial council at the Elysee Palace, Macron said it was essential to reduce reliance on fossil fuels "which we don't produce any more but on which we depend", adding "the priority that we have set is that, by January 2027, we will have totally ended the use of coal for our electricity production".
A total of 10 billion euros ($10.59 billion) would be set aside for the 50-point program, which includes extending off shore windfarm projects, significant investment in regional train networks, new electric battery factories, an increase in the production of electric vehicles, and limits on the use of domestic gas boilers.
Having previously said on television that the French "love their car, and I do", Macron has also announced a government-backed program to be unveiled in November that will allow households on modest incomes to lease electric vehicles at affordable rates, starting early next year.
He also said the government will work with high-polluting industries, such as the chemical and steel sectors, on reducing their emissions, and promised to "take back control of our electricity prices" in the short-term, after a long period of price rises.
However, the proposals received an unenthusiastic response from environmental groups that accused Macron of underestimating the size of the problem and offering no new solutions.
"He made the exact same promise five years ago," Yannick Jadot, a French member of the European Parliament, told news broadcaster FranceInfo. "Let's go for it, sparing no efforts. Let's invest, let's take social measures so that the most vulnerable, the most fragile, get out as the big winners of the climate transition."
A statement from Greenpeace France said Macron "still hasn't realized the scale of the climate emergency", and the group's energy transition campaigner, Nicolas Nace, added that "if he were truly ambitious and a forerunner, Emmanuel Macron would also have announced dates for phasing out fossil oil and gas".
Much of France's energy comes from its nuclear program, which according to the United States Energy Information Administration, is second only to the US in terms of number of facilities. The sector contributed 68 percent of France's electricity generation in 2021.
In April this year, during a state visit to Beijing, Macron signed a cooperation deal with China, extending connections between China General Nuclear, the China National Nuclear Corporation, and French state-backed utility EDF that date back 40 years.