Smart appliances show promising future
By FAN FEIFEI | CHINA DAILY | Updated: 2023-10-03 07:05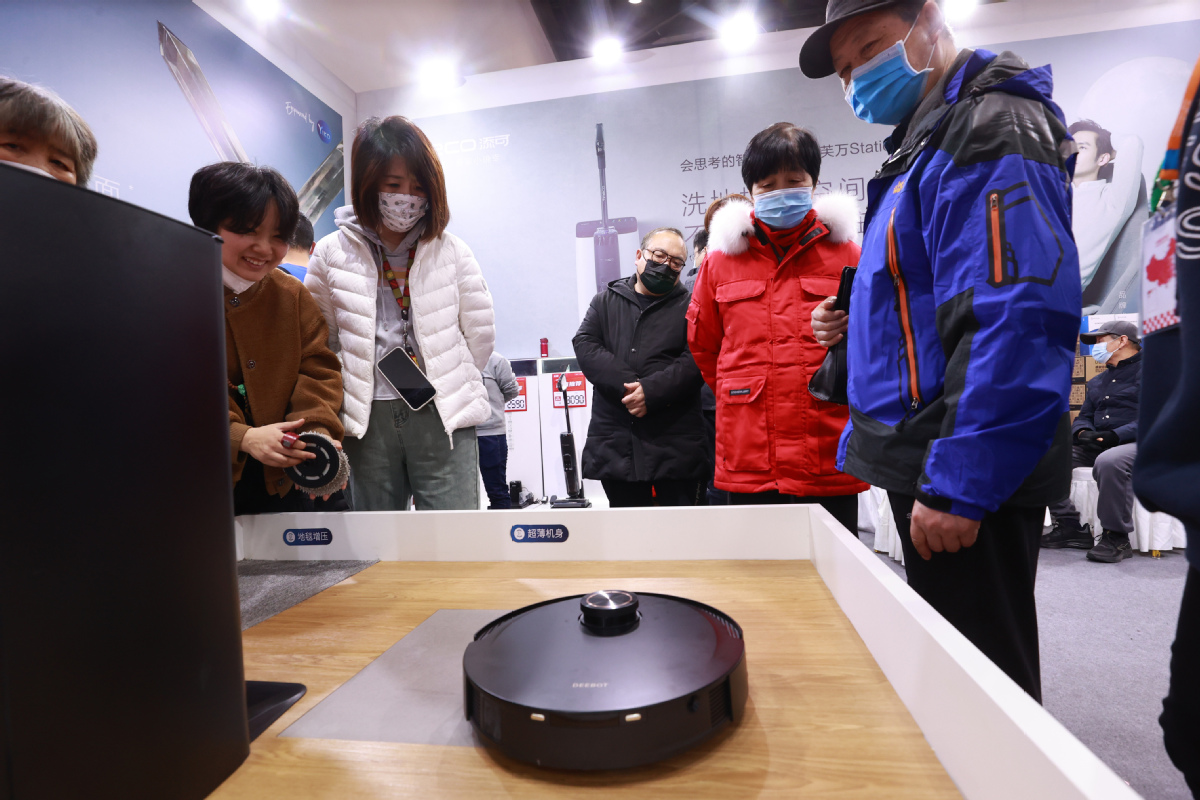 Makers bank on cutting-edge tech for juicy growth as demand for experience rises
Air conditioners that automatically control the humidity and temperature of a room based on their self-learning ability to track users' habits have already become part of people's daily lives.
In the era of intelligence, almost every home appliance can be controlled through voice commands, facial recognition or by using mobile devices remotely. Cutting-edge digital technologies are rapidly transforming many traditional industries and making life more convenient.
China's smart home devices sector is expected to see explosive growth in the next few years, thanks to superfast 5G coverage, artificial intelligence and the internet of things, experts said.
A report from global market research company International Data Corp said that the shipments of smart home equipment in China reached 260 million units last year, an increase of more than 17 percent year-on-year, and the figure is expected to amount to 540 million units in 2025, with total sales revenue surpassing 800 billion yuan ($109.6 billion).
Global shipments of smart home devices declined for the first time in 2022 as shipments fell 2.6 percent year-on-year to 871.8 million units, IDC said.
The consultancy forecast a modest 2.2 percent growth in smart home device shipments in 2023 as the global economy recovers. This growth is likely to continue through 2027 with worldwide shipments reaching 1.23 billion units in 2027.
Meanwhile, China has become the world's largest consumption market for smart home devices, accounting for a 50 to 60 percent share in the global smart home sector, according to market research company AskCI Consulting.
Chinese home appliance manufacturers are accelerating steps to leverage state-of-the-art 5G, AI and IoT technologies to promote the upgrade and iteration of products. IoT refers to a network of objects with software or sensors that allow data exchanges.
Haier Smart Home, a subsidiary of China's largest home appliances manufacturer Haier Group, built a 5G-powered IoT ecosystem by providing customized solutions that link together multiple home appliance products.
The ecosystem is powered by Haier's industrial internet platform COSMOPlat, which is designed for companies to customize products quickly by collecting and analyzing data from consumers, suppliers and factories while boosting productivity and cutting costs.
Consumers can be involved in the process of product design, research and development, production, manufacturing, sales and marketing. Haier's "internet of clothing" includes not only machines that wash but can also oversee everything to do with clothing, including style, shopping and other types of maintenance and storage.
Li Huagang, president of Haier Smart Home, said: "In the era of 5G and IoT, what users need are not homogeneous products but customized solutions to meet their personal preferences. We are willing to introduce tailor-made services for more families." He underlined that the company doesn't aim to sell just single household appliances but to provide personalized smart home systems.
Haier's IoT service model offers flexible and customized options, from kitchen design and construction to the purchasing, delivery and installation of whole suites of appliances.
Pan Xuefei, a senior analyst at IDC, said 5G and AIoT, or artificial intelligence of things, will play a key role in bolstering the connectivity among different smart home devices in various application scenarios and facilitating the interaction process between human beings and machines.
AIoT refers to the combination of AI technologies with IoT infrastructure to improve human-machine interactions and enhance data management and analytics.
Pan said these innovative technologies, such as voice interaction and facial recognition, have been gradually applied in smart speakers, security surveillance equipment and other smart home devices to enhance user experience and enrich the functions of related products.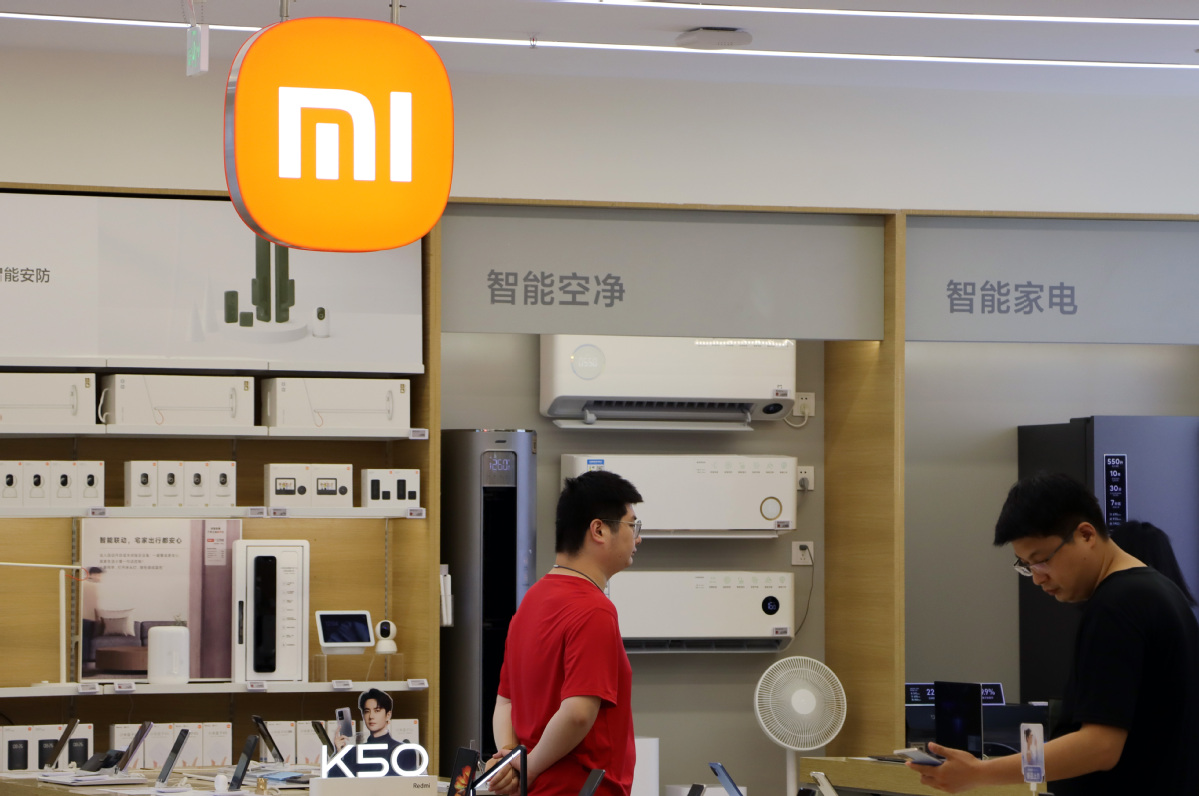 "China's smart home industry is now developing by leaps and bounds, fueled by advances in 5G, IoT, big data and other technologies," said Zhang Yanbin, an independent researcher in the home appliances sector, adding that along with people's increasing desire for a high-quality life, the AI-enabled smart home sector has a promising future.
Chinese home appliance manufacturer Midea Group has launched an IoT operating system backed by Huawei Technologies Co's HarmonyOS.
The IoT OS helps link smart home appliances made not only by Midea but also by other manufacturers, and provides more flexibility for smart home appliance ecosystems, said Xiang Jiangxu, vice-president and chief technology officer of Midea IoT.
The system helps reduce the costs of linking different brands and greatly enhances the ability to coordinate and innovate in the smart home appliances industrial chain, Xiang said. It also provides users with more convenient and intelligent services.
China announced a raft of measures in July to spur consumer spending on household items, as part of a broader drive to bolster domestic demand and shore up the world's second-largest economy.
According to a notice released by the Ministry of Commerce and 12 other departments, the country will support enterprises to use IoT, cloud computing and AI to accelerate the R&D of smart home appliances, smart security facilities, smart lighting, smart audio and video entertainment products.
Chinese smart kitchen and bathroom products maker Jomoo Group has applied advanced digital technologies such as AI, robotics, cloud computing and big data to the production lines of smart toilets, faucets, bathrooms, wardrobes and cabinets.
Lin Xiaofa, chairman of Jomoo, said total sales of the company have exceeded 50 billion yuan in the past three years, with an annual growth rate of over 30 percent on average despite challenges posed by the COVID-19 pandemic.
Lin said, Jomoo will intensify efforts to build more lighthouse factories and speed up the intelligent and digital transformation of the manufacturing sector. Lighthouse factories represent the highest level of global intelligent manufacturing and are characterized by high efficiency, intelligence and sustainability.
Chinese consumers have shown increasing demand for high-quality and smart home equipment with the iteration and upgrade of product functions and technologies, said Zhang Jianfeng, deputy secretary-general of the China Household Electrical Appliances Association, estimating the domestic smart home device market will see growth recovery in 2023.
Voice interaction has been widely used in the smart home field and Chinese household appliance manufacturers are improving their technological level to make products more intelligent and user-friendly, Zhang added.
Chinese home appliance makers are also stepping up efforts to integrate AI-powered chatbots into their products and services, in hopes of providing better human-machine interaction experiences, as OpenAI's ChatGPT has triggered worldwide attention and a new AI wave due to its advanced conversational capabilities.
Hisense Visual Technology Co Ltd, a Qingdao, Shandong province-based home appliance company, has joined the ecosystem of Ernie Bot, a ChatGPT-like chatbot launched by technology heavyweight Baidu Inc in March, to integrate the latter's intelligent conversational technology into its televisions and large-sized displays.
Midea is also among the first batch of partners for Ernie Bot. The company said its smart home products and family service robots will have access to Ernie Bot, which has shown its capabilities in fields including literary creation, business writing, mathematical calculations and Chinese language understanding.
Midea added it will bolster the upgrade of human-machine conversation abilities in the smart home sector by leveraging cutting-edge generative AI technology. Similarly, Sichuan Changhong Electric Co Ltd is ramping up the push to promote the application of Ernie Bot in its household appliances.
"The emergence of new AI technologies will better facilitate the conversational interaction between human beings and home appliance products," said Liu Fei, research director of the consumer electronics department at Beijing-based market consultancy All View Cloud.
The collaboration between household appliance makers and AI chatbot developers will accelerate the digital and intelligent transformation of China's home appliance industry, Liu said, adding that advances in product functions and technologies will further stimulate consumers' purchasing appetites.
However, some challenges and difficulties have cropped up in the development of smart home devices, said Liang Zhenpeng, an independent consumer electronics analyst.
"Smart home products made by different manufacturers usually can't be connected, and we still rely on foreign suppliers for high-end smart chips. It will still take several years to see the large-scale application of smart home devices," Liang added.
Sales of smart home devices have remained fairly resilient during the COVID-19 pandemic, said Adam Wright, a senior research analyst at IDC.
He added that smart home devices like smart speakers, security devices, smart lights and others have performed well as consumers have shifted their spending priorities to focus on adding more comfort, convenience and entertainment at home.