Navy opens pilot positions to master's graduates
By Zhao Lei | China Daily | Updated: 2023-11-16 09:41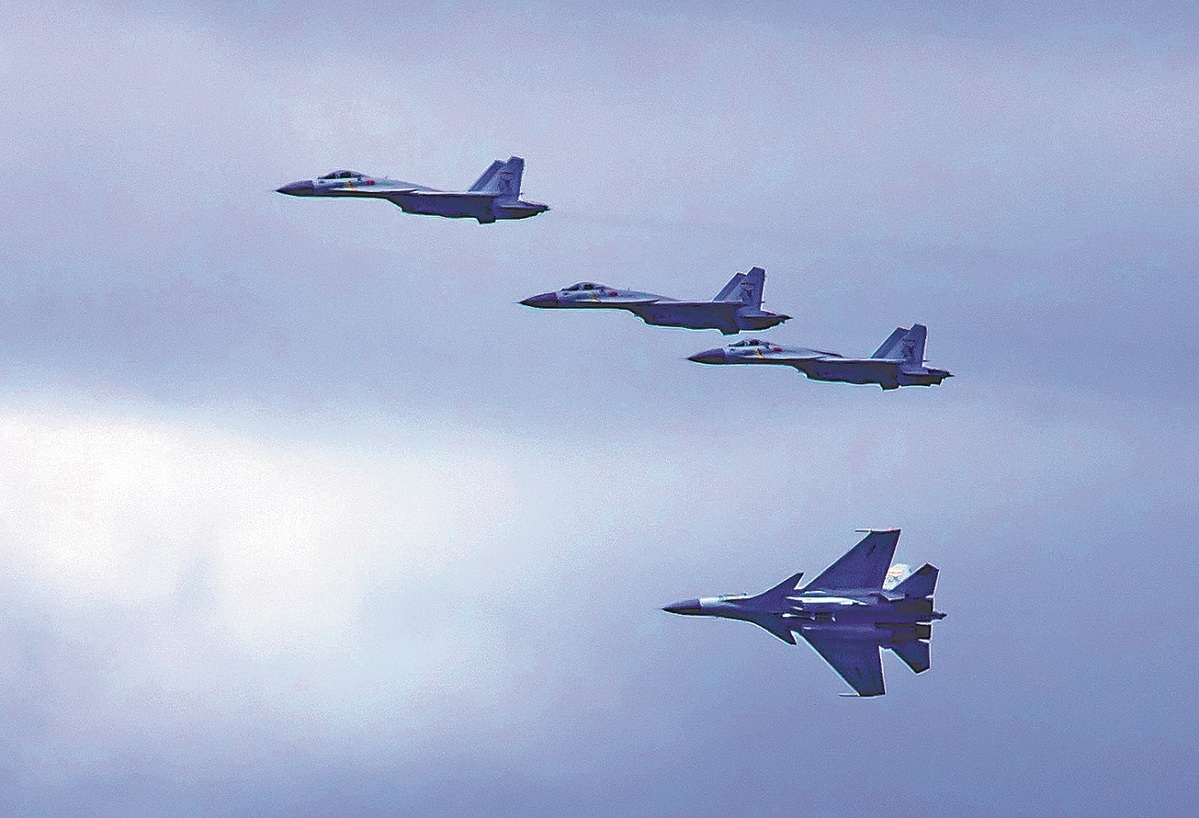 The People's Liberation Army Navy has recently opened the posts of fighter and helicopter pilot at the naval aviation force to graduates with a master's degree, according to the latest work conference on naval pilot recruitment.
Naval aviator recruitment officers said at the conference, which was held on Tuesday in Qingdao, Shandong province, that fresh university graduates with a master's degree are now eligible to apply for the training program for naval aviators starting from late October.
Male graduates majoring in science, technology and engineering fields are preferable candidates for the selection, according to the Navy's criteria.
Essential qualities include being younger than 26, weighing at least 52 kilograms, having a height from 165 to 185 centimeters, good vision and suitable nutritional conditions.
Ideal candidates should be fond of a military career and flying. They are also meant to have a host of other qualities, such as a strong mind, mental and physical agility, optimism as well as courage.
They should also have clean political, legal and study records, and consent from legal guardians.
Disqualifying conditions include stutter, color blindness, color weakness, crossed eyes, tattoos or difficulty hearing or smelling.
Interested graduates can download the application form from the website of the aviator recruitment office. They must submit the form, a reference letter signed by their department head and the result of medical examinations to the office before the end of this month.
Those who pass the initial selection will go through physical, psychological and political background checks. Whoever passes this round will be entered into flight tests to see whether they are fit for military aviation.
Once the whole process is complete, candidates with the best performance will be admitted to the Naval Aviation University in Yantai, Shandong province, one of the Navy's top training establishments, for three to four years of theoretical and flight courses before qualifying for service deployment.
This spring, the Navy started recruiting graduates with a bachelor's degree from non-military universities for the pilot training program, which was open to female applicants for the first time.
According to recruitment officers, most of the new flight students, should they successfully graduate from the training program, will be assigned to carrier-based aviation forces.
The PLA Navy now operates two carriers — CNS Liaoning and CNS Shandong. A third, more powerful carrier — CNS Fujian — is in the final stage of its construction at a Shanghai shipyard and will soon conduct its maiden sea trial.