Experts' takes on China-US relations
China Daily | Updated: 2023-11-20 07:24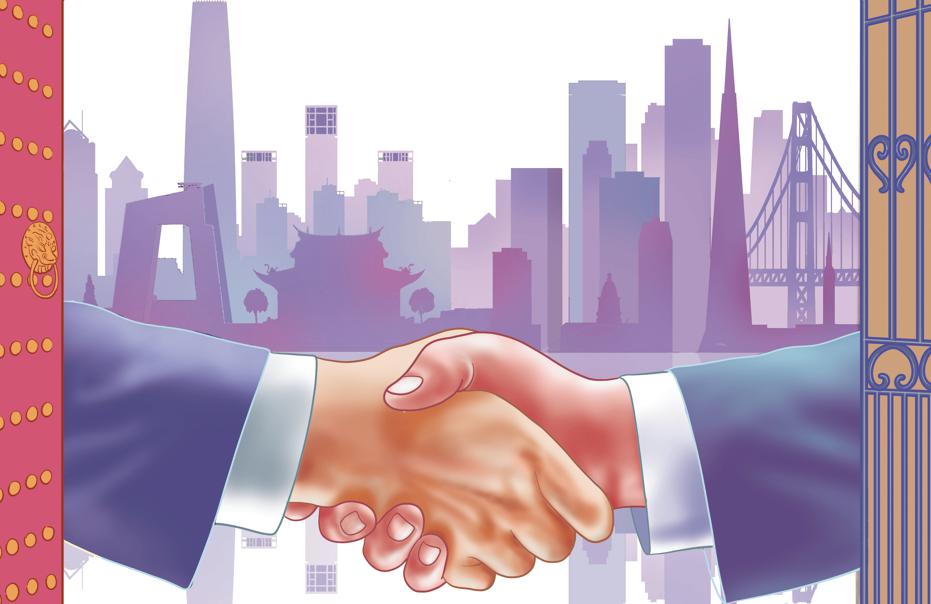 Bridging the Pacific benefits world's prosperity
By Chris Pereira
Business leaders globally, particularly in China and the United States, have been keenly following the Xi-Biden meeting in San Francisco. This event, more than being a diplomatic formality, signifies a ray of hope for a better business environment amid the recent tensions. Despite political discord, the very occurrence of this meeting suggests a recognition by both sides of the benefits of cooperation and dialogue.
The two presidents agreed on several key areas of cooperation at Wednesday's meeting, which can be perceived as a new starting point for stabilizing bilateral ties.
US-China relations impact sectors as wide-ranging as academia and cultural exchanges to global security and travel. Dialogue is critical to ensuring a prosperous future for the world. Given the significant cultural and governance differences between the two largest global economies, the potential for misinterpretation is already substantial. Effective communication is thus crucial for mitigating these risks.
The business communities in both countries, as the engines of economic growth, stand to gain immensely from improved relations. Enhanced cooperation promises not only economic benefits but also broader prosperity. However, current political complexities have hindered cross-Pacific business endeavors. Tariffs, trade barriers, and political rhetoric have led US firms to reduce their presence in China as a risk-mitigation strategy. Conversely, Chinese companies in the US, spanning various sectors from technology to renewable energy, have faced political obstacles and operational restrictions.
Yet, beneath these political overtones, there exists a strong mutual interest in business. When politics align favorably, commercial activities flourish, benefiting both economies. The Xi-Biden meeting thus breathes much-needed cautious optimism into the business world.
President Xi Jinping's participation in the APEC Economic Leaders' Meeting and his meeting with US President Joe Biden underscored China's commitment to global engagement and communication. This move strengthens China's role as a global leader in driving promotion of global prosperity. China's active participation in international politics signals its readiness to contribute to global economic development and peacekeeping, from leading multinational economic initiatives to its key roles in brokering peace deals in the Middle East.
The meeting also paves the way for new collaborative ventures. Opportunities in technology, clean energy, and infrastructure development beckon, offering platforms for joint innovation and manufacturing. In addition to these business ventures, this vital bilateral engagement helps restore and open doors to shared research and development initiatives, potentially leading to breakthroughs in areas such as climate change, public health, and cybersecurity.
China's commitment to facilitate and increase international business is further reinforced by this meeting. This environment is likely to encourage international investment and operations, benefiting Chinese companies that are expanding overseas, particularly in the US, where political tensions have been often hindering their operations in recent years.
Cultural dialogue and discussions are also extremely important. As Chinese companies expand globally, they emerge as cultural ambassadors. By hiring local talent and sharing knowledge, these firms are reshaping cultural dynamics far beyond their economic impact.
Chinese companies, excelling in sectors from renewable energy to technology, are not just competitors but innovators. Their presence in the global market encourages diversity in business practices and innovation. The benefits of this innovation extend far beyond the business community as consumers and even the global environment reap benefits.
The Xi-Biden summit is more than a diplomatic event; it's a clear signal that "business is open" between these two economic giants. This renewed dialogue restores optimism and underscores the need for continued engagement from both countries. As the world watches, the unfolding US-China relations could pave the way for a new era of more prosperous and interconnected global community.
The world now looks toward these two nations with a renewed sense of hope. The benefits of this high-level engagement will likely extend far beyond the realms of economics and politics, fostering cultural understanding, and paving the way for a more harmonious global future. This meeting is not just a milestone in US-China relations; it's a beacon for global cooperation in the 21st century.
The author is the Founder and CEO of North American Ecosystem Institute, a communications and business consulting group. The views don't necessarily represent those of China Daily.
If you have a specific expertise, or would like to share your thought about our stories, then send us your writings at opinion@chinadaily.com.cn, and comment@chinadaily.com.cn.