Green homes offer hope amid climate change
Share - WeChat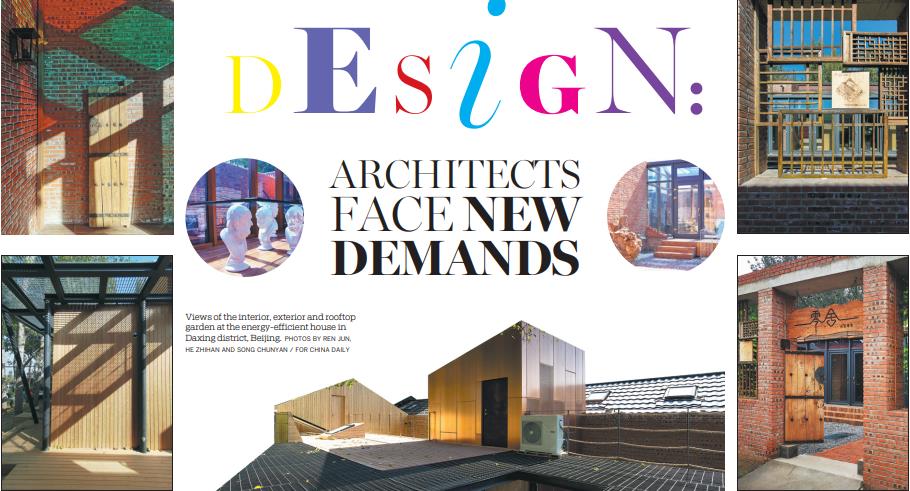 Energy-efficient properties point way to healthy, low-carbon lifestyles
Architects often spend months or even years perfecting a design to express their ideas more clearly, convey additional information, or outline the right proportions for a building.
However, the urgent issue of climate change is placing new demands on their work.
For example, in July, Super Typhoon Doksuri battered China, affecting more than 2.66 million people in Fujian province alone. Heat waves that affected areas of the country in the summer were the most severe since 1961, when China began compiling complete meteorological records. Increased sunlight is also shrinking glaciers and melting ice caps.
Green architecture that conserves energy and reduces carbon dioxide emissions offers a solution, and concerted efforts have been made in diverse research fields over the past three decades to minimize heat loss.
In addition, new buildings have to be tailored to the needs of people's lifestyles.
Ren Jun, a professor at Tianjin University's School of Architecture, who designed the first near-zero energy house in China in December 2019, said, "You can use niche technology to construct low-energy, environmentally friendly houses in the countryside in northern China, but if the interior design and environmental quality don't meet residents' requirements, these properties won't be suitable to live in."
The near-zero energy house, situated in Banbidian village in Beijing's southern district of Daxing, won the International Design Award in the United States in January last year. It has been rented from local villagers.
The 400-square-meter property, which stands at the entrance to the village, runs on solar power gathered from rooftop panels, with the addition of a small amount of power from the grid.
Ren, former chief architect at Tenio Architecture and Engineering Co in Tianjin, said he initially thought of green architecture due to the prolonged hazy days experienced in the Beijing-Tianjin-Hebei area in the autumn and winter of 2015.
"At the start of 2015, I took a photo each day of the winter sky outside my office from a fixed position. The sky has become bluer over the years, especially last year, when the air quality improved significantly," Ren said.
"In winter 2016, the sky was at its murkiest, with bulk coal-fired heating in rural areas leading to severe pollution. Although conditions have improved since then, I wanted to use clean power to maintain an energy-efficient, low-emission house while reducing carbon emissions."
In 2019, a funding project launched by the Beijing Municipal Science and Technology Commission offered Ren an opportunity to reach his goal. His vision of promoting green architecture nationwide was also embraced in designing the house in Daxing.
Ren said the first obstacle to conserving energy in the property was heat retention, which he attempted to achieve by keeping the indoor temperature at a certain level.
The property is divided into five areas: a "solar garden" in the front yard, a central lounge, a water courtyard, a sponge zone, and a back room. For the exterior walls, Ren used three types of insulation, including plastic foam, each about 25 centimeters thick.
Even the ground floor was dug up and filled with insulation materials, Ren said.
As a place to live, the property takes some beating. Residents like a consistent, suitable temperature throughout the year, with moderate humidity and fresh air. However, Beijing is known for its four distinct seasons, with chilly winters and scorching summers.
Ren looked to passive house windows, which effectively retain heat. Passive houses are energy-efficient buildings that meet requirements laid out by the Passive House Institute. Originating in Germany during the 1990s, the passive house movement has become an influential benchmark for energy saving and reduced carbon footprints.
Ren also looked at ways to deal with emissions at the house. He decided to install a ventilator, which extracts air that is contaminated and replaces it with fresh air from outside in every room at the property. Energy is also saved by recycling interior heat and reducing electricity consumption.
In addition, trees and plants in the garden at the property provide a natural carbon sink to absorb carbon dioxide.
Ren said it will take three to five years before more ultralow or near-zero energy buildings appear in Chinese cities.