Home is where your heart is
By Ardi Pulaj | chinadaily.com.cn | Updated: 2012-02-21 10:43
China Daily website is inviting foreigner readers to share your China Story! and here are some points that we hope will help contributors:

On February 11th, just several days before the commercialized Saint Valentine's Day, I celebrated my first birthday in Beijing. I have always had in mind a plan that when I will turn 30 (that was last year), I will take a train from Moscow to Beijing, through the trans-Mongolian railway, which will stop me in the heart of Asia, Beijing. An adventurous and long trip, but I like treating myself with these kinds of challenges.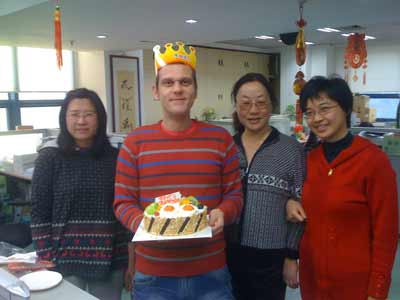 The author poses with his colleagues on his birthday. [Photo provided to chinadaily.com.cn]
Last year the plan did not work out, since I was busy with my work as a journalist, covering different stories in my hometown, Tirana, the capital of Albania, and elsewhere in the World and also travelling around Europe to visit cities I haven't been before.
But this year, I found myself in Beijing celebrating the starting of the Dragon's Year; eating dumplings, going to temple fair festivals, enjoying the fireworks, watching the red-and-golden lanterns, enjoying Chinese food and going out with my new friends.
It is true, I did not have to take the long distance train ride from Moscow to Beijing through the trans-Mongolian railway, but I made it to the Chinese capital.
I work in a very versatile environment: China Radio International (CRI), which like companies I used to work before, such as BBC World Service Radio, I like to call it as a mini-United Nations. There are people from around the World, working in different language departments; bringing with them in one place bits of their languages and cultures from their own countries. As in contrast to the BBC World Service Radio, where English is the language you communicate and work with, at the CRI you find a different experience. People working in different language services, are not only natives from the countries of the World, in which the language is spoken, but there are also Chinese, who have learned respective languages, which they now use in their daily working schedule.
It takes you sometime to get used with the fact that you are in the heart of Asia, and yet you have people speaking your language. I have to be frank, my mother tongue, is not a simple language. Foreigners, who want to learn it, find it very difficult, since it has no connection with any branches of the languages' tree. But my Chinese colleagues dedicated themselves and decided to study Albanian, and after four years studies at the University and visits to Albania, they now are fluent and professional translators from Chinese to Albanian and vice-versa.
I came to Beijing by the end of December and started working on the first day of January. It is usual for a person moving out of his/her hometown and settling down in a new one to have the curiosity of what is going to expect him/her. Even though, I have been living in the past in different European cities and the United States, before coming to China, I have to admit, I did not know what was expecting me. Of course, you search on the Internet, just to get an idea, but as people are different and they share different experiences and have different expectations, it is hard to kind of create a clear picture about the city you are about to have it as your new home. So, I decided to implement the well-know expression and advice old people back home give to the youngsters we use back home.
I love big cities, so Beijing fulfills that condition. Even though I live in the Western part of Beijing, far from downtown, I find the public transport well organized and easy to get to different places. Especially the subway system, which I find it very convenient and helpful with the English-speaking lady telling you, in which stop you are arriving, or with the signs at the exits, also written in English.
I find Chinese people friendly. When I have asked for directions for a certain place, or asking for service I want to get, bearing in mind that my Chinese language skills are too limited, I was helped out. It is highly appreciated.
Beijing, as every metropolis in the World, has a lot to offer: Starting from cultural activities; exhibitions, concerts, movies, sightseeing, variety of food and even lessons on how to cook delicious Chinese traditional dishes. I love Chinese food, and I am well known among my friends back home for going too often to the local Chinese restaurant. And in addition to that: Where else can you get the best Chinese food, if not in China? 
So, my 31st birthday found me in Beijing. As a birthday boy, I was surprised by my colleagues with a tasty fruity cake and a paper-made crown, making me the "king" of that day. Being far away from home, family and friends, the wishes in my mother tongue "Gëzuar ditëlindjen" (Happy Birthday) here in Beijing reminded me another expression: "Your home is where your heart is".
Ardi Pulaj is an Albanian journalist from Tirana. He lives in Beijing, since the end of 2011 and works at the Albanian Service of China Radio International as a foreign expert and news/content editor for the programs being broadcasted from Beijing in the Albanian language.

[Please click here to read more My China stories. You are welcome to share your China stories with China Daily website readers. The authors will be paid 200 yuan ($30). Please send your story to mychinastory@chinadaily.com.cn.]