My China story
By Teresa Purcell | chinadaily.com.cn | Updated: 2012-02-27 13:46
China Daily website is inviting foreigner readers to share your China Story! and here are some points that we hope will help contributors:

I came to Beijing last fall to teach for the University of Colorado Denver, part of the program at the International College of Beijing, located on China Agricultural University's east campus. While my husband and son stayed in the US, I brought my 12-year-old daughter with me. We felt it would be a wonderful opportunity for her to experience another culture, learn another language, and generally expand her horizons. We were hopeful that she would make some Chinese friends her own age, figuring that girls her age would be naturally curious and anxious to share their experiences. What we have found here has been a little bit different.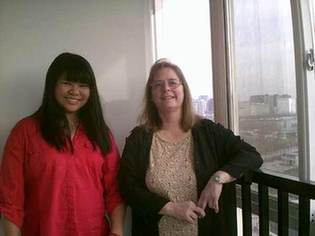 The author (R) and her daughter. [Photo provided to chinadaily.com.cn]
First, I should explain. Although I am a blonde, green-eyed American, my daughter was adopted from Vietnam. When we're out together, few people imagine she is my daughter. Most think she is my interpreter or one of my college students. (Even though she is young, she is 5' 5" tall, towering over me.) Since she does not look her age, the few young people we see ignore her, imagining she is an adult. None of the young people in our very large apartment complex have approached her, and with her limited language skills, she is somewhat shy herself. Since she is doing her schooling online with her local school district back in the US, she does not have an opportunity to meet students at school.
The biggest problem my daughter has had making friends is finding people her age who have a little bit of time to spare. We have learned that childhood in China is different than childhood in the United States. In the US, children spend several hours each day in school and then, typically, participate in one or two other activities, such as soccer or piano lessons. Most have at least a couple of weekday afternoons free along with most weekends. They spend this time making friends, playing games, and pursuing their own leisure interests in an unstructured fashion. My daughter is fond of playing on the local volleyball team and spending time with her friends, often walking to a local shop for a soda, jumping on the trampoline, or watching a movie. She also likes to draw, paint, and write poetry.
Chinese students' lives are different. Once they begin school, their time is not their own. Like their US counterparts, they spend several hours each day in school. Then they have homework, far more homework than US students. This takes them several more hours. Then they have their outside activities, such as piano lessons, math club, English lessons, and art class. Virtually all of their time is planned and scheduled, leaving them little or no leisure time to spend with friends their own age or to explore new interests. Perhaps this is why we so seldom see our neighbor children outside of their trips to and from school. Perhaps this is why my daughter has made no Chinese friends (just a few other expatriates) and is anxious to return to her public school in the US next fall.
In the time we've spent in Beijing, my daughter and I have had some wonderful experiences. We have seen some of this great country, we have experienced a new and different culture, and we have learned a bit of the local language. We have made friends, both expatriates and locals, but all are grown. One advantage to this is my young daughter has matured rapidly and learned to adapt to adult conversation and company. While I'm looking forward to returning to Beijing next fall, I expect I'll be returning alone.

[Please click here to read more My China stories. You are welcome to share your China stories with China Daily website readers. The authors will be paid 200 yuan ($30). Please send your story to mychinastory@chinadaily.com.cn.]