Scottish education vs Chinese education
By Jill Wilson | chinadaily.com.cn | Updated: 2012-03-31 13:17
China Daily website is inviting foreigner readers to share your China Story! and here are some points that we hope will help contributors:

From the moment I graduated university after studying English, I knew I wanted to, and had to be, a teacher. But to do so, I needed to realise this new found career choice half a year earlier - so I could apply for university to do my PGDE, and afterwards probationary year. I was stuck. I gradually began to think down the lines of TEFL teaching (Teaching English as a Foreign Language) and where it could take me. The answer to that is, of course, around the whole world, if you want it to. And that is why, I'm living here in China, as a TEFL intern teacher in Sichuan province. And here is the reason why I'm now even more curious about teaching back home in the UK, and how I feel about our very different education systems.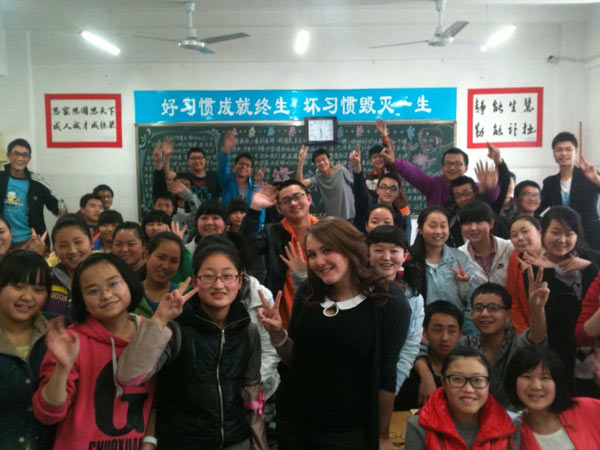 The author poses with her students. [Photo provided to chinadaily.com.cn]
The first, and most obvious difference is the class size. Throughout my years at school in Scotland, I never experienced a class size any bigger than 30 students. A group of 30 kids in the UK would be considered a large class! Here, we're pushing 50-70 kids in one classroom, with their little tables all squeezed together, and where I have to breathe in while walking between them. In fact, friends of mine are teaching up to 100 primary school students, which is truly terrifying! This, of course, can create a myriad of problems. People sleeping up the back can go virtually unnoticed. My flatmate noticed her students playing mahjong. And some simply cannot be noticed, will not stand out unless they make themself known, and won't get the teacher-student relationship they deserve. My school here has around 4,000 students. My high school had around 1,100. Big difference, eh?
However, for their huge class sizes, teacher respect has not yet wavered. Yes, some students ARE sleeping in the class after lunch, but considering the long day they have (we'll get to that later), I'd be exhausted as well. And yes, some of them don't want to participate, and don't even try. Some of them refuse to speak in anything other than Chinese. Then again, the majority join in with drilling and vocabulary, participate in games and activities, and I've noticed, the more they trust me, the more they seem to be making requests and approaching me to try and talk to me. They call me 'Teacher' and if I ask them to gather things in the class they do it. If I tell them to be quiet, they usually do. They help me with the temperamental technology, and listen to what I say.
Back home, I remember some instances that were quite different. The main thing being the diminishing lack of respect people had for their teachers. I had people come to school drunk, take drugs, smoke outside, cheekily back-chat the teachers and sometimes even make them cry. People (the same people on a recurring basis, mind you) were constantly sent outside, given punishment exercises, suspended and expelled. Some even took it upon themselves around 3rd or 4th year to not come back. When they were suspended they would travel to school in their uniform and pretend to their parents they were attending. Hardly a good example of well-instilled discipline. Whereas here, students line up for a whack across the bottom or hands for misbehaviour. Something, I personally felt, was needed in UK schools, for those who deserved it. But child psychology is continually changing. Education and discipline itself is a constantly changing river of opinion and technique, something that worked 50 years ago, may not work today. So who can tell which education system works the best?
Another, rather drastic, comparison between British schools and Chinese schools is the difference in length of the school day. For a start, my students are in school all week, with a monthly 3-day weekend and Sunday afternoon off every week. In the UK, we go to school Monday-Friday with around 13 weeks holiday altogether, not including study leave for the senior years. My students, who live here on the school premises, are woken daily at 6 am to do exercises, eat breakfast, and begin classes around 7 am. They finish at 10 pm and go to bed around 10:30 pm. So not much of a life outside school, and an extremely long day! In the UK, my high school was a simple 9 am - 3:30 pm, with the rest of my evening free. Is six and a half hours a day too much? Too little? Or just right? When you compare it to 15 hours a day, it seems pitiful. Yet 15 hours a day sounds like a brutal and long way to spend your childhood and teenage years. So it begs the question, perhaps the correct time students should spend in school is the middle ground? Eight to nine hours maximum? Again, who can decide?
One thing I will say though, is that when I was at school, I didn't work as hard as I should have. Don't get me wrong, some people made a lot of effort and reaped the benefits. However, I didn't spend my nights doing homework, I instead watched TV, played games and went to clubs such as the Girl Guides. Over the school holidays I did nada schoolwork, except when there were exams coming up. Even during study leave, I slept late, put off my studying and didn't do as well as I could have. I know this now. It practically took me until my last two years at university to get the balance right. And luckily it paid off. So perhaps we don't spend enough time in school. Perhaps our students back home could learn a thing or two from the sheer amount of work these Chinese students do. We would, perhaps, see an increase in good grades? And discipline? And learning to work hard? Those three things are certainly something you attribute to the Chinese nation, and we can most definitely take a leaf out of their book.
However, I do think the Chinese education systems needs to let their teenagers enjoy their youth, perhaps things like outside sports clubs, a Girl Guides or Boy Scouts equivalent or simply clubs for English language, art, music and more would go down better than evening classes? Education and academia are only two things out of many that shape the adults we become. Having hobbies and interests, learning how to enjoy yourself and the pleasures in life, and knowing who you are, are all just as important as good grades and a degree, as they form the key ingredients for a long, happy and satisfying life.

The author, 22, works as a TEFL intern teacher in Sichuan province.

[Please click here to read more My China stories. You are welcome to share your China stories with China Daily website readers. The authors will be paid 200 yuan ($30). Please send your story to mychinastory@chinadaily.com.cn.]