Running afoul of the police
By John Boom | chinadaily.com.cn | Updated: 2013-03-28 10:57
Blame it perhaps on me being a "stupid American," content to be blissfully unaware of the outside world around me, or maybe it's my overactive imagination, or perhaps better yet, it is simply a case of me having seen too many Hollywood portrayals of innocent tourists being ruthlessly tossed into foreign gulags and made to talk by a fellow of ill repute, rank of sweat, body bulging with muscles and a conspicuous absence of a neck, regardless, it doesn't matter where you are in the world, it is never a good idea to run afoul of the police. China is no exception. While here, not once, but twice, I have had my heart stopped by such encounters. Am I some lawless reprobate, some vicious renegade? No. I am a university English teacher.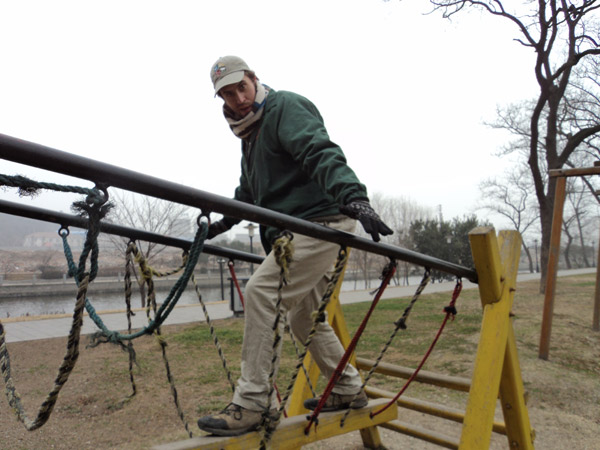 John Boom [Photo provided to chinadaily.com.cn]
My first myocardial episode of ventricular fibrillation, i.e. A blood draining minor heart attack, was some weeks back, about 7 o'clock at night. I am enjoying the serene quietude of my domicile. I think I was doing something mundane like making miniature Huangshans out of my stacks of grades I had yet to complete. However, my time wasting reverie was brutally interrupted by a violent slamming on my door. Curious to see who or what so demanded my presence at such an hour, I cautiously made my way to my portcullis and trepidly peered through yonder peep hole. Perplexed, a pallor permeated my complexion. Rigidly at attention before my front door stood a police captain in full crisp dress blue with my landlady by his side. Come what may, most uncertain of what was going on I threw open my door to ascertain to the best of my ability what on Earth could the matter be? Much to my surprise and palpitating heart's contentment, the police officer was reporting that he had found my missing USB jump drive. He had been selected for this particular assignment, not because of his exemplar rank, but that he spoke the best English. I thanked him and returned to normal breathing sometime later.
This was my first run in with the law, my second was equally panic inducing. I was returning home from an intense game of ping-pong. What I mean by intense, is that I was leaping, running, and diving for every ball always a fraction of a second late while my opponent calmly proceeded to barrage me with stinging swarms of oddly spinning projectiles. Invigorated after the intense match I was walking back to my door when I saw a police car with full lights and sirens blazing. At first, I didn't think much of it assuming that they were just out on their nightly patrol. It wasn't until the vehicle stopped exactly where I stood and two guards stepped smartly out and officiously and expeditiously trode directly toward me. My autonomic nervous system kicked in and immediately turned on the fright section of my fright or flight response. I was petrified. I have a much better understanding of what an ungulate goes through in the presence of oncoming traffic. All I could do was stand there, firmly affixed in place, my eyes wide like proverbial saucers. My brain running like a frantic hamster, firing like lightning reviewing everything I had ever done since entering China. I could think of nothing that would merit a pair of policemen to come bounding toward me on a late Tuesday evening. The only advice my inner voice could think to offer was "Whatever you do don't run! You didn't do anything. Don't run." Seeing two Chinese police officers sprinting in your general direction when you are the only one around is a terrifying, nerve wracking experience that makes you want to change your shorts. The entire time my heart was quivering rather than beating, it was like a puppy hiding under the rug waiting for the storm to pass. When finally the police arrived they took their no parking sign and left.

The author is an American, and he teaches English at Anhui University.