Same-sex marriage gaining attention
By Gao Qihui | chinadaily.com.cn | Updated: 2013-07-17 18:47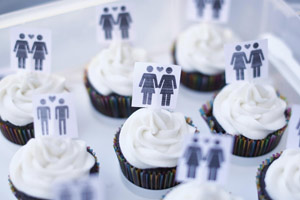 Editor's note:
Gay marriage is to become legal in England and Wales after the lower house of the British parliament approved the final changes to a law that had Prime Minister David Cameron's backing.
Last month, the US Supreme Court delivered a landmark victory for gay rights by forcing the federal government to recognize same-sex marriages in states where it is legal and paving the way for it in California, the most populous state.
The same-sex marriage has been again under the worldwild spotlight, along with a decades long controversy on whether same-sex marriage should be accepted legally.
Conflict over same-sex marriage
| | |
| --- | --- |
| Main worries on the same-sex marriage | Main reasons for same-sex marriage |
Religious viewpoints and concerns about the rearing of children are always cited as the main reasons for the opposition.

They assert that marriage between a man and a woman is the bedrock of a healthy society because it leads to stable families and, ultimately, to children who grow up to be productive adults.

Allowing gay and lesbian couples to wed will radically redefine marriage and further weaken it at a time with high divorce rates and the significant number of out-of-wedlock birth

Same-sex relationships are immoral, against God's will and subvert the goal of human sexuality, which is to produce children.

Some even worry that giving gay couples the right to marry will ultimately lead to granting people in polygamous and other nontraditional relationships the right to marry as well.

Supporter think love is grounds enough for marriage, regardless of sexual orientation.

Christian groups who argue for same-sex marriage tend to believe that lesbian and gay people were created as such by God and should have the same rights as others.

They believe that marriage is a civil right and should not have restrictions to those of a particular sexual orientation

Lesbian and gay people were created as such by God and should have the same rights as others.

There are very practical reasons behind the fight for marriage equity. For instance, that homosexual couples who have been together for years often find themselves without the basic rights and privileges that are currently enjoyed by heterosexual couples - from sharing of health and pension benefits to hospital visitation rights.
Numerous public figures including former President Bill Clinton, who in 1996 signed the DOMA law, and prominent groups including the American Academy of Pediatrics have come out this year in support of same-sex marriage and gay civil rights.

US President Barack Obama:
"We are a people who declared that we are all created equal, and the love we commit to one another must be equal as well. "

Lloyd Blankfein, Goldman's chief executive
"Today's decisions (Supreme Court rulings on June 26)) help define who we are as a people, whether or not we are part of the group directly affected."

Former US president Jimmy Carter
"Jesus never said a word about homosexuality. In all of his teachings about multiple things — he never said that gay people should be condemned."

Actor: Leonardo DiCaprio
" Historic day. Well done SCOTUS. RT: Supreme Court affirms that DOMA is unconstitutional!"

Beyonce
"If you like it, you should be able to put a ring on it. We will unite for marriage equality!"

Michele Bachmann, founder of the US House of Representatives' Tea Party Caucus
"It isn't that some gay will get some rights. It's that everyone else in our state will lose rights. For instance, parents will lose the right to protect and direct the upbringing of their children. Because our K-12 public school system, of which ninety per cent of all youth are in the public school system, they will be required to learn that homosexuality is normal, equal and perhaps you should try it. And that will occur immediately, that all schools will begin teaching homosexuality."

Former US president George W. Bush
"I'm not for gay marriage. I think marriage is a sacred institution between a man and a woman."

Pope Benedict XVI called gay marriage a threat to "human dignity and the future of humanity itself."

Kirk Cameron
"Marriage was defined by God a long time ago. Marriage is almost as old as dirt, and it was defined in the garden between Adam and Eve — one man, one woman for life till death do you part. So I would never attempt to try to redefine marriage. And I don't think anyone else should either. So do I support the idea of gay marriage? No, I don't."
Practical reasons for gay advocates (Take US for example)
Many benefits are only available to married couples, such as hospital visitation during an illness, taxation and inheritance rights, access to family health coverage, and protection in the event of the relationship ending.

Social Security

Social Security alone keeps 21 million seniors out of poverty, according to US Census data. The survivor and spousal benefits of these programs are a major feature, but under DOMA, they weren't available to married same-sex couples.

Social Security's survivor rules permit widows or widowers to receive up to 100 percent of a deceased spouse's benefit or his/her own benefit, whichever is greater.

Immigration Benefits

Many immigration benefits are tied to marital status. For example, a non-US citizen may obtain legal residency, and later citizenship status, when married to a US citizen.

Medicare

Medicare eligibility is based on the number of quarters in which you have paid payroll taxes into the system. At age 65, anyone with a work history of at least 40 quarters can enroll for Medicare Part A (hospitalization) without paying a premium. Everyone pays a premium for Part B (doctors' visits), Part D (prescription drugs) or a supplemental Medical policy. Access to the entire program is predicated on Part A enrollment.

However, married spouses can enroll without paying a premium even if they don't have the requisite quarters of work history - another benefit that now will be available to same-sex couples.

Tax Benefits

Same-sex married gay and lesbian couples can now take advantage of federal tax benefits
A total of 14 countries worldwide where same-sex marriage is legal in the entire country. They are:Argentina, Belgium, Canada, Denmark, France, Iceland, the Netherlands, New Zealand, Norway, Portugal, South Africa, Spain, Sweden, and Uruguay.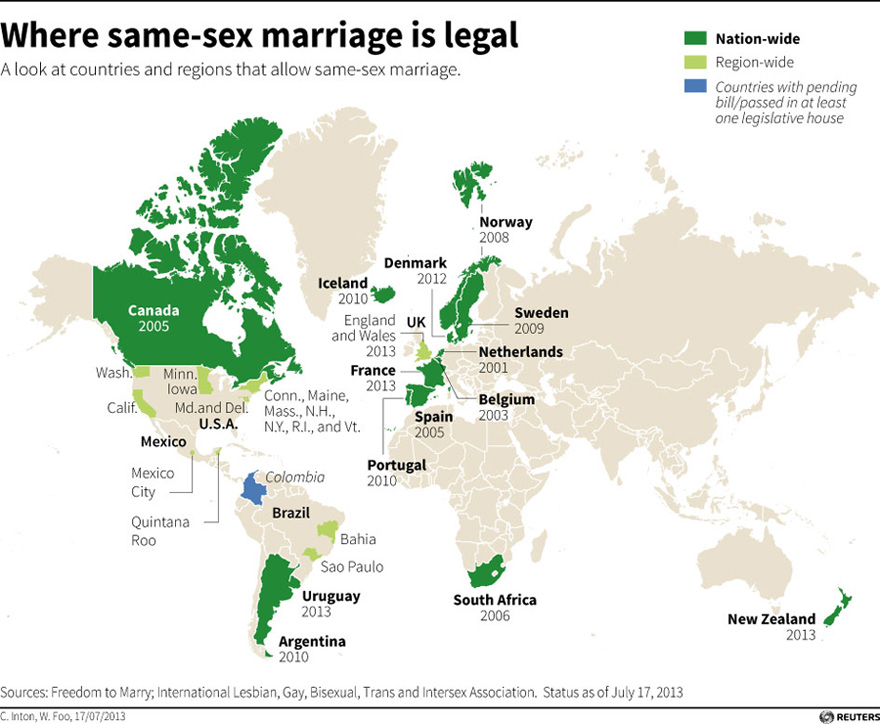 US delivers wins for gay marriage movement

The US Supreme Court handed a significant victory to gay rights advocates by recognizing that married gay men and women are eligible for federal benefits and paving the way for same-sex marriage in California.

The court struck down the federal law, the Defense of Marriage Act (DOMA), as a violation of the US Constitution's guarantee of equal protection under the law but ducked a ruling on Proposition 8 by finding that supporters of the law did not have standing to appeal a federal district court ruling that struck the law down.

After hearing of the California ruling outside the courthouse, Anthony Romero, the executive director of the American Civil Liberties Union, said the fight for gay marriage would head back to the states.

A line is seen outside San Francisco City Hall in San Francisco June 29, 2013. Same-sex couples rushed to San Francisco's City Hall to be legally married.
France signs gay marriage bill into law

French President Francois Hollande has signed into law a bill allowing same-sex marriage, making France the 14th country to legalise gay weddings.

France's official journal announced on Saturday that the bill had become law after the Constitutional Council gave the go-ahead on Friday.

The bill, a campaign pledge by the Socialist president, has been hotly contested in France where allowing gay marriage is one of the biggest social reforms since abolition of the death penalty in 1981.

Gay marriage to be legal in UK

Gay marriage is to become legal in England and Wales after the lower house of the British parliament approved the final changes on Tuesday to a law that had Prime Minister David Cameron's backing but split his ruling Conservative party.

Russia's Putin signs anti-gay measures into law

Russian President Vladimir Putin has signed into law a measure that stigmatizes gay people and bans giving children any information about homosexuality.
Support high in developed nations:

An Ipsos poll for Reuters showed that 52 percent of people in 16 nations favor full marriage equality for gays and 21 percent support legal recognition but not marriage.

Nearly 60 percent of people polled thought gay couples should have the same rights as heterosexuals to adopt children and 64 percent thought same-sex couples were just as likely to raise children successfully.

LGBT report reveals discrimination

Almost two-thirds of Europe's lesbian, gay, bisexual and transgender community are still afraid to show their sexuality in public and most feel discriminated against, an EU report said on Friday, the International Day Against Homophobia.

Survey: World split over attitudes toward gays

A survey shows a world divided over the acceptance of gays, with countries in Africa and the Middle East strongly opposed even as tolerance grows in Europe, the United States, Canada and parts of Latin America.

People in predominately Muslim countries such as Jordan,Egypt, Indonesia and Pakistan along with Nigeria, Senegal and other African nations overwhelming said gay men and lesbians should be rejected from society at large, the Pew Research Center survey of nearly 40 countries found.
China is increasingly open to same-sex relationship
Lesbians celebrate end of blood donation ban

Lesbians in the cities of Beijing, Guangzhou, Shenyang and Wuhan are celebrating the one-year anniversary of the end of a ban that prohibited lesbians from donating their blood.

Lesbians in the four major cities of China are donating their blood to city hospitals, posting their blood type certificates on their micro blogs and wearing cards on their clothes announcing their pride in being gay.

China lifts ban on inmate homosexuality

China has made strides in protecting the human rights of prison inmates in recent years, including scrapping a conduct policy that discriminated against homosexual inmates, according to a judicial official in charge of penal human rights studies.

The Ministry of Justice has rewritten the national code of conduct for prison inmates, eliminating bans on homosexuality, dyed hair and other lifestyles and practices that were previously not allowed in prisons.
Stories about same-sex love
| | | |
| --- | --- | --- |
| Vincent and Bruno tie the knot in France's 1st gay wedding | | |
| | | |
| | | |
| First public lesbian wedding held in S China | | |
| | | |