Royal baby named George Alexander Louisa
chinadaily.com.cn | Updated: 2013-07-23 08:34
Royal baby named George Alexander Louis

Palace officials said Wednesday that the 2-day-old baby and third-in-line to the throne will be known as His Royal Highness Prince George of Cambridge. >>>

Earlier in the day, the baby met his great-grandmother Queen Elizabeth II.

Palace: Kate gives birth to a baby boy

The baby was born at 4:24 pm (UK time) and weighed 3.8 kg.>>>

Ten royal baby traditions to know

Prince William and Kate are seen as the new face of a centuries-old institution, keeping the best of traditions while moving forward with the times. Here are 10 things to know about the royal baby in relation to royal births of the past. >>>
Celebration for the royal baby
Obama congratulates new birth in British royal family

US President Barack Obama on Monday extended his congratulations to British Prince William and his wife Kate for the birth of their first child.

Australia welcomes the new prince in Britain

Australian Prime Minister Kevin Rudd and Governor-General Quentin Bryce on Tuesday sent their country's congratulations to Prince William and his wife Catherine on the birth of the baby boy.

New Zealand PM welcomes new arrival to royal line

New Zealand Prime Minister John Key on Tuesday congratulated Prince William and his wife Catherine on the birth of the baby boy, and the country marked the arrival of the third in line to the head of state with a 21-gun salute in the earthquake-shaken capital of Wellington.

British royal baby dominates world media - like it or not

From live TV coverage of a hospital door to a gaggle of royal baby experts, the world's media was in a frenzy on Monday over the arrival of the future heir to the British throne, offering moment-by-moment coverage if very little actual news.

"It is an incredibly special moment for William and Catherine and we are so thrilled for them on the birth of their baby boy ... I am enormously proud and happy to be a grandfather for the first time." _ Prince Charles, in a statement.

The arrival of "a future sovereign of Canada" is a "highly anticipated moment for Canadians given the special and warm relationship that we share with our Royal Family." _ Canadian Prime Minister Stephen Harper.

I am sure that people across Scotland will be absolutely thrilled to hear the news of the birth of a baby boy to the royal couple and will want to join me in wishing the proud parents many congratulations." _ Scottish First Minister Alex Salmond.

"I'm delighted for the Duke and Duchess now (that) their son has been born. The whole country will celebrate. They'll make wonderful parents." _ British Prime Minister David Cameron.

"Today Diana, Princess of Wales, would have been a proud grandmother," said Tessy Ojo, CEO of the Diana Award, an initiative which recognizes teenagers who make outstanding contributions to their communities. "Her legacy continues through the inspirational work of these young people who carry this honor, set up in her memory, with pride."

On Wall Street, stocks barely moved for much of the day. Then the birth was announced shortly before the close, and stocks managed to eke out a gain. Coincidence? Who cares?
"It was such a dead day, it was the highlight," said Tom Digaloma, a senior vice-president at investment firm ED&F Man Capital. "It's summer."
A timeline look at the royal pregnancy
-September 2001: Prince William and Kate Middleton meet at St Andrews University in Scotland where they are both studying art history.

-Christmas 2003: The pair reportedly become a couple after sharing a house together with two friends. In March they are pictured together on a skiing holiday in Switzerland.

-November 16, 2010: William and Kate's engagement is announced by Clarence House officials. The prince proposed to Kate while on a private holiday to Kenya the previous month.

-April 29, 2011: The pair wed in a lavish ceremony at London's Westminster Abbey. William is made the Duke of Cambridge by his grandmother, Queen Elizabeth II, and Kate becomes the Duchess of Cambridge.

-December 3, 2012: The palace announces that Kate is pregnant and being treated in the hospital for acute morning sickness. Kate is discharged from the hospital after three nights, telling reporters she is feeling "much better." The palace later announces that the baby is due in July.

-February 5: The couple holiday on the Caribbean island of Mustique with Kate's parents.

-March 5: Kate apparently lets slip that she is expecting a daughter on a solo visit to Grimsby. Accepting a teddy bear from a member of he public, she apparently replies: "Oh, is this for our d...? Thank you so much." The possible slip of the tongue prompts a wave of betting on a royal daughter.

-March 17: Kate tells a soldier at a St Patrick's Day parade that they do not know the sex of the child, but says she would like a boy and William a girl.

-March 20: Kate given a "Baby on board" badge when she joins the Queen and Prince Philip at Baker Street underground station to mark the 150th anniversary of the Tube.

-May 11: Kate and William attend William van Cutsem and Rosie Ruck Keene's wedding in Oxfordshire, England. The pair reportedly take to the dance floor despite Kate being seven months pregnant.

-June 4: William and Kate return to their wedding venue at Westminster Abbey when they join the royal family for a service marking the 60th anniversary of the Queen's Coronation at Westminster Abbey.




-June 13: Kate carries out her final solo engagement before going on maternity leave when she names a new cruise liner - the Royal Princess - in Southampton.

-June 15: The Duchess makes her last scheduled public appearance before the birth at the Trooping the Color parade.

-June 19: It is confirmed Kate is planning to give birth at the private Lindo Wing of St. Mary's Hospital in Paddington in central London, where Princess Diana gave birth to William and Prince Harry. It is reported Kate is hoping for a natural birth.

-July 22: Kate gives birth to a baby boy, weighing 8lbs 6 oz, with William by her side.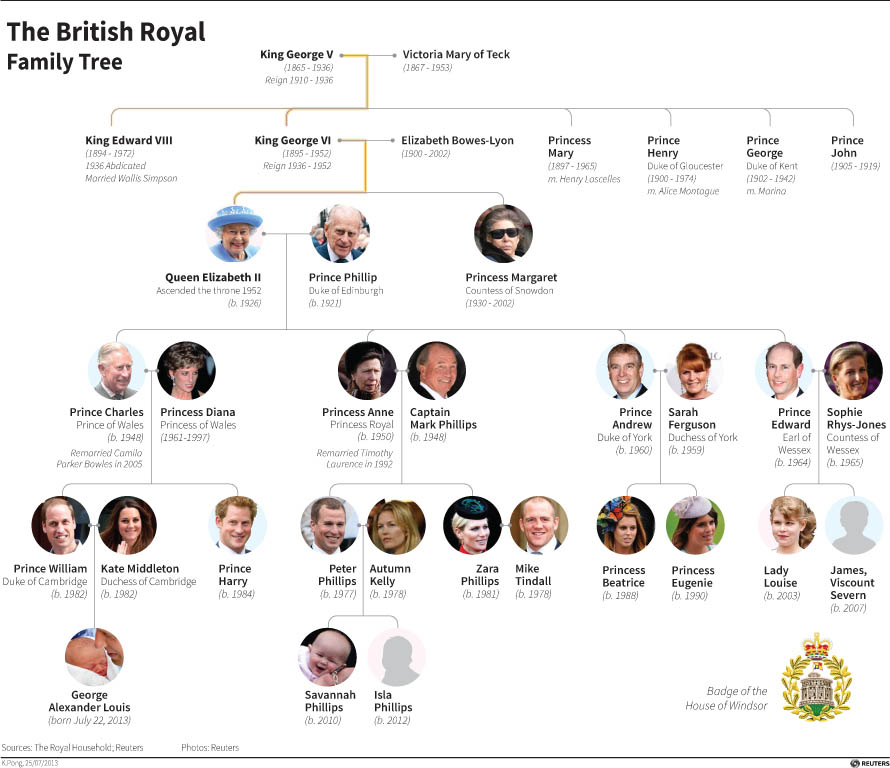 High expectation in Britain
Royal baby inspires Britain
Collectibles to be sold; more tourists expected

British officials are hoping that the impending royal birth will produce a bouncing baby buoy for the economy.

Happy occasions often boost consumer confidence, sparking a spring in the step that leads right to the shopping mall for street party snacks, summer frocks and suntan lotion. And happy national occasions with the royal family and a new heir hit an emotional jackpot in Britain - boosting national pride along with tea, cakes and commemorative china.

[More]
Photo highlights: British royal wedding