Ambassadors who helped shape Sino-US ties
chinadaily.com.cn | Updated: 2014-03-18 15:46
The new US ambassador to China, Max Baucus, made his debut amid a barrage of flashbulbs in Beijing on March 18. How the veteran politician performs his role in Sino-US relations will be put under intense scrutiny. The 73-year-old former senator vowed to strengthen bilateral ties and China hopes Baucus will deliver in his efforts to strengthen mutual understanding and cooperation.
Since the establishment of diplomatic ties in 1979, all US ambassadors to China have had special political experience and Baucus is no exception. Ambassadors serve as a bridge between their home country and host country. US ambassadors to China have had varying degrees of influence on Washington's decision-making. All US envoys to China and their China connections are highlighted below.

11th US ambassador to China: Max Sieben Baucus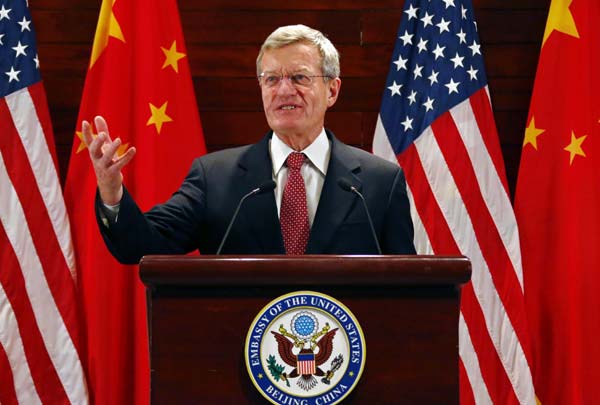 US Ambassador to China Max Baucus gestures in front of Chinese and American flags during a news conference at the US Embassy upon his arrival to his new post, in Beijing, March 18. [Photo/Agencies]

United States and China's relationship is one of the most important in the world and I am dedicated to strengthening the United States and China's relationship from generations to come.

Date of appointment: Feb 21, 2014
China connections: Baucus has visited China eight times. During his tenure on the Senate Committee on Finance, he was deeply involved in orchestrating congressional approval of permanent normal trade relations with China in 2000 and in assisting China's entry into the World Trade Organization in 2001.
Major issues: Baucus was nominated by US President Barack Obama. He served in the US Senate from 1978 to 2013, and was Montana's longest serving Senator with the third-longest tenure among those serving in the US Senate.
Hi from the new couple



Video courtesy of the US Embassy in Beijing

Behind the headlines

New US envoy hits ground running

Avid runner Max Baucus set himself an energetic target when he made his debut as US ambassador to China in Beijing. "The Chinese philosopher Laozi said a journey of 1,000 miles begins with a single step," Baucus said at a news conference. >>>

Things you didn't know about Max Baucus

There may be some things you didn't really know about the new US ambassador to China. >>>


Max Baucus hit the nail on the head when he said the two countries had to get their relationship right. >>>

Striding toward the future