Young China - You've got talent
By Alan Millett | chinadaily.com.cn | Updated: 2014-09-01 09:38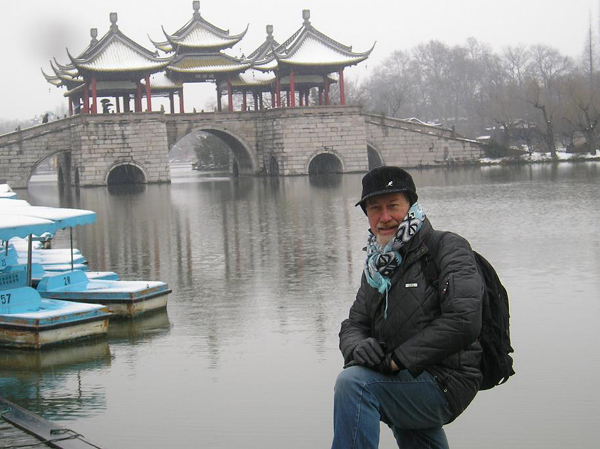 The author poses in front of the famous 5 Pavillion Bridge from Slender West Lake in Yangzhou in an undated photo. [Photo provided to chinadaily.com.cn]

Please click to read more My China Stories
You are welcome to share your stories, and please send it to mychinastory@chinadaily.com.cn

I had a great experience recently. It's a Sunday in famous classical city of Yangzhou, Jiangsu province and I scored an unexpected role as a substitute judge of an English competition for kids. It's from a private school that runs classes in the smaller cities and towns including the backwater where my wife works. All these cute girls dressed up beautifully in their special party frocks and shiny leather shoes turn up to perform. Plus quirky boys with slicked or spiky hair and even boyishly smart casual dress. One tiger even had braces. They are aged 5 to 11 and they try so hard and they are so funny as soon as you get outside the set routine or even inside the set routine sometimes.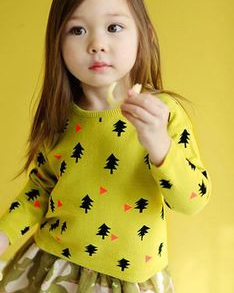 A cute Chinese girl in the English competition in Yangzhou. [Photo provided to chinadaily.com.cn]
First they give a speech about themselves, their town, school and their family. The girls say they are beautiful (which they are) and the boys say they are handsome (which some are). Then they sing a song or recite a poem or story like how the sun is stronger than the wind because it can make people take off their coat. One girl sang ten green bottles. She didn't have a good voice and the Chinese judge next to me says "this song counts down from 10 to 1, doesn't it?" Mercifully the little girl stopped after 7 so we beamed our approval and she probably thought she did great, which is all true really. One nine year old even played the guitar for her song. Unfortunately that meant she turned her head away while she nailed the finger movements so I'm not sure what song she was singing.
After the first stage, I ask them some questions about a picture with no words. They are nervous, shy and some freeze and need to be crank started or come back later. Maybe some have not talked to a foreigner and are very shy. Most didn't know the answers because they learn by rote. And they are amazing as to what they can memorise. In that confusion of question time we have to say "that's all" and some knew they were finished. But for most we had to say "bye bye" with matching hand waving for them to realise they could go. Many long goodbyes were had.
We did that for about 40 charming, left field and would-be Leonardo di Caprio actors, eisteddfod queens and Little Miss Sunshines. I would have done the whole thing for free but I got paid 300 yuan for the afternoon. Plus some watermelon slices because it's a hot day.

Now the city of Yangzhou is famous for its Weiyung cusine, perhaps best known internationally as Yangzhou dan chou fan which is special fried rice literally Yangzhou egg fried rice. They are also famous for wonderful dumplings. So my wife and I went to a really authentic but inexpensive dumpling restaurant and we had these crab, pork and seafood soup filled dumplings (xiao long bao) that were to die for. It's a challenge to eat them as the soup spills forth in any way to wishes for the inexperienced eater. But it's a challenge worth taking again and again.
Now that was a day.

The author is an Australian Business & English teacher who has taught in China for over four years. He has worked in Nantong and Yangzhou, Jiangsu, Fuzhou, Guangzhou and Huianan, Anhui and traveled widely in China.