Getting my first hair cut in Ningbo
By Tess Humphrys | chinadaily.com.cn | Updated: 2014-10-22 08:54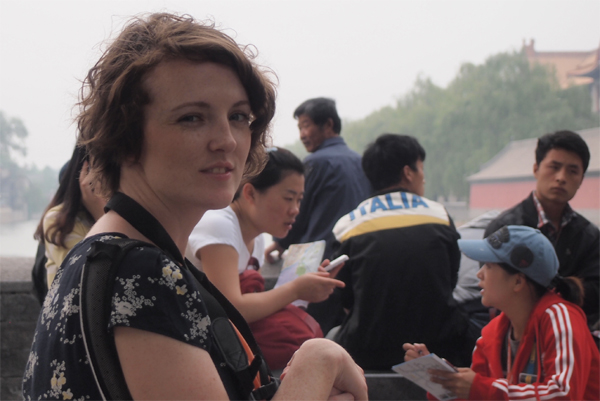 Tess Humphrys [Photo provided to chinadaily.com.cn]

Please click to read more My China Stories

You are welcome to share your stories, and please send it to mychinastory@chinadaily.com.cn

One of the potentially most traumatic things a girl has to go through is finding a new hairdresser.
Ok, I might be being a touch melodramatic, but we of the fairer sex will all be able to recall a time - if not multiple times - when we've left a salon and wanted to cry because of what someone has done to our hair (or not even a salon, like when your 'friend' Becks dyes your hair black instead of red).
So when I realised I was moving to Ningbo, one of my first thoughts was: "how will I get my hair cut?!"
Shallow possibly, but having had the same hairdresser for about eight years and at the time wearing my hair in a short style that needed regular maintenance, I was worried.
Fast forward four months. The contingency hair style that my UK hairdresser and I had devised had done its job - I had got this far without needing a trim. But the time had come, I could wait no longer…
On the advice of many expat work colleagues I headed to Ningbo's Tony and Guy (T&G) salon – a chain of salons that are very well-known in the United Kingdom where I'm from.
At T&G here (I don't know about the UK as I've never visited a salon of theirs) you ask for stylists based on their seniority and price. Dithering over the list (did I risk the cheapest?!) I was told that the only person available was Alan, the most junior stylist.
"Hǎo de," I stammered, suddenly feeling a little nervous. As I was led into the hair washing room – all black pleather-clad walls and low-level lighting - I frantically scanned my memory for any hair-dressing related Chinese vocabulary I might have picked up. I had none.
As I lay on the very comfortable chair, having my hair washed, rinsed, washed, rinsed and washed, rinsed again I observed my fellow customers. "Yep," I thought. "They all have lovely straight, well-behaved hair. Good luck with my mane of curly unruliness Alan."
After the washing, I was led back to the main room to Alan who, with his perfect-coiffed quiff and trousers tucked into trendy little boots, looked anything but the stereotypical middle-aged man that comes to mind when you hear his name.
"Wǒyàozhège," I said, pointing to the parting he had just made in the centre of my hair, "zhèlǐ" – here, pointing to the right-hand side of my head. A silent nod from Alan.
"And another thing…" I continued, scrabbling about in my handbag for my phone and Google Translate. "Wǒ de hair shìjuǎnfǎ" –my hair is curly (or words to that effect).
Another silent nod from Alan.
"Oh and one more thing," I said to the poor bloke. I gestured my fingers in the universal sign for cutting: "Yīdiǎn" – a little.
A final nod from Alan and he was off, snip snipsnip…
Twenty minutes later and the time came for the blowdry. Having had many experiences in the UK, where hairstylists have insisted on drying and straightening my curly hair I didn't hold out much hope of walking out with the hair I was born with.
But Alan surprised me. Out came a diffuser hairdryer and mousse and Alan proceeded to dry my hair into a passably curly, if a little frizzy, style. And the cut looked good too, a side-parted graduated bob-type affair.
"Xièxiè," I said with a relived smile. "Hěnhǎo" - very good.
A last silent nod from Alan – but did I detect a hint of a smile? I like to think I did and that Alan was just a little bit proud of himself for a job well done.
So, for the reasonable price of around 130 yuan I had survived, and enjoyed the outcome of, a wash, cut and blow dry in a country where I speak very little of the language. There've been times when I've not even managed that in the UK!

The author is British, born in Spain, and now living in China. When not working in communications and marketing in Ningbo, Zhejiang, she enjoys travelling in China and Asia, practising her fledgling Mandarin and writing about her experiences. At home her pet cat Tyrion (proving that she watches way too much TV) keeps her busy, requiring regular Taobao purchases of cat toys and treats.