China's leading role in the COP21 meeting
By Carlos Aquino Rodriguez | chinadaily.com.cn | Updated: 2015-11-30 14:36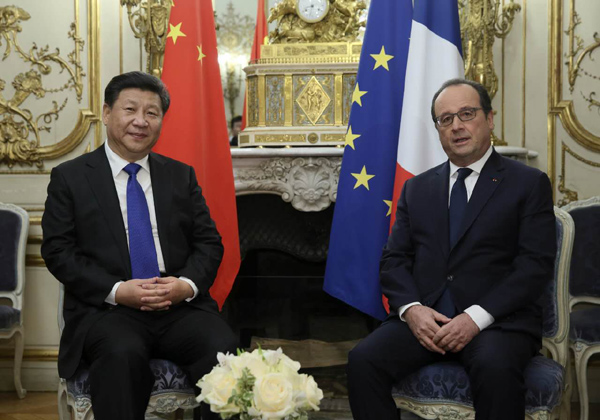 Chinese President Xi Jinping, left, meets with French President Francois Hollande as he arrived for the United Nations Framework Convention on Climate Change in Paris, Nov 29. [Photo/Xinhua]
From the end of November negotiators of more than 190 countries will meet in Paris to try to reach an agreement on global climate change. The world is expecting that countries could agree on commitments to reduce carbon dioxin emissions and also cut the use of fossil fuels.
It is promising that China and US reached an agreement on this subject when President Xi Jinping and President Barack Obama met in November last year at the sidelines of the APEC summit in Beijing.
China also in an action plan submitted to the UN at June this year promised to cut carbon dioxide emissions per unit of Gross Domestic Product by 60 to 65 percent from the 2005 year by the year 2030 (the double of what India for example is expected to do). Besides this, Beijing would expand the share of non-fossils fuels in its primary energy consumption to around 20 percent of the country energy basket.
It should be highly commended what China is doing its part to contribute to reach a successful outcome of the Cop 21 meeting. China is the first developing country to have promised to put a cap on CO2 emissions. Not only that, China is already taking steps to use more clean energy. Last year China invested around 90 billion dollars in the renewable energy sector, more than one quarter of the world total. Also by the year 2017 it would start a national emission trading system.
In its 13th Five-year Plan to begin in 2016, as China will continue its transition to a low-carbon growth path, putting emphasis in a service oriented, high technology economy, its emissions of CO2 should be expected to be reduced. Also people awareness of pollution in China will make its cities cleaner. Beijing for example is just aiming to reduce PM2.5 particles, which are emitted by vehicles and considered to make up 31 percent of total pollutants, by 25 percent by the year 2017 from its 2012 levels, as ordered by the central government.
China can make also a major contribution to the world by supplying it with renewable energy technology. As the biggest producer and exporter of solar panels, wind turbines, the continuous drop in prices of these should help developing countries in reducing pollution. Other clean energy where China is putting a lot of emphasis is biomass energy, hydropower, geothermal energy, and the safe and efficient use of nuclear energy. Already in the nuclear energy sector China has achieved a high development and is exporting it to the world.
The green development path pursued by China should help fulfill the responsibility that it has as the second largest economy. China already has the technology and the will to contribute to a cleaner world. It is expected that other countries should follow China example and make commitments for a successful COP 21 meeting.
Carlos Aquino Rodriguez is professor at San Marcos National University in Peru and director of its Institute of Economics Research. He is a specialist in the research of the economic development of East Asia.