China Africa relations – 60 years after Bandung: blogger
By Chua Chin Leng | chinadaily.com.cn | Updated: 2015-12-02 08:13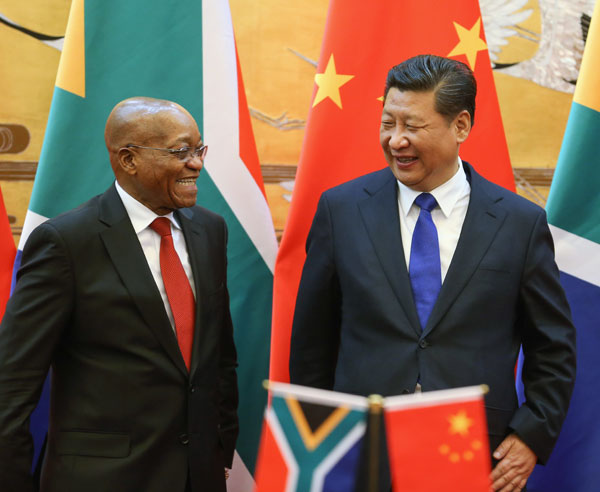 President Xi Jinping and his South African counterpart Jacob Zuma attend a bilateral signing ceremony in Beijing on Dec 4, 2014. China and South Africa signed 11 agreements. PHOTO BY WU ZHIYI / CHINA DAILY
After two centuries of colonization and exploitation by European colonialists, African nations regained their independence from Western domination after World War II. The new nations gathered at Bandung, Indonesia in 1955 to inaugurate the Non Aligned Movement of newly independent and developing countries of the world. Sixty years forward, individual Asian and African countries took separate paths towards social, economic and political development. All the countries of the Non Aligned Movements are still developing nations but at different level of success.
China has returned to Africa over the last few decades to trade and invest in the continent. China brought along technology and finance to develop the infrastructure, manufacturing and mining industries in the African countries in exchange for natural resources. The Chinese development projects cost a fraction of those offered by the Western countries and were attractively packaged with soft loans and terms that were freely negotiated by the governments on a willing buyer and seller basis and on fair and equitable terms for both parties, unlike during colonial days. The African countries have enjoyed a good era of peace and economic growth with Chinese technology and soft loans.
President Xi Jinping and his entourage, including the commerce minister, trade representatives and private corporations, are visiting Africa, meeting good friends in Zimbabwe prior to attending a China-Africa Summit. President Xi's delegation is arriving with promises of closer economic cooperation and strengthening relations with the African states.
China has a lot to offer the African countries. According to Vice-Commerce Minister Qian Keming, "China will help African countries to upgrade their industrial systems and structure, safeguard food security and to build infrastructure". And "Chinese companies will exhibit their competence in railways, aviation, electricity, telecom, machinery and smart manufacturing, (and)…To finance bilateral cooperation, China will set up funds and give African countries more low-interest bank loans."
Sixty years after the Bandung Conference, China is now in a better position to help the African countries with financing, technology and know-how to bring their countries to a higher level of economic development that the West failed to do so for centuries. China's assistance and foreign aid are strictly commercial, with no interference in the domestic politics of the African countries.
Against the negative Western narratives of exploitation, China's investments, developments and assistance to the African nation states are viewed very positively and welcomed by the African governments. How can there be exploitation when both parties negotiated on an equal partner basis on terms they mutually agreed to with no coercion? China will stick to its policy of non-interference in the internal affairs of sovereign states and will strictly stick to trade and development. Many of the African states have developed very close relations with China since post-independence and will continue to favor Chinese aid and economic relations. Many trade deals and investment projects will be signed during this trip by President Xi and his trade delegation.
China's relations with the African states have reached another level of sophistication, maturity and stability and will move to a higher plane after this summit with the African leaders in Johannesburg, South Africa. China has the blueprints for economic and infrastructure development and could share its expertise with the African nations. And with technology and financing, China could raise the quality of life of the African nations to become rich and prosperous developed nations of the 21st Century.
The author is a political observer from Singapore.