FOCAC 2015: China's dream help African dreams
By Jaya Josie | China Daily | Updated: 2015-12-09 14:05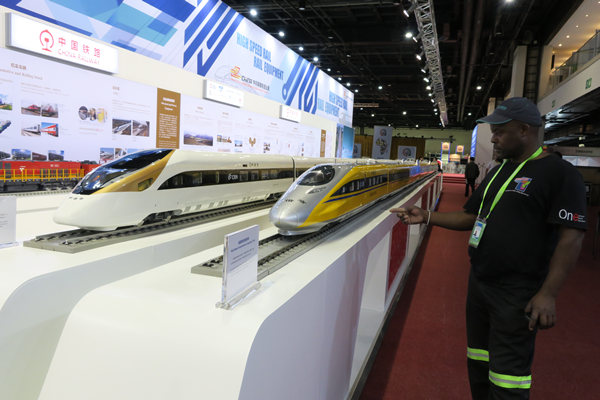 A worker admires a display of miniature high-speed railway trains by China Railway Rolling Stock Corporation at an exhibition in Johannesburg, South Africa, on Wednesday. LUCIE MORANGI / China daily
In mid November 2015 I attended the 6th World Forum on China Studies in Shanghai and met two young African female student participants from Nigeria. One of them, an exchange student and resident in Shanghai, volunteered to take us out shopping to buy souvenirs.
During the excursion I was struck by the positive and varied responses and reactions we received from local people on the underground and walking around the markets. I was from South Africa and the students were from Nigeria. We were in Shanghai to learn whether, leading up to the summit of the Forum for China-Africa Cooperation (FOCAC) in Johannesburg, December 2015, the dream that China was building can help us in Africa build our own dreams for development.
On the flight back to South Africa I realized that Africa, home to over 1.1 billion people from 54 countries, is fast becoming a focus of China's new multilateral approach to development.
As China's new strategy is expected to grow its economy by 6.3% in 2016 there is evidence to suggest that China's interconnected economy is refocusing its international investment towards emerging and developing economies as they show greater dynamism and growth potential. Compared to 2.2%, growth projections in advanced economies China is relatively still the best possible international development partner for emerging and developing economies.
Overall emerging and developing economies are expected to grow by 4.5% in 2016, with Sub Saharan Africa at 4.3%, and low income developing countries at 5.8% (IMF, World Economic Outlook, October 2015).
During the FOCAC Summit on 4-5 December 2015 President Xi Jinping announced international investments for Africa to the value of US$60 billion over the next three years. However, the announcement and Summit declaration was met by much scepticism from commentators who believe that FOCAC and BRICS lack the capacity and agency to follow through with decisions taken at summits.
Similar comments made the headlines following the BRICS UFA Summit in Russia in July 2015. These negative reactions however were very quickly neutralized with the International Monetary Fund's (IMF) decision on 30 November 2015 to accord the Renminbi (RMB) international reserve currency status. This decision will be instrumental in consolidating China's multilateral approach to international trade and investment cooperation with its partners in FOCAC, BRICS, the Shanghai Cooperation Organization (SCO) and the Eurasian Economic Union (EEU).
The absence of an alternative reserve currency to the US Dollar has always been a major constraint in economic relations between China and its African and BRICS partners in the past. With the establishment and putting into operation of the BRICS New Development Bank in Shanghai and Johannesburg, and the availability of the RMB, it is clear that FOCAC and the BRICS groups will be well equipped to implement trade and investment decisions of their respective summits. By the same token the Asian Infrastructure Investment Bank (AIIB) will provide a key investment instrument for ASEAN, Russia and the EEU.
As China assumes leadership, and gets ready to host the 2016 G20 Summit, its international responsibility will be strengthened by its new One Belt One Road (OBOR) strategy to drive domestic demand, employment and global economic recovery along a route that brings together emerging and developing economies.
This approach will be shaped by its membership in BRICS, SCO, EEU, and the FOCAC and is expected to generate annual trade surpassing US$2.5 trillion in 10 years. The RMB reserve currency, the NDB and AIIB, and the BRICS Contingency Reserve Arrangment (CRA) will provide the necessary financial policy instruments to support its pursuit of international investment and an interconnected economy.
Dr. Jaya Josie, is a development economist and head of the BRICS Research Centre of the Human Sciences Research Council, South Africa.
The opinions expressed here are those of the writer and don't represent views of China Daily website.