Xi's speech illustrates China a responsible cyber nation
By Hoo Tiang Boon | chinadaily.com.cn | Updated: 2015-12-17 10:53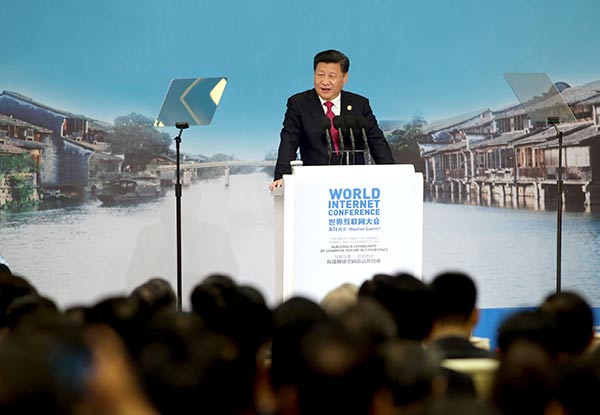 President Xi Jinping addresses the opening of the Second World Internet Conference in Wuzhen, Zhejiang province, on Wednesday. WU ZHIYI/CHINA DAILY
China's hosting of the Second World Internet Conference (WIC) is yet another expression of its commitment to play a responsible role in cyber sphere. It illustrates President Xi Jinping's pledge that China will "work with other countries to deepen international cooperation, uphold cybersecurity and jointly build a cyberspace of peace, security, openness and cooperation".
Indeed, the second WIC represents a global and multilateral effort. Around half of the more than 2000 delegates are international participants, including delegates from tech giants such as Facebook, Microsoft, IBM, LinkedIn and Netflix. And for the first time, the WIC is being co-organized with important international organizations, including the United Nations, the World Economic Forum and the World Intellectual Property Organization.
China's contributions to global cyber progress are not limited to just playing an active role in Internet summitry. In recent months, China signed landmark cybersecurity pacts with the United Kingdom and the United States, pledging greater cooperation with these leading Internet countries to thwart or combat cyber attacks. On the latter agreement, even before it was made, China had demonstrated a collaborative attitude by arresting hackers at the request of the US government.
Domestically, among other policies, China unveiled the 'Internet Plus' initiative to advance Internet growth, with the view of better integrating the cyber sphere with the economic and social spheres. Wuzhen, the host city of the WIC, is a good example of this cyber-socioeconomic integration. A remote town with an ancient history, Wuzhen is today a 'smart' city characterized by intelligent bikes, internet hospitals, QR codes and numerous online platforms and businesses. Cyber has become a way of life for the people of Wuzhen.
Questioning the China Cyber Threat Theory
These developments reflect the concrete ways in which China has played a positive role in the cyber sphere. However it has not stopped certain quarters, particularly the US, from perpetuating the argument that China is a threat to cyber security and the Internet. We need to critically question this claim.