Is Chinese economy going to collapse?
By Wang Qingfeng | chinadaily.com.cn | Updated: 2016-02-23 08:40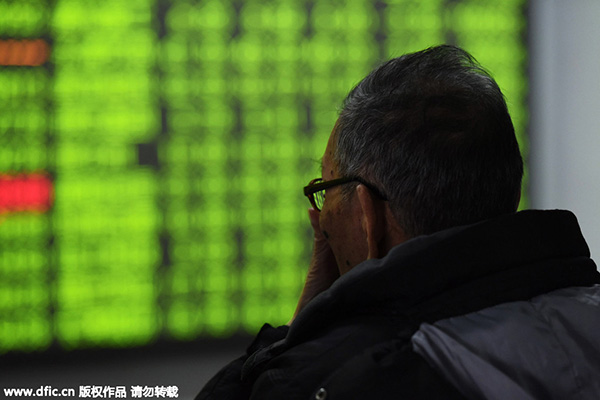 A man checks stock prices at a brokerage in Hangzhou, Zhejiang province, Jan 26, 2016. [Photo/IC]
Chinese economy is experiencing difficulties which are not unique to China but almost every country in the world is facing an economic slowdown under current global economic situation. The US has experienced 47 recessions since 1790. The 1929 crash of the stock market caused the Great Depression with 26.7 percent decline in GDP and 24.9 percent unemployment rate, no recession after World War II came anywhere close to that.
Not many still care about the 1929 crash. We care more about the most recent 2007 subprime mortgage crisis which originated from the United States. It then quickly spread to the rest of the world. Those who predict the meltdown of US economy are nowhere near the reality. United States has become stronger and more powerful after all those recessions and not weakened.
No man on earth dare to claim he will never be ill or at least it is not wise or safe to say so. I hope readers would agree with me that every economy has its weakness as a result of the omnipresence of human weakness embedded in every financial system. When people get ill, they need a doctor. When economy is "ill", it needs wise doctors who are specialized in handling the "illness" and can give right treatments.
Bruce Lee once said that "Do not pray for an easy life, pray for the strength to endure a difficult one." Butterflies are much more beautiful than caterpillars, yet that transformation from the caterpillar into the butterfly can be very painful. These are exactly what China is experiencing at the moment with its economy, social and political architecture, by undertaking tremendous economic, social and political reform for the better not for the worse.
For China, there is much more to hope for than to feel desperate. Success of the reform would not only benefit 1.3 billion Chinese, its neighboring countries but also the stability and prosperity of the world.
Debt crisis and deflation in Euro zone has convinced European central bank to cut a key interest rate and extend its bond buying program throughout the recent global financial crisis. In 2014, European central bank even introduced negative interest rate to boost economies of its member countries. Japanese Central Bank adopted negative interest rates to stimulate its economic growth on 29th of Jan 2016. And, this is not the first time Japan imposed negative interest rates.
As depositor, we expect to receive interest from banks instead of paying banks to just hold our money. It might be safe to say that there is much to worry for Japan and Europe than for China. Chinese economy is still growing in 2015 at a rate close to 6.9% even though that is at its historical low. Now, China has surpassed Japan in becoming the world's second largest economy after years' accumulation of its wealth. Slow down of China' economy is inevitable and can be safely predicted especially with years' continuous fast growth and with current economic size.
Is China experiencing hard landing? Kaushik Basu, World Bank chief economist, said China's economy is very unlikely to experience a hard landing, a comment he made at 2014 World Economic Forum. Is Chinese economy going to collapse? World economy is gradually recovering. Signs of recovering have been emerged in the United States e.g., with more jobs added to its economy, much improved purchasing managers' index in the Euro zone. China will fully benefit from world economic recovery. Let's assume for the worst and to embrace for the worst. Is China able to prevent its economy from collapse - is the more meaningful question to ask than the question - is China going to collapse? China is fully armored to combat any slow down or hard landing or collapse. Chinese banks performed among the best during the most recent global financial crisis, they were not only very profitable but also having the world's lowest rate of bad loans.
Some scholars even suggest giving $100 shopping voucher to each individual to spend on products which are valued for instance at 40 percent higher than the face value of the voucher that would still give buyers a 60 percent discount in order to stimulate consumer spending.
China is gradually losing its advantage in manufacturing due to rising labor cost. The ongoing reform is to transform the economy to less depend on low-tech and labor intensive manufacturing, to an economy depend more on innovative and high-tech industries and more on consumer spending and on service industries.
The predicted "China breakdown" or even "Collapse of China " or "the end of Chinese model" is another conspiracy theory, which is just "matter of faith rather than proof" (Michael Barkun) or just like the man from Qi kingdom (1045BC - 445 BC) who was haunted by the fear that the sky might fall but it never happened.​
Wang Qingfeng is a teaching Fellow in Economics and Quantitative Methods, Nottingham University Business School China.