Chinese philanthropy boosted by Internet-based charity
By Song Jingyi | chinadaily.com.cn | Updated: 2016-02-28 09:04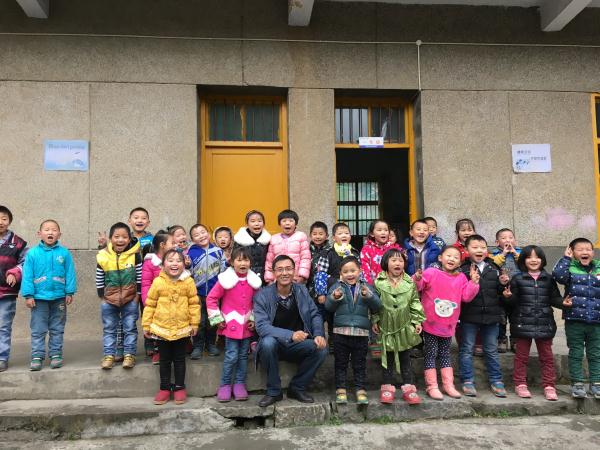 Ge Yike, one of the initiators for the charity project"One School One Dream", with pupils of Shima primary school in Badong county, Central China's Hubei province, Oct 2015. [Photo provided to chinadaily.com.cn]
Although Ge Yike, a visiting official from Beijing, had mentally prepared himself for the possible scenarios, he was still shocked when he saw the situation of local rural schools and students in Badong county, a remote under-developed region of the Central China's Hubei province.
"I was surprised when I learned that local pupils had to walk hours along a muddy path to attend schools," Ge recalled of his first days at the beginning of 2014.
He also feels astonished two years later when he realizes the online project he and other activists founded has raised more than 1.4 million yuan ($214,300).
After visiting local schools and teachers, Ge discovered a shortage of basic living and sanitary equipment and educational tools in Badong county.
He asked his friends on instant messaging application WeChat to make donations to assist the poorly equipped schools. A meeting with Cairang Duoji, a senior Beijing-based philanthropy activist with Beijing Thanksgiving Public Welfare Fund, was a turning point.
With the support of the online Tencent Charity Foundation, they initiated the "One School, One Dream" program to solicit donations from netizens.
Within six months of it going online in June, more than 60 rural schools and over 10 thousand students have been sponsored by 86,000 donations from the general public, solving such problems as renovating electronic networks to replacing shabby desks.
"Thanks to the donations from netizens, our students finally could sit for their lunch with new chairs," said Wu Kebo, headmaster of Huo Feng primary school in Badong county. "Without the aid of the Internet, this would be hard to tackle or solve so quickly".
According to the China Online Donations Report, online donation platforms Sina Micro Charity, Tencent Micro Charity and Alipay E Micro Charity raised more than 428 million yuan in 2014, an increase of 42.6 percent from 2013 and 299 projects were supported.
"A sea change has taken place in the past decade." Cairang explained. "Differing from traditional philanthropy, the focus of the new Internet charity pinpoints an exact micro program which was not accessible before".
Zhao Wanli, a die-hard donor for the One School One Dream project, also sees the changes. "In the past, without the cyber donation platform, I don't know who needs aid and where I can donate to. But now, I can see the plight of isolated rural schools through pictures and give easily using third party online payment applications within less than a minute," she said. "Mobile phones and the Internet make donating more convenient and enjoyable, reducing the barriers to giving".
"Donating online is easy and quick," Ge stressed. He quoted as an example an occasion when it took less than 10 days to raise money, purchase desks and finish the installation of all items which, without the help of the Internet, would have taken a month.
Many online charities are seeking smaller donations but from more people according to Cairang. Internet technology has also brought more interaction among those involved in the charity process.
"For each project, the Tencent online charity platform will automatically publish a report with income and expense data. Thus, I know clearly where my money goes and feel happy seeing the feedback and results of my donation and my trust grows with each project I join," Zhao said.