HK scholars: A Super connector HK pinned in the map of B&R Initiative
By Wu Zheyu | chinadaily.com.cn | Updated: 2016-03-01 17:32
China's leadership launched the Belt and Road Initiative to "promote economic prosperity of countries along the B&R and regional economic cooperation, strengthen exchanges and mutual learning between different civilizations, and promote world peace and development.",according to an action plan, jointly released by the National Development and Reform Commission, the Ministry of Foreign Affairs and the Ministry of Commerce.
As the window to China, what will be Hong Kong's role be? Leung Chun-ying describe Hong Kong as a super connector of three platforms when involving B&R Initiative in 2016 policy address,while what has Hong Kong government already done to take this role? To seek the answer to this question, we interviewed Lamson S. Lin, assistant research officer of the "One Country Two, Systems" Research Institute in Hong Kong and Dr. Simon Shen from the International Affairs Research Center at the Hong Kong Institute of Asia-Pacific Studies. They shared us their views from the perspectives of strategic background, role definitions and the challenges of the coordination between different regions. Here are the excerpts of the interviews.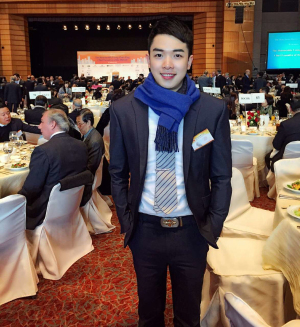 Lamson S. Lin, assistant research officer of the One Country Two Systems Research Institute in Hong Kong. [Photo provided to chinadaily.com.cn]
CD: Could you introduce about the strategic background of Belt and Road Initiative according to your understanding and what's the role for Hong Kong in this initiative?
Lin : Under the leadership of the CPC, the Chinese people have laid a firm foundation to accomplish the first Centenary Goal of comprehensively building a moderately prosperous society by 2020. By that time, China will have become the world's biggest economy. Hence China has the responsibility to build a new world political and economic order. Influential international organizations led by China, such as the Asian Infrastructure Investment Bank (AIIB) and the BRICS(Brazil, Russia, India, China and South Africa) illustrate China's willingness.
Given that proposing a strategy of a peaceful rise is not an easy thing, especially olitical disputes and misunderstandings should be avoided. In this sense, it's quite ingenious to use the cultural symbol of an ancient silk road, which delicately combines international strategy and historical origin, and effectively reduces the wariness or caution of other countries.
After 1997 , Hong Kong's economy has been connected more tightly with the mainland's development, sharing the same fate and facing similar challenges. Hong Kong local government expresses from time to time that it would be more than happy to serve the role of super connector by contributing its valuable experience in competitive industries to coordinate with the central government's strategy of "going out "and "bringing in ".
Shen: Compared with the US, China maintains a relatively fast economic growth which makes it fair that China pursue stronger discursive power and international impact on international affairs, naturally lead to structural friction with the US around specific issues.
The US has undertaken a high profile "Pivot to Asia" adjustment based on the geostrategic consideration. Therefore,it seems insightful that China chooses a westward advance in the strategic space of central Asia, central Europe and even Europe as a whole to avoid a head-on confrontation with the US in Asia. From an institutionalism perspective, the Belt and Road Initiative contains regional cooperation organizations like AIIB, which is a sound attempt to build an international institute that better suits regional integration and China's development. It reveals an energetic and promising style of leadership.