Innovation is the key for China's growth and global well-being
By Jeremy Garlick | chinadaily.com.cn | Updated: 2016-03-08 10:24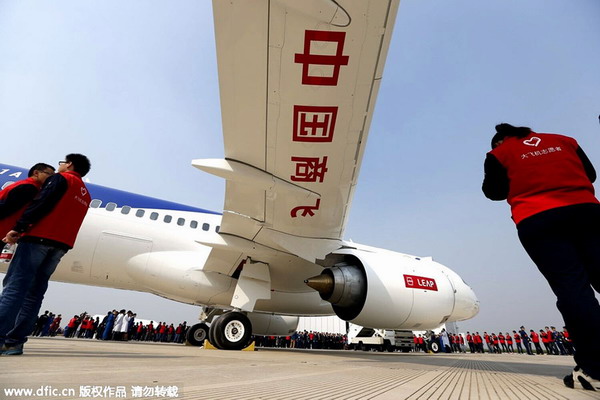 As the first China-made large passenger aircraft, C919 with 158 seats is scheduled to make its maiden flight in 2016. [Photo/IC]
China's new GDP growth target of 6.5 to 7 percent for 2016 comes as no great surprise given the recent economic slowdown both within China and globally. However, the fulfilment of this goal will face grave pressure.
In addition, as some commentators (such as Edward Wong in The New York Times and Beijing-based Michael Pettis) have pointed out, the rapidly growing debt circulating in China's system looks as if it could be a long-term drag on the economy. The announcement by Premier Li Keqiang of tax cuts, plus an increase in the fiscal deficit and money supply, all measures which are heavily suggestive of increased financial stimulus, is hardly likely to placate these observers or just the opposite.
In a nation such as China, whose economy is still in transition, a large debt burden could possibly act as a brake on development or even contribute to greater systemic fragility.
On the other hand, without the kick-start provided by a well-thought-through raft of measures designed to stimulate growth, a controlled transformation from export-led growth and industrial over-capacity to a more balanced economic model, broadened to encourage growth in entrepreneurship and services, is likely to be more difficult to manage.
In fact, innovation, as Premier Li pointed out repeatedly in his speech, is going to be key to the next five years of China's development. As the nation continues to morph from a producer of other people's goods to a creator of novel forms of technology and an economic leader in the developing world, encouraging young business people to approach Chinese and global problems from new angles is vital not only for China's growth but also for the well-being of the whole planet.
Reaching out to the world via projects such as the Belt and Road initiative, which aims to link East Asia and Europe in a complex but coherent network via new transport links and infrastructure, demands creative ways of reconceptualising familiar problems such as pollution and global warming. Innovative, non-zero-sum thinking can bring rewards not only in terms of growing the economies of both China and the countries with which it does business, but also in producing game-changing inventions which will positively benefit the environment across the Eurasian landmass and Africa.
China is already at the forefront of researching much-needed green technologies such as solar panels and wind turbines. If these and other innovations as yet unrealised can be brought into being and made cost-effective and commercially viable, this is likely to generate profits for the inventors and reinvigorate the Chinese economy as the new technologies penetrate the marketplace along the so-called 'New Silk Road'.
Thus there is an urgent need, despite the potential (although, in the short term, relatively modest) risks of further over-burdening the economy with debt, for the types of fiscal stimuli outlined by Premier Li in his speech. As the old saying puts it, nothing ventured, nothing gained. The necessity to provide capital to drive entrepreneurship both within and beyond China's borders, in order to generate win-win marketplace and environmental outcomes that will benefit everybody in the long-term, far outweighs the short-sighted fears some economists may have about the immediate but far less significant drawbacks entailed by increased expenditure.
Jeremy Garlick is lecturer in international relations at Jan Masaryk Centre for International Studies, University of Economics in Prague.
The opinions expressed here are those of the writer and don't represent views of China Daily website.