Xi's visit to Prague: a new dawn in Sino-Czech relations
By Jeremy Garlick | chinadaily.com.cn | Updated: 2016-03-28 10:12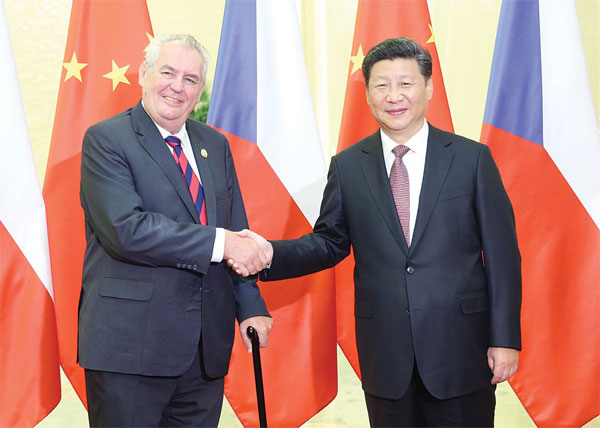 President Xi Jinping meets Czech President Milos Zeman in Beijing on Sept 4, 2015. [Photo/Xinhua]
Today, March 28, 2016 is a special date in China's relations with the Czech Republic. It is the first time in history that a Chinese president has visited the Central European country since it became an independent nation in 1993.
President Xi Jinping is visiting Prague in order, in part, to reciprocate the visit of Czech president Miloš Zeman to Beijing in September 2015 to participate in China's celebrations marking the end of the Second World War. President Zeman was the only one of 28 European Union leaders to attend the celebration. Thus his visit, according to Chinese scholars was highly appreciated by Chinese leaders.
It was also taken as a sign of a rapid sea change in Sino-Czech relations after two decades in which there was a lack of interest in cooperation, primarily on the Czech side. This was because Czech leaders, like many politicians in the EU, tended to be critical of Beijing's policies concerning the running of its domestic affairs. Under Zeman, a Socialist who was once a member of the Communist Party of Czechoslovakia, the frozen Czech approach to China has suddenly thawed.
However, beneath such diplomatic niceties lie, as ever in global affairs, other, more pragmatic concerns. Chief among these are business and finance. Czech politicians and business leaders are looking to open up the country to Chinese investment.
Already the Shanghai-based CEFC China Energy, the sixth largest private company in China, has bought stakes in a Czech brewery, football club, two airlines and two travel agencies, as well as a Czech-Slovak finance group. It also owns two major buildings in the center of Prague. CEFC is apparently looking to sell some of these stakes to other Chinese investors, thus acting as a bridge company between Beijing and Prague.
Chinese tourism to the well-preserved historic city of Prague is rapidly increasing as holiday-makers tune into the capital's undeniable charms in ever-growing numbers. Tourists passed 250,000 in 2015, with this figure now rising by 10 to 20 per cent each month. Hainan Airlines launched a direct Beijing-Prague link in 2015, and China Eastern is planning to connect Shanghai with Prague in June. Exponential growth in Chinese tourism likely explains CEFC's tranche of investments, as well as, to a great extent, the warming of relations between the two countries.
There is also talk of establishing Prague as a Chinese financial hub in Central Europe. This, however, is thought by the Czech economist Vilém Semerák of the respected CERGE-EI research institute to be a less than viable option: in particular because London is already beginning to serve as a highly effective gateway to Europe for Chinese high finance, and Prague's far less developed financial sector simply cannot compete.
President Xi's visit is therefore of critical importance for the future of Sino-Czech relations. Observers in Prague are keenly waiting for announcements of more Chinese investments during the visit.
President Zeman is also reported to be hoping for Chinese outlay on his cherished dream of a canal linking the Danube, Oder and Elbe rivers. Such a waterway could improve transport and trade connections in Central Europe, connecting Poland, the Czech Republic and Austria. However, its cost is estimated at upwards of 10 billion euros. It remains to be seen whether Zeman can persuade Chinese investors to contribute to such an immense and difficult project with an uncertain outcome. But since the canal may be a good fit for the aims of China's 'Belt and Road' and '16+1' initiatives to build a 21st century Silk Road between East Asia and Central Europe, it is possible that it may appeal to both President Xi and Chinese investors.
Whatever happens, there is little doubt that, despite doubts in some sections of Czech academia, media and the public, President Xi's visit is likely to draw the two countries closer together. The visit has considerable potential, given Prague's strategic location at the end of the Silk Road Economic Belt and in close vicinity to neighbouring European powerhouse Germany, to result in long-term benefits for both sides. The task for Zeman is to persuade a sceptical Czech public that deepening ties with China is in his nation's interest, while the task for Xi is to persuade Chinese investors that there is money to be made in Central Europe.
Jeremy Garlick is lecturer in international relations at Jan Masaryk Centre for International Studies, University of Economics in Prague.
The opinions expressed here are those of the writer and don't represent views of China Daily website.