China's NY consulate reaches out to citizens living in Boston
By AMY HE in Boston | chinadaily.com.cn | Updated: 2017-04-08 15:39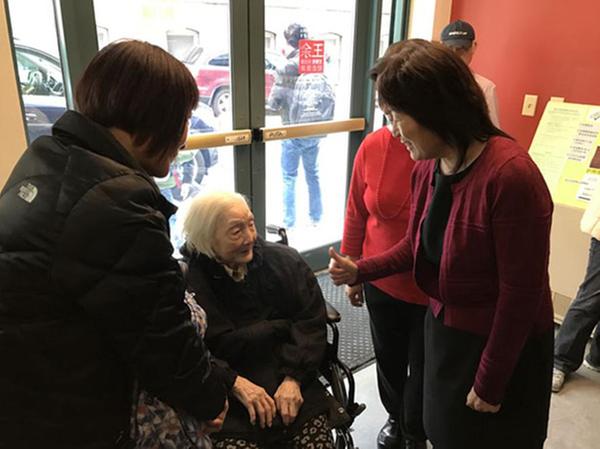 Chinese Consul General in New York Zhang Qiyue (on right in red and black) speaks with a 95-year-old woman surnamed Xie, who had gone to the offices of the Chinese Progressive Association in Boston to renew her passport. AMY HE / CHINA DAILY
The Chinese Progressive Association in Boston's Chinatown was filled to the brim on Friday with Chinese looking to renew their passports in a community event hosted by the Consulate General of China in New York.
The community event allowed Chinese passport holders to renew their passports at the Chinese community organization, saving them a trip to New York. Usually those living in the northeast need to make a trip to the Chinese consulate general office in New York, which services 10 states in the region.
A 95-year-old woman surnamed Xie, one of the roughly 100 to 120 people who were there to renew their passports, was there with her children and caretaker to renew her travel document. "There's no way she would've been able to make this trip if the Consulate General didn't hold the event here," said her caretaker, who declined to be named. "So this was very convenient."
"This was really meant for the convenience of the elderly and children," said Zhang Qiyue, Chinese Consul General in New York.
"My office provides services for the Chinese community across 10 states [but] we offer most of our services in New York from our headquarters, so we have to reach out to the other states because there's a great need from the Chinese for renewing or updating their passports, and to get their travel documents or to consult us on various issues," she said.
Zhang said that her office has organized 18 events outside New York so far in 2017, and will be organizing a series of events for students in Boston as well, which has a big international Chinese student population.
"We're working very hard in New York - the overall request for documentation is very, very strong. You see the long queue here, and we're doing our very best to accommodate the needs of citizens outside of New York," she said.
A wheelchair-bound 79-year-old man surnamed Jiang said that when he last renewed his passport a decade ago, he was not yet limited in mobility, but with his restrictions now "I would have never been able to make the trip to New York".