Ex-hunter goes from top killer to protector
By Tian Xuefei in Harbin and Yang Wanli in Beijing | China Daily | Updated: 2017-04-19 07:39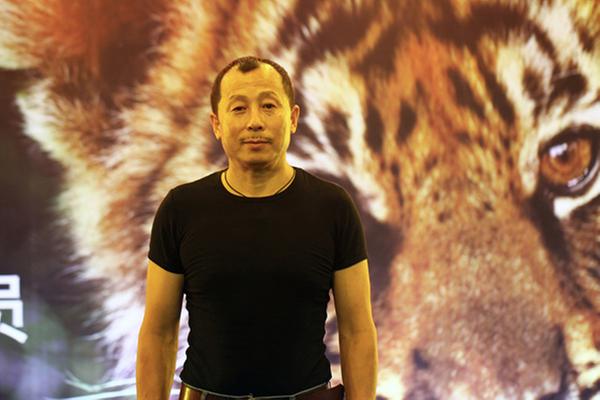 Wildlife ranger Liang Feng'en attends an event to promote the conservation of Siberian tigers. [Photo provided to China Daily]
Early one morning, before sunrise and before nature has awoken, 59-year-old Liang Feng'en walked calmly through the forests in Suiyang town, Heilongjiang province, carrying his green-and-black GPS device, a camera, a diary and a medical kit.
Decades ago, Liang was a well-known hunter in the region, but he now works as a ranger for Suiyang's forestry bureau, applying his knowledge to aid wildlife conservation in the country's northeast.
His main duty is to find and record the tracks of wild Siberian tigers and their prey, such as deer and boar, which is essential work for big-cat protection.
Liang has been living in the forests for more than 40 years and knows about all of the animals and trees in the region.
"I had no idea about wildlife protection when I was young, and I never imagined that I would give up hunting, which was my family's way of life for decades," he said.
Suiyang, a small town that borders Russia, is surrounded by dense forests. Liang said his family and neighbors all looked up to his father, who would bring home wild boars and deer even when the whole country was plagued by starvation in the 1960s.
"Good hunters enjoyed respect and were even idolized," Liang said, adding that he inherited his father's talent and would hunt 60 to 70 wild boars a year by the time he was 20 years old.
However, hunting traditions changed in 1998 when China implemented strict environmental protection measures, with Liang taking on an entirely new and unexpected role as a wildlife protector.
In 2000, he received a phone call from conservation group World Wide Fund for Nature's China Office, inviting him to help protect wildlife in the region.
"I thought it was ridiculous. How could a hunter suddenly be on the animals' side? I thought I would be a joke in the eyes of my friends," Liang said.
But gradually, after learning more from the WWF about the significance of wildlife protection, he changed his mind and finally accepted a job as a ranger to help conserve wildlife in Northeast Asia, especially Siberian tigers - a species facing extinction.
Hundreds of Siberian tigers prowled Heilongjiang's virgin forests in the 1960s, but they have since become rare due to a dramatic reduction in the size of their habitat. However, they are returning to the mountains of Heilongjiang and Jilin provinces from Russia's Far East region after a decade of reforestation.
As part of China's improvements in wildlife protection, many former loggers and hunters like Liang have now become forest rangers. Their daily routine has changed from destroying the local habitat and wildlife to implementing anti-hunting measures, wildlife monitoring and raising public awareness of the tigers' plight.
"The more I learned about the ecological balance and the importance of animal protection, the more I wanted to be a ranger," Liang said, adding that he now has an emotional connection with the forest.
Walking an average of 30 to 40 kilometers through the forests each day with a backpack weighing about 20 kilograms, Liang not only records changes in the forests, but also removes dangers posed to wild animals by humans - he has cleared more than 1,000 traps during his time as a ranger.
Liang is recognized by many as the region's top ranger due to his professionalism and dedication. He and his colleagues also encourage locals who know the forests well to join their team.
The region had 200 rangers by early last year, but the number had soared to 600 by last month, according to official statistics.
"Rangers are like our hands and eyes, collecting the information we need and taking care of the forests and animals. Our recent research shows that the number of wild tigers and leopards both witnessed an increase due to their efforts," said Liu Peiqi, a program director with WWF China.