Shanghai notches up 6.8% GDP growth in Q1
By Wu Yiyao in Shanghai and Du Juan in Beijing | China Daily | Updated: 2017-04-20 07:50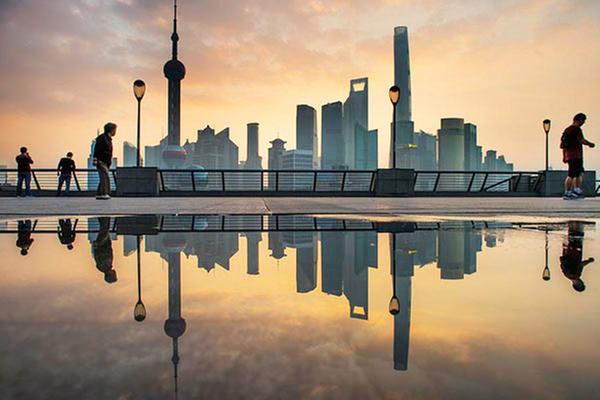 Skyscrapers are reflected in a puddle of water in the early morning at the Bund in Shanghai, Oct 20, 2015.[Photo/Xinhua]
Shanghai posted 6.8 percent GDP growth in the first quarter of 2017, a better than expected performance thanks to recovering industrial output and the continuous growth of the service sector, said the city's statistics and development and reform authorities.
Despite the slowdown in transaction growth and investment growth in the real estate market after home purchase restrictions were introduced, Shanghai's Q1 economic growth was better than the 6.7 percent in first quarter of 2016, according to the Shanghai Statistics Bureau.
"The first quarter economic growth data showed that Shanghai's economic growth pattern is shifting toward being consumption driven, with the service industry, high-tech, and emerging strategic sectors being the major contributors to growth," said Ruan Qing, deputy director of the Shanghai Municipal Development and Reform Commission.
Service sectors, including finance, shipping, and consultancy, contributed some 70.7 percent to Shanghai's economic growth, according to Tang Huihao, chief economist at Shanghai Statistics Bureau.
Industrial robotics grew 87.5 percent and renewable energy automobiles grew 29.3 percent, showing that high-end, emerging industrial sectors are expanding rapidly, said Tang.
Imports and exports are also recovering from sluggish growth last year, posting 13.2 percent growth for exports and 25.3 percent for imports.
"Commodities, including crude oil, coal, steel and iron ore are dominating imports, reflecting recovering manufacturing sectors," said Tang.
As for the real estate market, policies against speculation in the city have been taking effect, and more work will be done to support the stable and healthy growth of the market, said the authorities.
Transactions of new homes in Shanghai dropped 67.2 percent while transactions of pre-owned homes dropped 72 percent. Average home prices have been declining since March, which saw a 0.1 percent month-on-month decline, said Tang.
Analysts said that key cities' economic growth reflect the overall trend of China's economic growth pattern which is shifting to a consumption-driven one, and they are undergoing changes amid reducing overcapacity and supporting the growth of emerging sectors such as high-tech and smart manufacturing.
"Generally speaking, conventional manufacturing sectors have been recovering since last November, and the first quarter showed that consumption is growing fast, particularly healthcare and food and beverages," said a research note from China Galaxy Securities.
The leisure and sports industries have also expanded rapidly in Shanghai. In the first quarter of 2017, consumption in sports and leisure grew 22 percent.
Meanwhile, Beijing posted 6.9 percent growth in GDP in the first quarter, the city's bureau of statistics said on Wednesday. It recorded 604.05 billion yuan ($87.75 billion) in gross domestic product during the period.
Investment in real estate development dropped 7.2 percent for the first three months compared with the same period last year to 62 billion yuan.
Pang Jiangqian, spokesperson of the bureau, said the investment decline in real estate was mainly due to reduced investment in real estate projects for commercial use.
Contact the writers at wuyiyao@chinadaily.com.cn and dujuan@chinadaily.com.cn