Shenzhen traffic police post photos to catch and embarrass scofflaws
By Zheng Caixiong in Guangzhou | China Daily | Updated: 2017-04-21 07:21
Shenzhen traffic police have taken the lead in their use of high technology to catch jaywalkers and drivers who break traffic rules.
Since April 15, jaywalkers at the intersection of Xinzhou and Lianhua roads have been photographed and had their faces instantly displayed on a big screen.
"It's expected to play an increasingly important role in reducing jaywalking," according to Li Qiang, director of science and technology for the Shenzhen Public Security Bureau.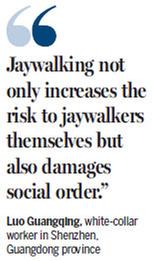 The system, which operates 24 hours a day, is expected to be rolled out over the entire city if it is proved to be effective.
"Exposing jaywalkers is one way to manage traffic, and our aim is to further reduce the number of traffic accidents caused by jaywalkers," Li said.
The new system also includes sonar technology that can capture motorists who use their horns, which is banned in downtown Shenzhen and can result in a fine of 500 yuan ($72).
Traffic police have investigated more than 200,000 cases involving jaywalkers and violations of traffic rules by non-motorized vehicles since the beginning of last year, consuming substantial public resources.
Many residents have welcomed the system, which aims to improve the city's traffic order.
Luo Guangqing, a white-collar worker, said showing the photos of jaywalkers is a heavier punishment than a 100-yuan fine.
"Jaywalking not only increases the hazards to jaywalkers themselves but also damages social order," he said.
Chen Yanqing, a tourist in Shenzhen, said most people will feel ashamed when their faces are put on display for many people to see.
"So I think it is an effective and concrete measure to remedy jaywalking," she said.
(China Daily 04/21/2017 page5)