'Hero in the fire' gets cash award
By Zhou Lixin in Hefei | China Daily | Updated: 2017-04-24 07:39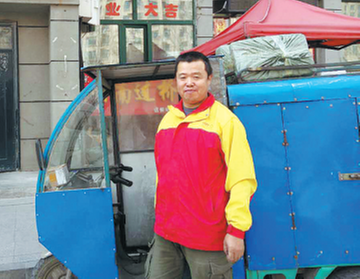 Liu Zhigang stands in front of his motor tricycle in Harbin, Heilongjiang province.[Photo provided to China Daily]
Heilongjiang Yunda Express awarded 5,000 yuan ($730) to Liu Zhigang on April 17 for his heroism.
The 47-year-old dispatch worker at a Yunda delivery-service station in Heilongjiang province's capital, Harbin, who had earlier lost an arm, helped an elderly blind man escape from a fire.
His story went viral online. Some netizens call him the "hero in the fire".
A first-floor convenience story in Harbin's Pingfang district caught flame, and the blaze swiftly spread to the balcony of a neighboring apartment while Liu was delivering packages nearby on April 12.
The heat had shattered the glass. Liu noticed the old man groping around in thick smoke.
Liu jumped up onto the balcony without hesitation and led the blind man outside.
"It was windy, and the fire could have easily spread into the room if it was not controlled," Liu said. "And I saw a fridge on the balcony. It could have been really dangerous if it exploded."
After ushering the man to safety, Liu kept taking water from the convenience store to toss on the flames.
He was able to keep the fire at bay.
But he left without a word after the fire trucks arrived.
"He didn't say anything about the fire after he returned," says Xiao Ya, a customer-service representative at the station.
"So we didn't know anything about it until local media reported it."
But colleagues were not surprised. "Of course, he'd rush in if faced with this scenario. He's very kind and willing to help others. He helps me finish my job before break time every day at noon," Xiao said.
He is also hardworking, she said.
"He delivers to three residential communities and one school. He once delivered 180 packages in one day. We've never received complaints since he joined."
Liu lost his right arm in an accident when he was working in a factory in Hebei province's Tangshan.
Heilongjiang Yunda Express manager Wang Xiangchun said: "I hope all Yunda employees can learn from Liu and help others."
Liu gave another 5,000 yuan that the Alibaba Foundation had earlier awarded him to his mother.
"She's the person I care about most. And she was really worried about me after she found out what I did."