Chinese Film Festival starts in Hungary with bolt of star power
By Fu Jing in Budapest | China Daily | Updated: 2017-04-25 07:34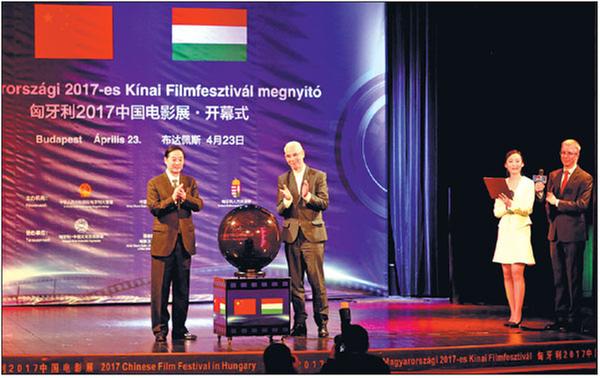 Head of the Publicity Department of the Communist Party of China Central Committee Liu Qibao (left) and Balog Zoltan (second from left), Hungary's human resources minister, jointly inaugurated this year's Chinese Film Festival in Hungary, which kicked off in Budapest on Sunday.Shen Chen / China News Service
Moviegoers in Hungary can watch five Chinese films starring renowned actors this week during the 2017 Chinese Film Festival, which kicked off in Budapest on Sunday.
Jackie Chan, the Hong Kong action movie star, brought his latest film to the festival, which runs through Thursday. The film, the comedic adventure Kung-Fu Yoga, is a Chinese-Indian coproduction.
Chan, a festival ambassador, said the five films featured are among the best titles from China. The other movies are the dramas Operation Mekong, Mountains May Depart, Xuan Zang and the romance film Book of Love.
"I also found that Hungary is a nice place to produce films as well because this country has such a long history and has enjoyed a richness of cultures," Chan said. "And I found that the cost is relatively low and affordable if we produce films here."
Chan met fans before the launch ceremony and sang a song with students from the Sino-Hungarian School in Budapest.
Gabor Cserkesz, president of Budapest-based Chinese Art Center, wore a black T-shirt with Chan's name on it when he met him.
"I think this ambassador can effectively promote Chinese culture and help Hungarians to understand China better," Cserkesz said of Chan. "And movies are a good medium for us to know each other."
Liu Qibao, head of the Publicity Department of the Communist Party of China Central Committee, and Balog Zoltan, Hungary's human resources minister, jointly inaugurated the festival.
Liu was to meet Hungarian leaders and attend other cultural and academic exchanges on Monday before heading to Greece. The trip follows a visit to Morocco to increase cultural cooperation.
Zoltan spoke about the role movies play in bridging understanding. "Our economy has started to pick up," he said. "In the same way that China is keen to develop a friendship with our small country, so we also hope to deepen the relationship with China."
He praised China's Belt and Road Initiative, saying: "We need to rebuild the Silk Road, linking the world from East to West and also from West to East."
Viktor Orban, the prime minister of Hungary, is among 28 state leaders who have confirmed their attendance at the Belt and Road Initiative Forum for International Cooperation in Beijing on May 14 and 15.
China, Hungary and Serbia have also agreed to build a high-speed railway link between Budapest and Belgrade. They plan to start work on the project after the European Commission gives its approval.
fujing@chinadaily.com.cn