Brave nurse takes lead in fight against scalpers
By Cang Wei in Nanjing | China Daily | Updated: 2017-04-26 07:04
A nurse in Nanjing, Jiangsu province, has been labeled a heroine by netizens after video footage of her catching a hospital scalper went viral.
In the footage, Luo Fuyu holds a female scalper by the arm to prevent her from escaping, and tells her that she hates scalpers because they cheat patients out of their money and compromise their health.
"I knew immediately that a scalper was trying to con a patient when the latter asked me if a doctor named Li Meilan works at our hospital," said the 44-year-old, who has worked at the Nanjing Maternity and Child Health Care Hospital for 25 years.
"There's no such doctor here. The scalper told the patient that Li also works at another hospital and persuaded her to go there. I asked the patient to take me to the scalper, who ran away as soon as she saw me."
About 15 minutes later, Luo caught the woman after another patient told her a scalper was talking to potential victims on the second floor. "Some of the patients at the hospital are deeply distressed. How can you still try to con them?" Luo is heard saying to the scalper in the video.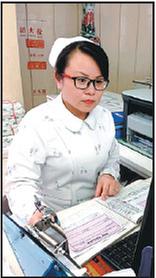 Luo Fuyu at the Nanjing Maternity and Child Health Care Hospital.
"People spend their money on trying to cure their children or have babies. Scalpers are shameless, taking advantage of those suffering from stress and financial burdens."
Scalpers often try to persuade patients to seek treatment at other hospitals, for which they receive kickbacks. They often pretend to be patients or familiar with doctors to earn patients' trust.
"Patients often come to me crying," Luo said. "I cannot bear that scalpers compromise victims' finances, emotions and most important, their chance to recover."
Many of Luo's colleagues and relatives expressed concerns that scalpers might target her after the video went viral, but she said she is not afraid. "There are things you have to do," Luo said. "I wish I could put a note reading 'scalpers' on those liars' foreheads to warn patients."
In February, a top transplant specialist in Nanjing was stabbed in his office by a ticket scalper who he had criticized for selling appointment tickets at inflated prices to would-be patients.
According to Zheng Mingfei, director of the hospital's security department, the hospital does not have any effective way of punishing scalpers other than asking them to write guarantees that they will stay away.
"We once asked a scalper to write 82 guarantees in one day, because it's the only way we can keep her away from our patients. There's no law we can refer to punish the scalpers," Zheng said.
If the hospital calls the police, they often tell the scalpers to repay the money cheated from the patients, but no further punishment is given.
Zheng said that his department has collected more than 1,000 guarantees, adding that from February to April, they caught at least 20 scalpers.
"The scalpers don't keep the promises they make in the guarantees that they will stay away from our hospital. They cannot be trusted," he added.
Luo said: "Hospitals collaborating with scalpers must be punished. Regulations and laws must be implemented to severely punish them. That's the only way to rid hospitals of scalpers."