Hungarian version of Xi's book praised in Budapest
By FU JING | China Daily | Updated: 2017-04-26 07:14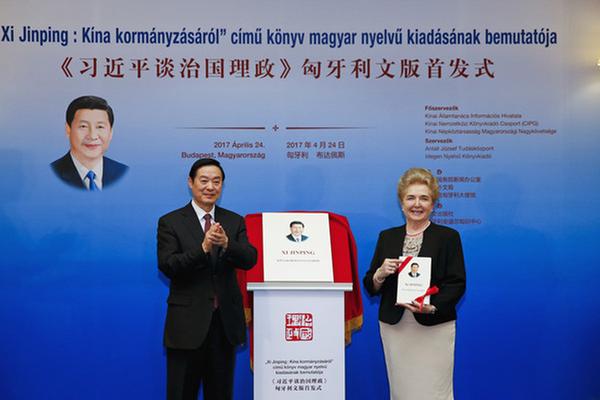 Liu Qibao, head of the Publicity Department of the Communist Party of China Central Committee, and Marta Matrai, first officer of the Hungarian National Assembly, jointly unveil the Hungarian edition of Xi Jinping: The Governance of China in Budapest on Monday. YE PINGFAN/XINHUA
The Hungarian-version of Xi Jinping: The Governance of China made its debut in Budapest on Monday, with leading officials there saying President Xi's thoughts, proposals and visions in the book are useful to better govern their country.
"I do believe the leaders of many countries worldwide are reading this book to know more about the secrets of success of this fast-growing country," Marta Matrai, first officer of the Hungarian National Assembly, said at the launch ceremony in the main building of the National Bank of Hungary.
Liu Qibao, head of the publicity department of the Communist Party of China Central Committee, who also is traveling to launch the book in Morocco and Greece, unveiled the Hungarian version with Matrai.
Before the launch on Monday, Liu met with Hungarian Prime Minister Viktor Orban, who is among the 28 state leaders already confirmed to attend the Belt and Road Initiative Forum for International Cooperation in Beijing on May 14 and May 15.
Orban said he respects the lasting strategic partnership between China and Hungary and expects to attend the Beijing forum.
Liu said the Hungarian version is the 19th foreign language edition since Xi Jinping: The Governance of China was first published in 2014. More than 6.2 million copies have been printed worldwide.
It includes 79 speeches, articles and instructions by Xi from when he became general secretary of the Communist Party of China Central Committee in 2012 to June 2014.
In his speech, Liu also said Xi's Belt and Road Initiative has become an overall policy portfolio when China develops relationships with other nations.
Liu also said explanations in the book on how to better govern the Party and state and reshape China's outlook on global governance are essential elements.
Matrai said she agreed with Xi's point in the book that every country has its own perspective.
"I also believe that every country has its own way to achieve happiness and prosperity for its people, and so I want to emphasize President Xi's thought: There is no such thing as a one-size-fits-all development model in the world," Matrai said.
After the book's debut, she said, "I know that many economists and analysts worldwide are eager to decode the secrets of China's success from reading the book."