Shadow puppetry returns to spotlight
By Xinhua | China Daily | Updated: 2017-04-27 07:02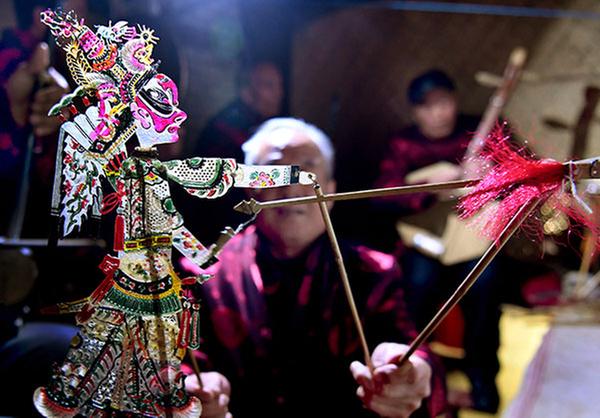 A puppeteer performs a traditional shadow play at Huazhou Shadow Puppet Culture Hall in Huazhou, Shaanxi province.Tao Ming / Xinhua
A one-man mission is helping the ancient Chinese art form fight off competition from modern entertainment
Two warriors in ancient costumes fight ferociously when suddenly, to the dramatic sound of drums, the red-faced warrior pulls out his sword and beheads his white-faced enemy.
This is not a scene from a film, but a traditional Chinese shadow puppet performance, where colored silhouette figures made from cowhide show how Guan Yu, a prominent ancient general who symbolized loyalty, honor and strength, fought during his many battles.
Behind the curtain is the soul of the performance - puppeteer Wang Biao. Using his dextrous hands, and voice, he makes the small figures stroke their beards, nod their heads, wave their hands and curse others.
"This performing art has run in my family for seven generations," said Wang, 52, from Langzhong in Southwest China's Sichuan province.
Despite its long history, shadow puppetry is under threat from modern entertainment alternatives, such as television and cinema.
Wang is trying to bring people's attention back to the traditional art. With the support of a national fund, he is currently teaching 20 students from across the country the skills needed to master the art of puppetry.
"I hope that this folk culture will survive the threat of modernity and thrive in the future," he said.
Ancient origins
Ancient Chinese historical records show that shadow plays were originally created by a Chinese Taoist during the Han Dynasty (206 BC-AD 220) to console the heartbroken Emperor Wu, who had to deal with the death of one of his imperial concubines. The Taoist made a stone image of the concubine and put it in a tent by a burning candle. The shadow cast looked like the emperor's loved one and helped his sadness fade away.
Over the next 2,000 years, the stone figures gradually became cowhide ones, and the tents were turned into curtains. Performers then added drums and Chinese opera to the movement of the figures, and shadow play was born.
Wang first watched a shadow performance when he graduated from junior school.
"I thought it was humorous and eye-catching, and the figures were quite colorful," he said.
Wang's grandfather, a renowned shadow puppet performer in northern Sichuan, would take Wang along during his performances.
"He even paid a professional shadow performer to teach me," Wang said.