Launch of carrier a momentous milestone
By Jin Yongming | China Daily | Updated: 2017-04-27 06:53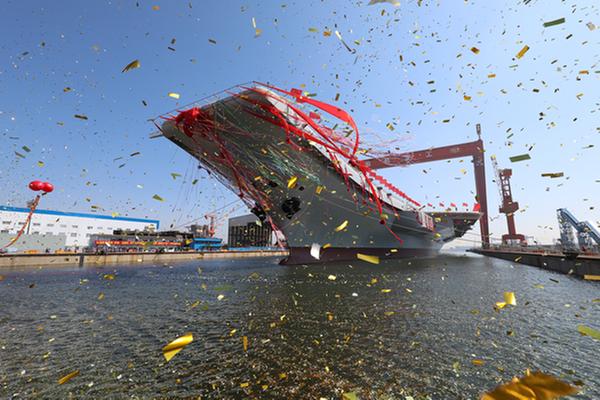 China officially launches its second -- and the first domestically developed -- aircraft carrier on Apr 26, 2017, in Dalian, Liaoning province. [Photo/Xinhua]
China's first carrier, CNS Liaoning, was rebuilt from a former Soviet cruiser. Its first totally home-built aircraft carrier, which was launched on Wednesday, relies on China's own research and technologies and it marks a new milestone in the modernizing of the Chinese navy.
Besides launch of its second aircraft carrier, the Chinese People's Liberation Army Navy has also disclosed a series of missions to be carried out this month, which are part of its long-term efforts to improve its combat readiness.
The launch of the first "home-made" aircraft carrier will give a significant boost to China's naval strength, and help safeguard the country's sovereign integrity, security, and development interests.
Hard and soft power are both needed to realize China's pledge to become a major maritime power. In this respect, hard power includes mature maritime industries and technologies as well as naval strength, while soft power is more about oceanic culture and the rule of law.
China's maritime strategic focus, according to Chinese President Xi Jinping, is more efficient exploitation of resources, ecological protection, technological innovation, and securing national maritime interests. Developing the maritime economy lays the foundation for the path toward becoming a major maritime power, which also requires advanced technologies, quality education, the employment of top talents, and effective naval capabilities.
To achieve these goals China is expected to not just map out and implement its maritime strategies, but also make extra institutional efforts to optimize the laws on territorial matters and streamline operations in the waters. And there will be a wide range of challenges to be overcome, including latent natural disasters, maritime disputes, and non-conventional security threats such as piracy. That is all the more reason for China to build up its navy in accordance with its role in global governance and the need to protect its security and development interests.
A viable approach to enhanced defense capability and efficiency would be about strengthening the bond shared by the military and civilians, in particular, State-owned defense enterprises and their private counterparts.
On the one hand, qualified private companies can be involved in the defense industry which will increase competition and prompt State-owned enterprises to stay innovation-minded, while on the other hand allowing certain defense materials and products to be used for civilian purposes. Given careful guidance and policy support, China has great potential to strike a balance between a market-oriented economy and national defense buildup.
The author is director of the China Ocean Strategy Studies Center at the Shanghai Academy of Social Sciences.