China's Belt-Road sets worthy example
By Hong Xiao in New York | China Daily USA | Updated: 2017-04-27 11:18
The upcoming Belt and Road Forum for International Cooperation is expected to bring more partners for the Belt and Road Initiative to ensure it "lives up to its full potential", said Jorge Chediek, director of the United Nations' Office for South-South Cooperation (UNOSSC).
"We expect that this forum will represent a great opportunity for the initiative to acquire more partners and get more international organizations and societies to participate to ensure that this initiative lives up to its full potential," said Chediek, who will attend the forum scheduled for May 14-15 in Beijing, in an interview with China Daily.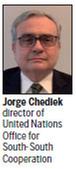 Chediek called the Belt and Road Initiative an excellent undertaking and a great initiative of the Chinese government.
The initiative, proposed by President Xi Jinping in 2013, aims to revive the ancient land and sea trade routes and boost connectivity between Asia and the rest of the world. Chediek said it struck a chord in harmony with the effort of UNOSSC, which has been offering a platform for developing countries' participation on the world stage and helping them become more self-reliant and independent.
Linking many developing countries in Asia, North Africa, Oceania and Central and Eastern Europe, the initiative is already considered an important vehicle for South-South Cooperation.
"It aims to bring together all the elements of sustainable development, namely: economic integration through trade and investment and the building of infrastructure, the exchange of peoples' experiences and the development of a collaborative culture," said Chediek.
He added that the initiative has the potential to achieve what President Xi called an "inclusive sustainable globalization".
"China is a great opportunity for South-South Cooperation," Chediek said.
On one side, he explained, China has shown in very few years how a country can achieve and become an example in terms of sustainable development and how it has grown its economy massively and also has taken hundreds of millions of people out of poverty.
"The first great contribution of China is its example," he continued. "Then through South-South cooperation, with the generosity that's demonstrated by the people and government of China, they are helping other countries follow its own development path."
With initiatives like the Belt and Road, China is also helping create a better world for all the actors, he added.
"We really want to express our gratitude for the commitment and engagement of China through its SSC, to make a more sustainable and fairer world," he said.
As a broad framework for collaboration among countries of the South, South-South Cooperation helps developing countries share knowledge, skills, expertise and resources to meet their development goals through concerted efforts.
Chediek said the UNOSSC has a mandate to promote South-South cooperation at the global level and within national organizations.
"The good deal is in the last few years, precisely through the example of countries like China, more and more actors have recognized that South-South cooperation is a critical element to make a better world and to achieve the 2030 sustainable development agenda," he said.
"We look forward to a very close partnership with China in that regard," said Chediek, "and we look forward to expanding it in the future."
Wang Linyan in New York contributed to this story.
xiaohong@chinadailyusa.com
(China Daily USA 04/27/2017 page2)