China, Russia to develop new jet
By Zhu Wenqian in Beijing and Wang Ying in Shanghai | China Daily | Updated: 2017-04-28 07:34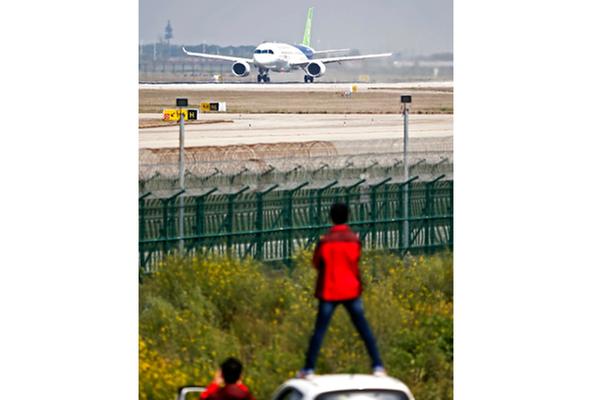 Fans watch C919, China's first homegrown big passenger jet, performing a high-speed taxiing test at the Pudong International Airport in Shanghai on Sunday. [Photo by Yin Liqin/For China Daily]
Domestic aircraft manufacturer Commercial Aircraft Corp of China said on Thursday that it has started work to develop a wide-body commercial jet with Russia, and the passenger plane is expected to be delivered within 10 years.
The 280-seat wide-body jet would have a range of 12,000 kilometers. The project signals the two countries' ambitions to compete in the wide-body market, which is currently dominated by US aircraft manufacturer Boeing Co and European manufacturer Airbus Group SE.
"Research and development of wide-body aircraft was launched recently," said He Dongfeng, vice-chairman and president of COMAC.
The research and development for the jet will be conducted in Moscow, and the assembly work will be conducted in Shanghai, COMAC announced at November's Zhuhai Airshow.
Li Xiaojin, a professor at the Civil Aviation University of China in Tianjin, said: "It is hoped that the development of wide-body aircraft will drive the growth of many related aircraft manufacturing sectors in China. And China will be able to learn and apply the experiences from Russia, and enhance the manufacturing level of the nation's aviation industry.
"Wide-body aircraft requires high standards in terms of aircraft engine technology and aircraft materials. China and Russia still face some difficulties in making competitive wide-body jets, given their current manufacturing levels," Li said.
Meanwhile, the C919, China's first self-made passenger jet airliner, is technically ready for its maiden flight and will take to the skies soon, said the president of the Shanghai-based aircraft maker.
COMAC said a variety of factors will be taken into consideration for C919's first flight, including the condition of the aircraft, the status of the crew and weather conditions.
With the help of global cooperation, COMAC has managed to learn existing mature modes, adopt scientific methods, and utilize resources of the industry, technology and talent all over the world to create its own passenger jets.
"COMAC's 256 leading suppliers come from 14 countries and regions, and our partners include leading aviation institutes and enterprises such as GE Co and Fokker Technologies Holding BV, and its OEMs including Airbus, Boeing and Bombardier Inc," said He from COMAC.
Safety is the cornerstone of civil aviation, and it is all industry players' responsibility to keep flights safe, He said.
Contact the writers at wang_ying@chinadaily.com.cn and zhuwenqian@chinadaily.com.cn