State Council tells lenders to improve range of services
By LI XIANG | China Daily | Updated: 2017-05-05 08:10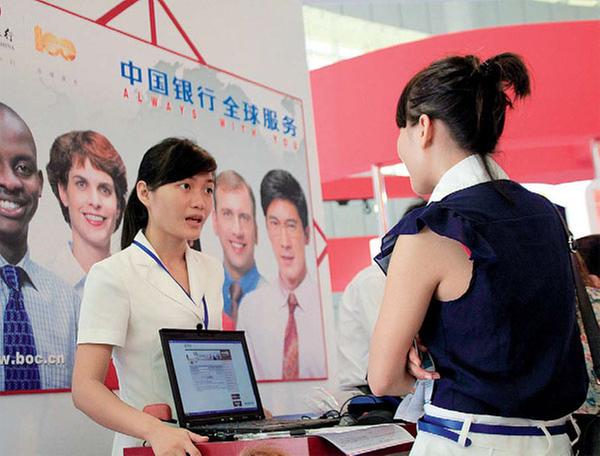 A clerk (left) in an outlet of Bank of China in Haikou, Hainan province, answers a customer's queries. Shi Yan / For China Daily
China's State Council has asked the country's big commercial banks to set up "inclusive finance" departments by the end of the year to offer small businesses and low-income households financial services at affordable costs.
The banks should tolerate "a reasonably higher nonperforming loan ratio" for lending to small and micro companies, agriculture and poverty alleviation projects, according to a statement following a State Council meeting presided over by Premier Li Keqiang on Wednesday.
Banks' lending to small and micro companies should match the overall loan growth, while the number of small and micro borrowers should not be lower than that of the same period of the previous year, the statement said.
The government will offer monetary and credit policy incentives to financial institutions to carry out the business of inclusive finance, it added.
Inclusive finance refers to financial services offered to small businesses, low-income households and rural residents, who are often overlooked by the large financial institutions.
The development of inclusive finance will help "expand employment, upgrade the economy and improve people's livelihoods", the statement said.
The move by the State Council highlighted the government's intention to help disadvantaged groups and industries gain funding at affordable costs and address poverty and social inequality while carrying out structural reforms to upgrade the economy, analysts said.
Zeng Gang, a researcher at the Institute of Finance and Banking of the Chinese Academy of Social Sciences, said the move will help channel more financial resources to the country's disadvantaged groups and industries as the government's priority has shifted from seeking GDP growth to improving growth quality and social equity.
"The government should also introduce more supporting policies and adopt regulations to help banks diversify the risks and reduce the costs associated with the business," Zeng said.
Guo Tianyong, a finance researcher at the Central University of Finance and Economics, said policymakers should further clarify the definition of inclusive finance and streamline the regulatory requirements on the business.
Guo added that the unexplored potential of financing demand by disadvantaged groups will offer banks incentives to carry out the business, as many of the lenders are under pressure to transform their existing business model amid declining profitability.
State-owned commercial banks such as the Industrial and Commercial Bank of China, Bank of Communications and Agricultural Bank of China have already launched inclusive finance units.