China alerts PPP, investment fund irregularities
Xinhua | Updated: 2017-05-05 09:40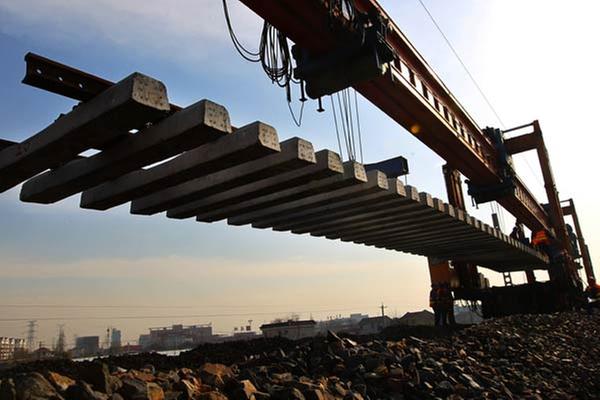 Rail tracks are laid on a route in Nantong, Jiangsu province. [Photo provided to China Daily]
BEIJING - China's central government has flashed red on irregular behavior in public-private-partnership (PPP) projects and local government investment funds.
"Local governments are encouraged to form public-private-partnerships with private companies, but local governments and private companies must cooperate on a benefit and risk-sharing footing," the Ministry of Finance (MOF) said Thursday in a statement.
Local governments can set up investment funds alone or jointly with private companies, but such funds must operate on a legal and market-oriented basis, it stressed.
The statement was released on the heels of a joint notice issued Wednesday by several governmental agencies including the MOF to ask provincial authorities to examine their financing practices as soon as possible and to rectify all irregularities by the end of July.
"Unless agreed by the central government, local governments and their subsidiary agencies are forbidden to promise to buy back private companies' investments, and may not undertake investment losses of private capital in any form," noted the statement.
Local governments are not allowed to promise a minimum return on investment to private companies in any form, and they are forbidden to undertake all the risks in such projects, it added.
Local governments have been looking to government-supported investment funds and PPP, a collaborative investment model between government and private companies, as ways to fund infrastructure projects as concern rises over local government debt and the central government tightens its grip on local financing platforms that were previously widely used.
By the end of last year, combined debt of central and local governments in China stood at 27.3 trillion yuan ($4 trillion), with a debt-to-GDP ratio of around 36.7 percent and the total outstanding local government debt climbing to 15.3 trillion yuan.
"The authorities are strengthening supervision of both capital source and capital use in PPP projects and local investment funds," said Zheng Chunrong with Shanghai University of Finance and Economics.
"PPP projects picked up momentum in 2016, but problems including the uneven sharing of risk among participants are emerging," said Li Qilin, a senior analyst with Lianxun Securities.
Last year, the number of signed PPP projects and total investment more than quadrupled from 2015, with private enterprises participating in more regions and sectors than ever before.
PPPs will become the main financing model for Chinese local governments in infrastructure investment up to 2020, with State-owned enterprises (SOEs) to play the leading role, global ratings agency Fitch predicted in a recent report.
The PPP model is in its infancy in China and SOEs have emerged as the main partners of local governments, rather than private investors, Fitch cautioned.
Financial regulators are increasing financial risk control and de-leveraging, as solid GDP growth in the first quarter provided more room for such adjustments, conducive to long-term growth.
"The document has further standardized local government debt management. They are not allowed to increase debt in the name of PPP projects," said Li with Lianxun Securities.
Li predicted that private companies will be more prudent in cooperation with local governments, and this will help improve quality of joint projects.