Xi congratulates Macron for winning French election
By AN BAIJIE | chinadaily.com.cn | Updated: 2017-05-08 10:52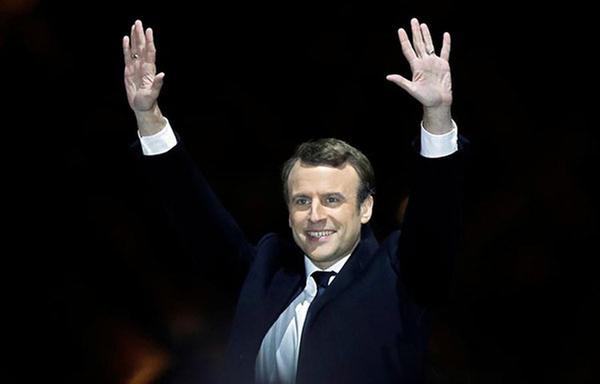 French President-elect Emmanuel Macron celebrates on the stage at his victory rally near the Louvre in Paris, France May 7, 2017. [Photo/Agencies]
President Xi Jinping sent a congratulatory message to Emmanuel Macron on Monday for winning the French presidential election.
Mentioning that France was the first western power to establish diplomatic relations with the People's Republic of China, Xi said that China-France relations have strategic significance and international influence, which have seen healthy and stable development in previous years.
In the message, Xi pointed out that as permanent members of the United Nations Security Council and powers with great global influence, China and France have important duties in world peace and development.
The continuous development of China-France relations would not only benefit the people of both countries, but also contribute to global peace, stability and prosperity, he said.
China is willing to make joint efforts with France to enhance the development of the China-France comprehensive strategic partnership to a higher level.
anbaijie@chinadaily.com.cn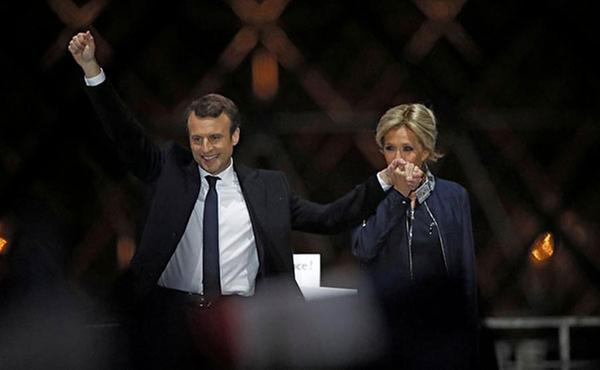 French President elect Emmanuel Macron and his wife Brigitte Trogneux celebrate on the stage at his victory rally near the Louvre in Paris, France May 7, 2017. [Photo/Agencies]
Centrist Macron wins French presidential election
Emmanuel Macron will be the next president of France after decisively defeating Marine Le Pen in Sunday's second-round run-off, according to early polling issued after voting closed at 8 pm local time.
Le Pen phoned Macron to congratulate him, and he was also called by Theresa May, the prime minister of the United Kingdom, and received a message from German Chancellor Angela Merkel.
The centrist Macron is predicted to win 65.5 percent of the vote to right-winger Le Pen's 34.45 percent. The result shows that Macron did better than previous opinion polls suggested and that Le Pen's support deteriorated during the last two weeks.
The 39-year old Macron will be the youngest president of France after a remarkable three years in which he has travelled from obscurity to the Elysee Palace. He has promised to reform the French economy, reduce the role of the state and cut unemployment, all of which will require confronting powerful vested interests. [Full story]